Wednesday, 13 September 2017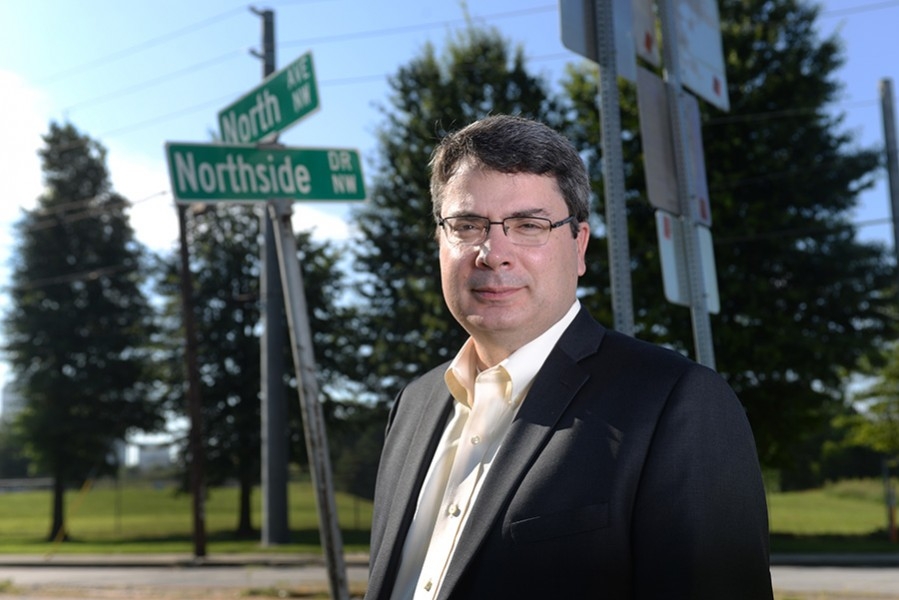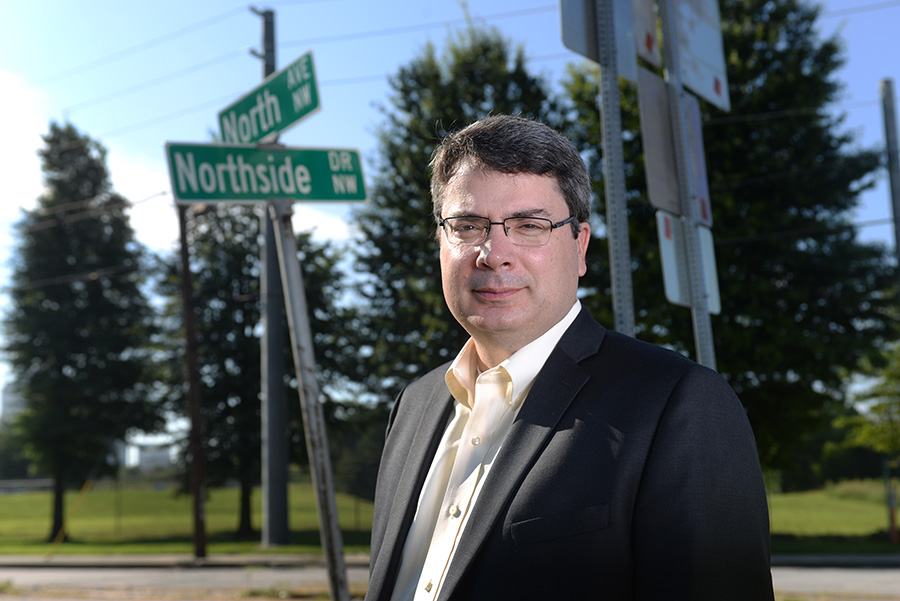 Associate Professor Michael Hunter stands along North Avenue, the City of Atlanta's new "smart corridor." Along with the city, the Georgia Department of Transportation and other partners, Hunter will help cut the ribbon for the corridor Sept. 14. Along with Randall Guensler, Hunter is using smart technology data collected along the corridor by cameras, road sensors, traffic signals, and connected vehicles to understand the impact of traffic signal timing and driver behavior on energy use and emissions. (Photo: Chris Moore)
By Alyson Powell, Georgia Tech Institute for People and Technology
The City of Atlanta will officially cut the ribbon on the North Avenue "smart corridor" Sept. 14, unveiling what city officials call the most-connected corridor in the state and a living laboratory for traffic management.
It's a partnership between the city, Georgia Department of Transportation, Georgia Tech and others. The corridor stretches between Midtown and Downtown Atlanta and features cameras that monitor traffic and public safety; data-collecting road sensors; and modern, adaptive traffic lights that exchange information with each other and vehicles traveling along the road.
"The corridor is intended to demonstrate all of the ways that technology can connect us, in particular from a transportation perspective," said Faye DiMassimo, general manager of Renew Atlanta, the city's infrastructure bond program. "In some way, shape or form, all of the technology features of the corridor contribute to a safer experience as well as enhanced mobility."
Georgia Tech will leverage the integrated smart technology and data to better understand traffic operations along the corridor, ultimately providing feedback to improve system efficiency.
"There's no substitute for the great, robust evaluation that Georgia Tech is going to provide as we measure the performance of the corridor," DiMassimo said.
Currently, most smart city traffic research focuses on travel time, because it's a challenge that drivers experience every day. One piece that's missing, according to Michael Hunter, associate professor in the School of Civil and Environmental Engineering, is energy use and emissions.
He's using smart technology data collected from connected vehicles, road sensors, and other sources to understand the impact of traffic signal timing and driver behavior on energy use and emissions, leading to more efficient signal control and driving decisions.
"On any one car, that may only be a small number of gallons saved. However, when you look at that day after day over a year, you might start seeing some significant energy savings," Hunter said.
In addition to analyzing the North Avenue data, Randall Guensler, a professor in the School of Civil and Environmental Engineering, is leading an effort within the project that is collecting data through an app they developed called Commute Warrior. It runs in the background of the user's smartphone and monitors walking, biking, vehicle trips and other travel activity. Researchers then use the data to study travel behavior, and app users can look back at their trips using a travel journal and interactive map interface.
Hunter and Guensler will utilize this trip data to advance the ability to improve signal timing and driver routing decisions during special events, like Atlanta Falcons or Atlanta United games. The goal is to provide more predictive information and incentivize a change in drivers' behavior.
As Hunter put it: "If you leave 15 minutes later or a half hour earlier, what would be the difference in energy use, emissions, or travel time?"
Hunter said data-gathering and analysis are about people and changing their lives for the better.
"All the detection in the world, who cares if you're not turning it into something actionable? We're gathering data, but how do we use that data to improve the quality of life?"
Hunter's and Guensler's projects are just some of the ways Georgia Tech researchers are using data to transform our cities. Read about some others at the Georgia Tech Institute for People and Technology.