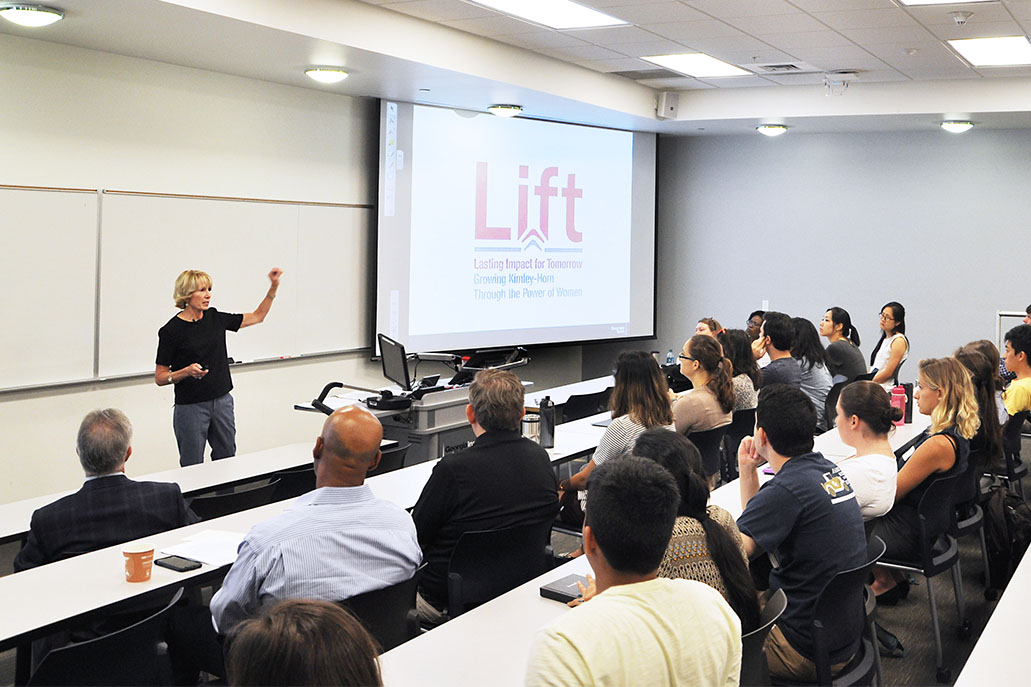 In the fall 2016 Hyatt Distinguished Alumni Leadership Lecture, Emmy Montanye, BCE 1982, offered five essential skills for young engineers to develop as they pursue their careers: Be curious and keeping learning, develop your personal brand, learn the business of engineering, develop your personal board of directors, develop others. (Photo: Jess Hunt-Ralston)
MISSED THE LECTURE?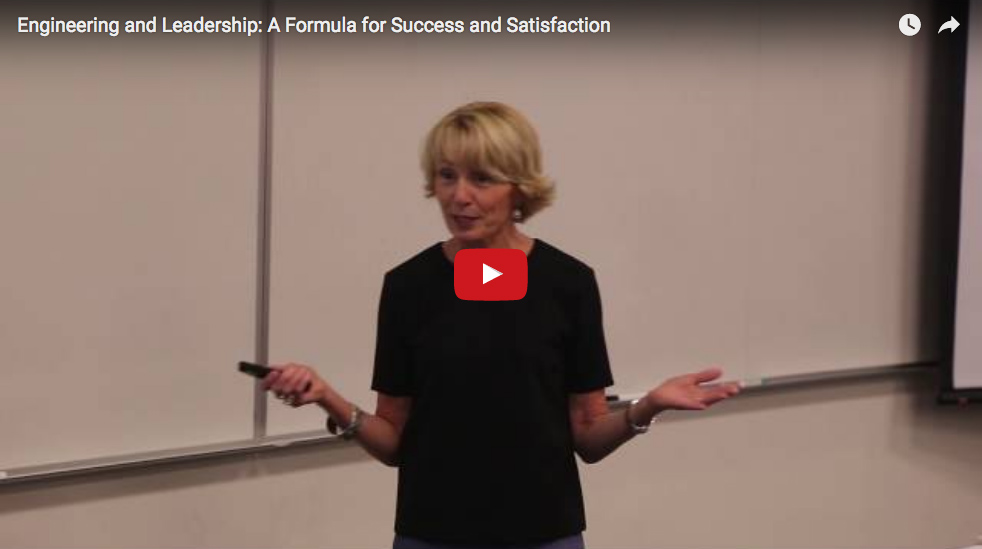 Emmy Montanye brought practical advice by the bucket-load to the Hyatt Distinguished Alumni Leadership Speaker Series Sept. 20.
Montanye has worked on almost every major project reshaping Atlanta in recent years: Mercedes-Benz Stadium and SunTrust Park, Piedmont Park's expansion and the Center for Civil and Human Rights, NCR's headquarters in Midtown and the nearby Coda project, the expansion of Tech Square.
She used lessons from those projects and others to offer students a guide to turning their engineering education into a fruitful career, sharing what she called five "buckets" of skills she's picked up through her career paired with a practical example. Ultimately, they all came down to one thing: relationships.
"I can guarantee you that no one is this room will be successful as a one-person act," Montanye told a full house at the lunchtime event. "Nobody in this room is going to be a leader if they have no one to lead."
Montanye earned her bachelor's in civil engineering in 1982. She's a senior vice president at Kimley-Horn and Associates, where she said she now has the opportunity to focus increasingly on developing young engineers and helping them discover their leadership abilities.
That was, in fact, her fifth bucket: Develop others.
One way she's been doing that is through Kimley-Horn's Lasting Impact for Tomorrow, or LIFT, initiative. Montanye said the program emerged after the company's leaders found out they were losing lots of mid-career women. They tracked down why — digging into data like all good engineers.
"We needed to provide more tools and a nimble environment for our women — primarily our women with young children — to integrate their families and motherhood with their careers so that they could flourish," she said. That meant networking events, family-focused tools, and coaching for women in the firm.
The other four buckets of skills Montanye talked about:
1. Be curious and keep learning
"As engineers, we sell knowledge," Montanye said. "We add more value when we can sell current knowledge and we can sell that knowledge with confidence."
And, she said: "One of most important ways to learn is to develop relationships with people with different cultures, different backgrounds, different educations, different experiences, and learn from those people."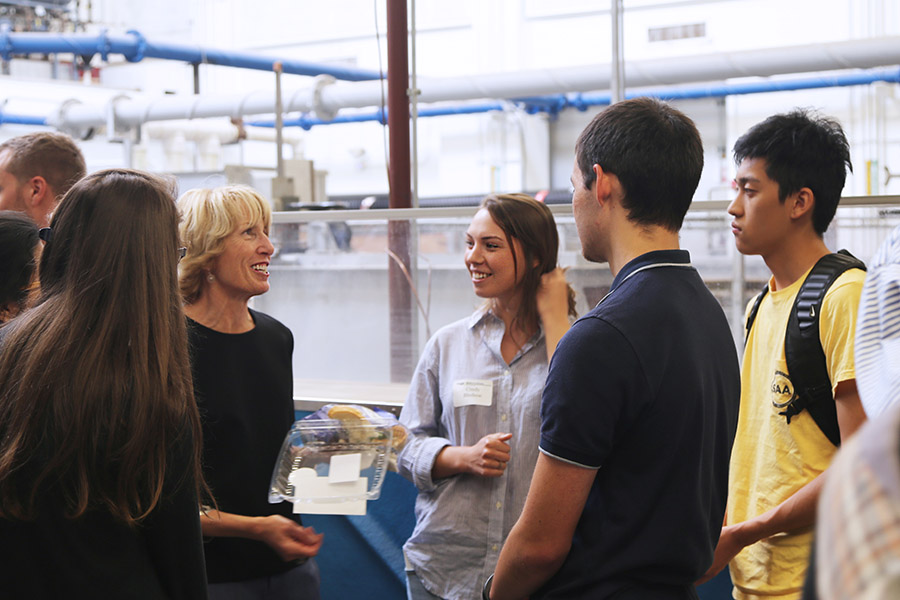 Emmy Montanye talks with students at a lunch reception after she delivered the fall 2016 Hyatt Distinguished Alumni Leadership Lecture. Montanye, a 1982 graduate of the School of Civil and Environmental Engineering, works as a senior vice president at civil engineering firm Kimley-Horn and Associates. As she says, "I design sewers." (Photo by Jess Hunt-Ralston)
2. Develop your personal brand
Montanye suggested that kind of intentional effort helps build a personal brand, too, telling students to always be thinking about the impression they're making on people — to be confident and deliberate in how they introduce themselves, how they answer the phone, even how they walk into their workplace everyday.
"This is not easy," Montanye said. "If you walk into your office everyday, and you walk down the hall and do not interact with colleagues, you go to your cubicle or office and put in your headphones, and you eat your lunch there, and at the end of the day, you walk back down the hall and you don't interact with your colleagues, you will become invisible.
"If you are invisible, you're not going to be developing your career. And if you're invisible, you're most likely not providing leadership."
3. Learn the business of engineering
Another way to boost your brand, Montanye said, is to be good at business as well as good at engineering.
"It will influence your brand, but I can guarantee you, if you're a good engineer, it's a whole lot more fun if you can figure out how to make money doing it."
That starts with relationships, she said, "getting people to trust you and believe in you."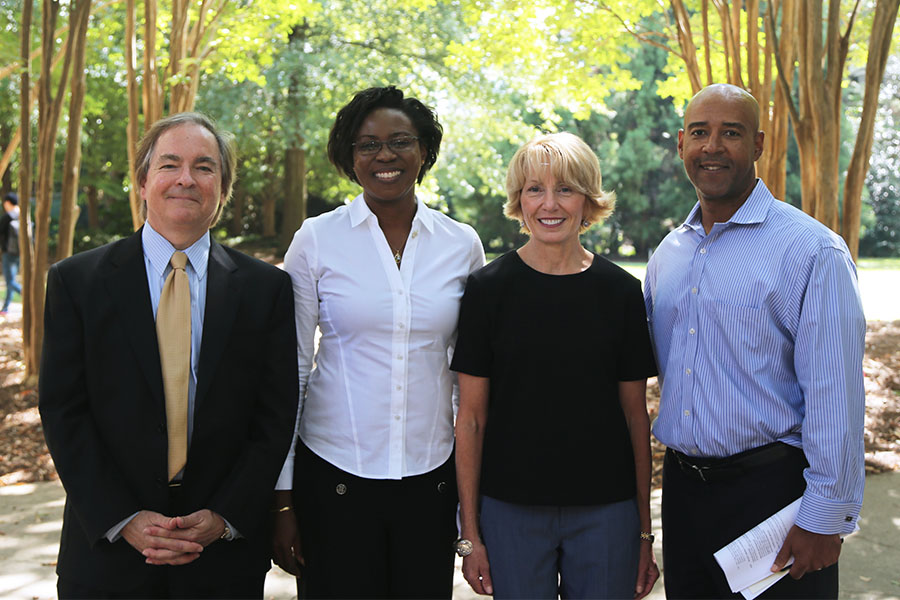 From left to right: Jim Hamilton, BCE 1977; Adjo Amekudzi-Kennedy, associate chair for global leadership and research development; Emmy Montanye, BCE 1982; and Karen and John Huff School Chair Reginald DesRoches. Hamilton, a fellow Tech grad and colleague at Kimley-Horn and Associates, introduced Emmy Montanye at her Hyatt Distinguished Lecture Sept. 20. (Photo: Jess Hunt-Ralston)
It also means not committing to work that you can't do — "We always say, don't hire an electrician to do your plumbing job." — and delivering the work you said you would.
Montanye said the Atlanta Braves' new stadium in Cobb County was a perfect example of building good relationships and doing good business, though not necessarily in that order.
Kimley-Horn started with a $37,000 confidential due-diligence study for the Braves about the proposed site of their new ballpark. The firm had no experience with the team before that first study, Montanye said. But they did good work, built the relationship, and the initial study has turned into millions of dollars of engineering work, from environmental consulting to transportation improvements and land development.
"Guess what? It's really not about the money," Montanye said. "The value is in the relationships that we've developed and the experience that we have gained that will help add value as we continue in our careers."
The project also teaches a valuable lesson, she said: "Listen carefully. Big opportunities can knock softly."
4. Develop your personal board of directors
Montanye said having a small group of trusted advisers can help engineers recognize some of these big opportunities and avoid some landmines as they navigate their careers.
Montanye said the group might be small initially, but it should grow.
"When you're a young engineer, there might only be three people around your table: yourself, a colleague and a supervisor," she said. "But 15 years into your career, it might be more. It should probably include a client or two, maybe some local politicians. It might include regional leadership or firm-wide leadership, if you're at a national firm.
"[These are] people who will travel with you throughout your career and help you and be there for you."
Montanye is the fourth School of Civil and Environmental Engineering graduate invited back to campus to share wisdom, experience and insight with students as part of the Hyatt lecture series.
The series, created with the support of Ken Hyatt, BCE 1962, MSIM 1966, continues with another event in the spring.