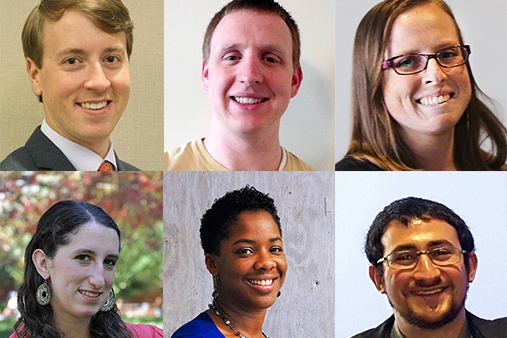 Six Georgia Tech graduate students working to improve the nation's transportation systems have earned the endorsement of the Federal Highway Administration for their work. They've been named to the 2016 class of Dwight D. Eisenhower Transportation Fellowships.
The winners are evenly split between master's and Ph.D. students, and two of the winners are pursuing dual master's degrees in civil engineering and city and regional planning.
"I am grateful to the Eisenhower program for enhancing my education and opening many doors for me," said Jack Cebe, one of those dual-degree students. He also won an Eisenhower Fellowship last year. "The opportunity to attend and present at the [Transportation Research Board] national conference and other conferences through Eisenhower support has allowed me to receive crucial feedback on my work, connect with professionals across the globe, and gain insights that can't be taught in the classroom."
Cebe joins Ph.D. students Alice Grossman and Janille Smith-Colin as repeat Eisenhower Fellows — Grossman is a four-time fellow and Smith-Colin has won three fellowships. Calvin Clark, April Gadsby and Elliot Sperling are first-time recipients.
"It's exciting to be able to pursue something I find interesting, but also encouraging when it's validated by a major agency," said Clark, who's entering his second year of Ph.D. studies.
The six winners' work covers everything from helping state agencies use technology to assess the condition of their roads and developing tools to help those agencies prioritize projects to using transportation to improve equity in society.
This year's winners:
John "Jack" Cebe
Degree: Dual Master's in Civil Engineering and City and Regional Planning
Second Eisenhower Fellowship

Research: "My proposed research is partly a continuation of my independent research on 'road diets' on five-plus-lane roadways and my graduate research assistantship work studying data integration and prioritization methods for the Sidewalk Quality and Safety Assessment System. However, I also plan to begin research on my master's thesis this year looking at the possibility of 'capping' portions of the Downtown Connector in Atlanta."

Advisor: Randall Guensler

Calvin Clark
Degree: Ph.D.
First Eisenhower Fellowship

Research: "My current research is on user preferences of cyclist facilities. My intention with the Eisenhower Fellowship is to pursue some of the more intricate matters of how [cyclists'] preferences change over time and exposure to different type of bicycling infrastructure."

Advisor: Kari Watkins

April Gadsby
Degree: M.S. in Civil Engineering
First Eisenhower Fellowship

Research: "I'll be looking at how smartphone accelerometers and 3-D sensing equipment can be used in conjunction for pavement condition assessment to provide the most benefit for agencies, including state and local agencies. A lot has been done looking at each of these technologies separately, but no one has looked at how they could work together and what that could mean for the future of pavement asset management. The goal is to develop templates for how these agencies could apply these new technologies to their pavement asset management program and then test the templates within the state. The templates are supposed to be flexible enough that agencies can adapt them to their unique needs and that data continuity between their previous methods and this new one can be maintained.

"This work could make pavement condition assessment significantly more efficient and safer to conduct. This means money that would've been spent on pavement monitoring can now be spent elsewhere. Additionally, the increased richness of data may help further knowledge regarding how pavements deteriorate and how best to treat them."

Advisor: James Tsai

Alice Grossman
Degree: Ph.D.
Fourth Eisenhower Fellowship

Research: "Recently, Metropolitan Planning Organizations (MPOs) have been tasked by federal legislation to develop short and long-term transportation plans that include performance measures. These quantitative measures play an important role in transportation project prioritization and decision-making. My research will examine when and why regional agencies decided to add both required and additional performance measures and targets, how universal different measures are, and what role the mandated and voluntary measures play in long- and short-term transportation planning and decision-making processes.

A survey of all MPOs in the country and select case study analyses will guide the research to compare and contrast how MPOs across different sizes, political climates, geographic locations, etc., measure performance and apply those numbers to project selection, prioritization, and evaluation."

Advisor: Randall Guensler

Janille Smith-Colin
Degree: Ph.D.
Third Eisenhower Fellowship

Research: "My proposed project investigates how regional stakeholder partnerships can be promoted, assessed and improved within transportation agencies. I will look specifically at opportunities for reducing project delays through improved interagency collaboration in the planning and programming phases of project delivery.

"My goal is to develop an assessment framework that emphasizes a broad set of input, process, and outcome measures as a means for evaluating project delivery performance and success. This research contributes to conceptual and operational frameworks that support performance management implementation under MAP-21 (Moving Ahead for Progress in the 21st Century) — the 2012 national surface transportation legislation."

Advisor: Adjo Amekudzi-Kennedy

Elliot Sperling
Degree: Dual Master's in Civil Engineering and City and Regional Planning
First Eisenhower Fellowship

Research: "I am continuing in my role as a Graduate Research Assistant in the Center for Quality Growth and Regional Development where the past two semesters I have worked on projects examining megaregional challenges associated with transportation, particularly in regard to freight and energy.

"My proposed research through the Eisenhower Fellowship is focused on examining the interest and advancement in the use of prioritization approaches by state departments of transportation to select projects across transportation modes. The purpose of my research is to expand the level of knowledge on how state departments of transportation vary in their processes and determinations for selecting projects and the potential to utilize new innovative practices.

"Through MAP-21, much of the focus has been on the use of performance metrics, but there is additional interest among states to reform project selection processes to achieve higher cost-effectiveness on individual projects and better align agency goals with outcomes. Using prioritization approaches can lead to better performance in the overall system and will enable greater alignment with the practices required through MAP-21."

Advisor: Catherine Ross