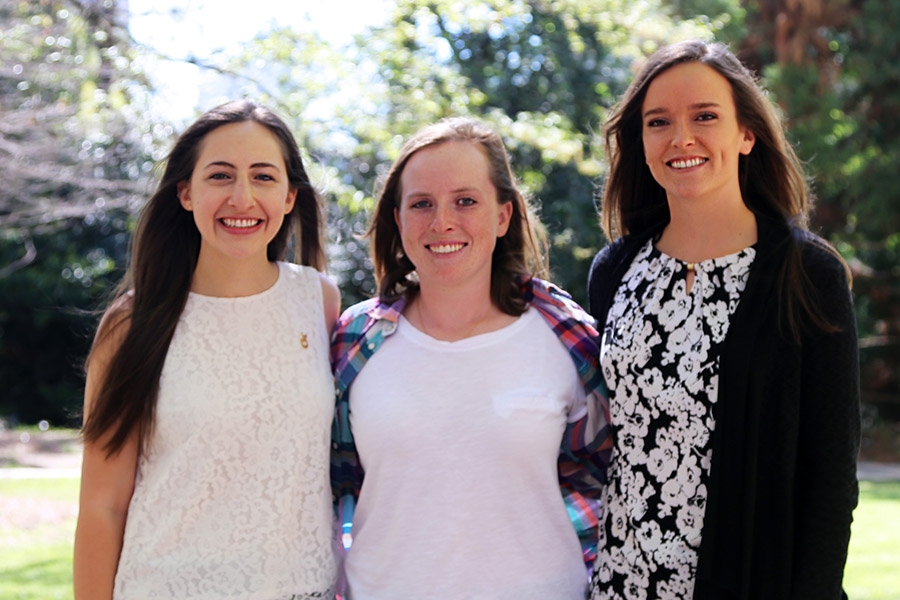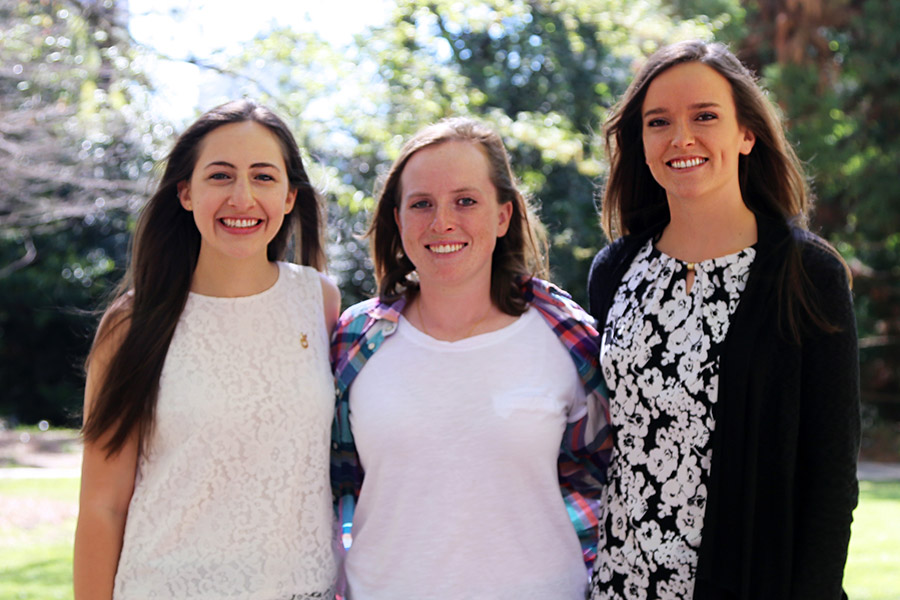 Three School of Civil and Environmental Engineering students have won National Science Foundation graduate fellowships. Hannah Greenwald, left, is a graduating senior. April Gadsby, middle, and Rebecca Nylen are in the early stages of the graduate studies. (Photo: Jess Hunt-Ralston)
Three School of Civil and Environmental Engineering students are among the winners this year of prestigious graduate research fellowships from the National Science Foundation.
Two of the students, April Gadsby and Rebecca Nylen, are just getting started on their Ph.D. work. Hannah Greenwald is a graduating senior. Each will receive three years of support for their studies and opportunities for professional development. They also have a chance to collaborate internationally, something Gadsby and Nylen said they're especially eager to explore.
"I am so happy to be at Georgia Tech with this fellowship," said Nylen, who started her doctorate in the fall. "The amount of support I received through the application process was extraordinary. I'm looking forward to beginning my research next year and to seeing where this opportunity takes me."
"When I was an undergrad and just starting research, I admired the graduate students who were active in the transportation student groups and had won a lot of awards since they seemed so successful," Gadsby said. "A couple have acted as mentors to me, as well, which made me admire them even more. The NSF fellowship was, in a way, the pinnacle of this effort to be like the people I admired."
"The fellowship really opens a lot of doors. It gives me a lot of options for what I could do with my next three years."

– April Gadsby, 2017 National Science Foundation fellowship recipient
Gadsby is finishing her master's degree and will dig into her Ph.D. research early in 2018. Working with James Tsai, she's studying how to combine expensive 3-D sensing data with cheaper — but less refined — smartphone data to track pavement health and deterioration.
"The idea is that we can collect the 3-D sensing data once every one to two years, then collect accelerometer data frequently between 3-D data collections," Gadsby said. "This accelerometer data could help quickly identify new distresses — like a pothole — and be used to predict future pavement distresses."
Nylen's graduate research under the guidance of Kimberly Kurtis and Lauren Stewart will focus on developing new high-performing and more sustainable concrete.
"My NSF research will focus on developing an ultra-high performance geopolymer. Geopolymer concretes do not utilize portland cement and have to potential to serve as a more durable and environmentally friendly alternative to portland cement concrete," Nylen said.
Greenwald said she plans to focus her research on improving water quality and wastewater reuse in the developing world — a plan she said she never would have imagined before her time at Tech.
"I didn't know I would fall in love with research and end up pursuing my Ph.D. in environmental engineering as an NSF Fellow; I didn't even know my major," said Greenwald, who plans to pursue her doctorate at the University of California, Berkeley. "I was able to discover my passions and prepare myself to win this award just by constantly exploring opportunities and taking advantage of them when they arose. … This fellowship is such an honor. There are so many qualified candidates, and I feel so fortunate to have been chosen."
The NSF fellowships are among the oldest such awards in the country, according to the foundation, and they have "a long history of selecting recipients who achieve high levels of success in their future academic and professional careers." This year, NSF offered funding to fewer than one-sixth of the 13,000 applicants.
"The fellowship really opens a lot of doors," Gadsby said. "It gives me a lot of options for what I could do with my next three years."