Tuesday, 05 February 2019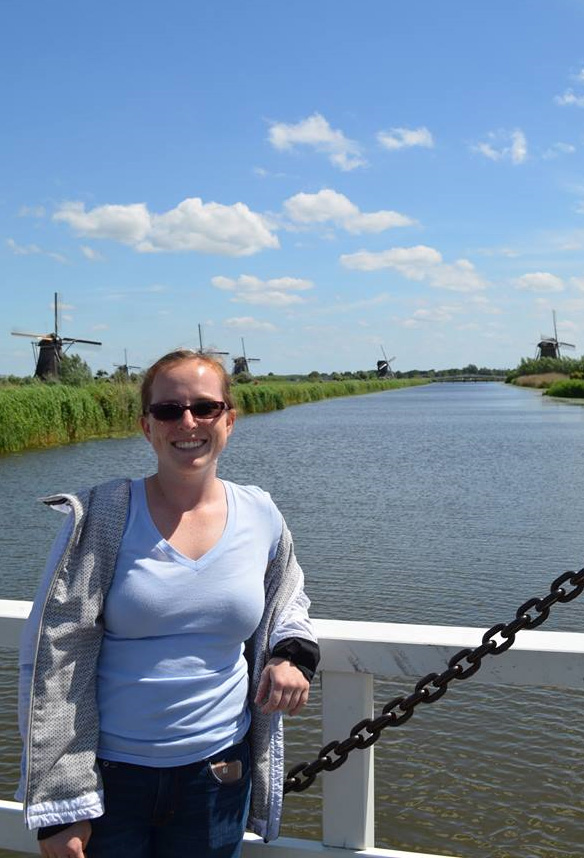 Ph.D. student April Gadsby in the Netherlands in 2017, one of her two trips to the country. She'll make a third later this year to continue her studies of bicyclist behavior and safety with the support of the Institute of International Education. (Photo Courtesy: April Gadsby)
For a researcher who studies cyclist behavior and safety, few places are more compelling than the Netherlands. The contrast with the United States is dramatic. Plus, the Delft University of Technology is one of the leading institutions in the field.
As just such a researcher, School of Civil and Environmental Engineering Ph.D. student April Gadsby had to find a way to spend time in the country. She'd traveled there before, but she wanted something different — to live and work there and take the next leap in her research.
With the help of the Institute of International Education, that dream comes true for Gadsby later this year. She has won a Graduate International Research Experiences award to spend the fall living in the Netherlands, capitalizing on the resources of TU Delft.
"I want to be a professor, and I'll have gotten all of my degrees from Georgia Tech," said Gadsby, who also is a National Science Foundation fellow. "This is a way for me to be exposed to a different culture in academia and show some diversity when I'm applying for jobs. It also allows me to meet a lot of great researchers in my field and expand my network."
Gadsby has been working on measuring cyclists' stress using eye tracking. She connected with TU Delft research Marjan Hagenzeiker, who's involved in similar work and has some experience with eye-tracking glasses. Gadsby also wants to take a bank of sensors she mounted on a bike that collects air quality and environmental data that helps her understand riders' surroundings.
"As someone who does research on cycling, being in the Netherlands, where biking is a common mode of transportation, will be really interesting and likely shape how I approach research in the future," Gadsby said. "There are, also, of course, the many personal benefits of getting to live abroad for five months."
Gadsby works with Olmsted Associate Professor Kari Watkins and said she hopes her work will strengthen ties between Georgia Tech and TU Delft, opening the door for more students to study there.
"I've got the travel bug pretty badly — I've traveled a lot and participated in a Georgia Tech study abroad as a student. But I haven't really gotten to live abroad," she said. "My friends who are doing that in America have really impressed me, and I wanted to try it."
Related