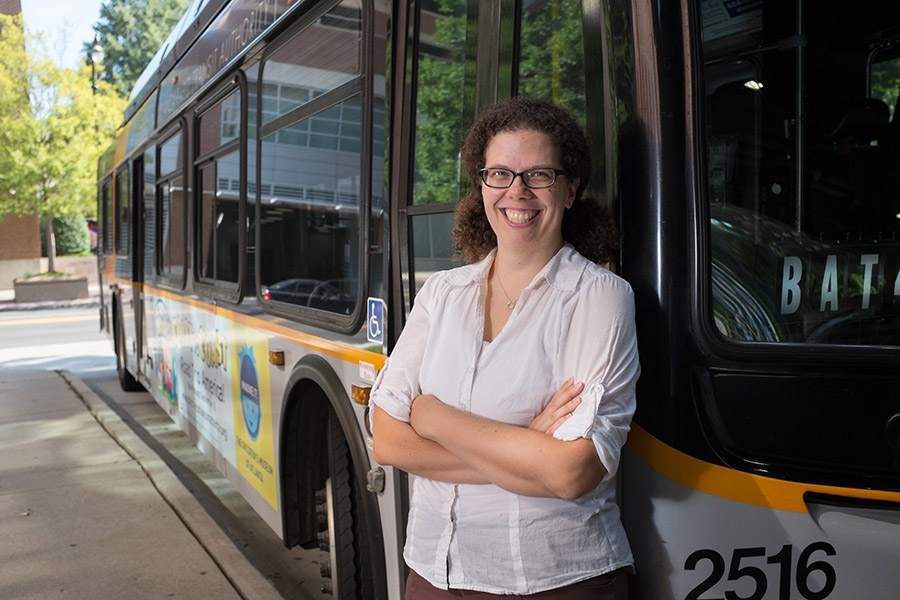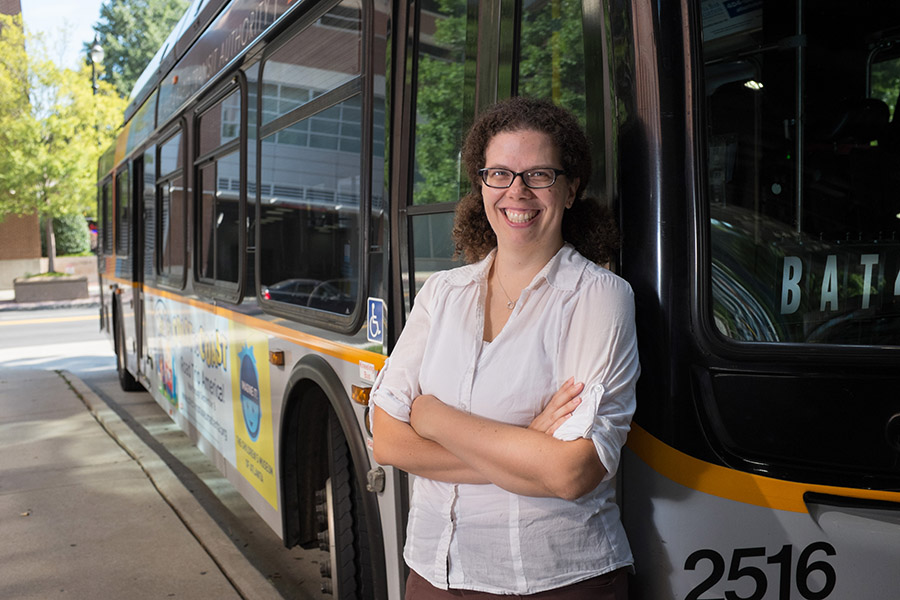 Associate Professor Kari Watkins will direct the new Tier 1 University Transportation Center focused on public transportation. Photo Credit: Rob Felt

A team of Georgia Tech researchers has been awarded a $1 million grant from the U.S. Department of Transportation to address declining transit ridership.
The grant establishes a Georgia Tech-led team as one of four new Tier 1 University Transportation Centers (UTCs), which are funded to address critical transportation challenges facing the United States.
Just four teams were selected from nearly 70 applications to receive the UTC grants.
"These investments in four new transportation research centers will help advance innovation and create new solutions to increase accessibility," said U.S. Transportation Secretary Elaine L. Chao.
Georgia Tech is leading a research consortium as part of the University Transportation Center they've named T-SCORE: Transit - Serving Communities Optimally, Responsively, and Efficiently.
The team is directed by Kari Watkins, the Frederick Law Olmsted Associate Professor in the School of Civil and Environmental Engineering, and includes fellow civil engineering professors Michael Hunter and Srinivas Peeta, along with Industrial and Systems Engineering Professor Pascal Van Hentenryck. The Georgia Tech researchers are joined by partners from the University of Tennessee, the University of Kentucky and Brigham Young University.
"Our team is thrilled to have the opportunity to envision how public transportation should move into the next phase of serving the American public," Watkins said. "We have already assembled a fantastic Advisory Committee that brings together transit professionals from the local regions of our universities and nationally to help guide the center to ensure our results are actionable in the transportation world."
Through a project sponsored by the Transportation Research Board, the team has already spent two years studying the underlying factors that have led to a recent decline in transit use.
In 2018, bus ridership in the United States was down 12 percent from its 2012 peak and rail ridership had declined 4 percent from its 2014 peak. This surprising drop came amid both transit service expansion and economic growth, leaving researchers to search for explanations.
The T-SCORE Center plans to continue this research as well as focus on solutions. The goal is to guide public transportation into a sustainable and resilient future while equipping local planners with the tools needed to enact their strategic visions into communities.
Those strategic visions could include a focus on serving riders who depend on transit the most, consolidating services to high-ridership corridors with high levels of congestion, integrating on-demand transit that looks more like services such as Uber, or using pricing and incentives to make it easier for transit to compete with other modes of transportation.
This work takes on new urgency in light of the effects of the Covid-19 virus on transit ridership and will include recovery strategies for a post-pandemic reality.
The researchers are planning a two-track research approach. The Community Analysis Track will further assess ridership trends, identify and measure the markets most effectively served by transit, and assess transit's ability to respond to a changing environment.
The Multi-Modal Optimization and Simulation Track builds upon previous research to allocate which services should be traditional transit routes with a set schedule and which services should be flexible on-demand. This will consider competition from ride-hailing services like Uber and Lyft, which are a key contributor to declining transit ridership.
Together, this research will provide transit agencies with a starting point corresponding to each strategic direction, enabling them to adapt more quickly to changing conditions.
"In many ways, this has been a tough time for transit even before the Covid-19 epidemic, but now agencies are struggling with how to serve critical workers who rely on their services while simultaneously keeping costs down and riders safe," Watkins said. "We need to help transit agencies find solutions for how transit can be more nimble to respond when crises occur and to thrive on a typical day."
Related Links: