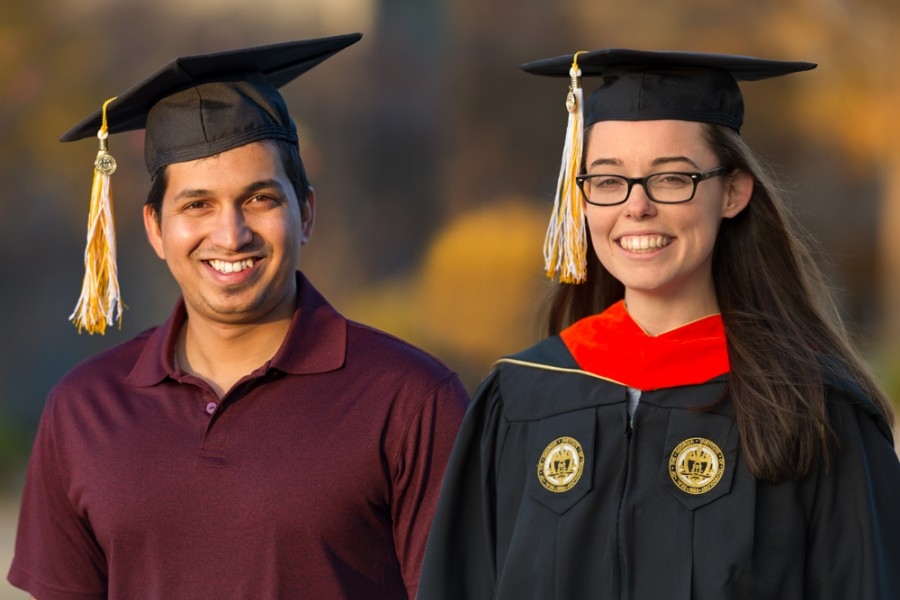 Words: Kristen Bailey  |  Photos: Rob Felt
Georgia Tech News Center
Two civil engineering master's students who graduate this semester share how they got to — and through — Georgia Tech, and who helped along the way.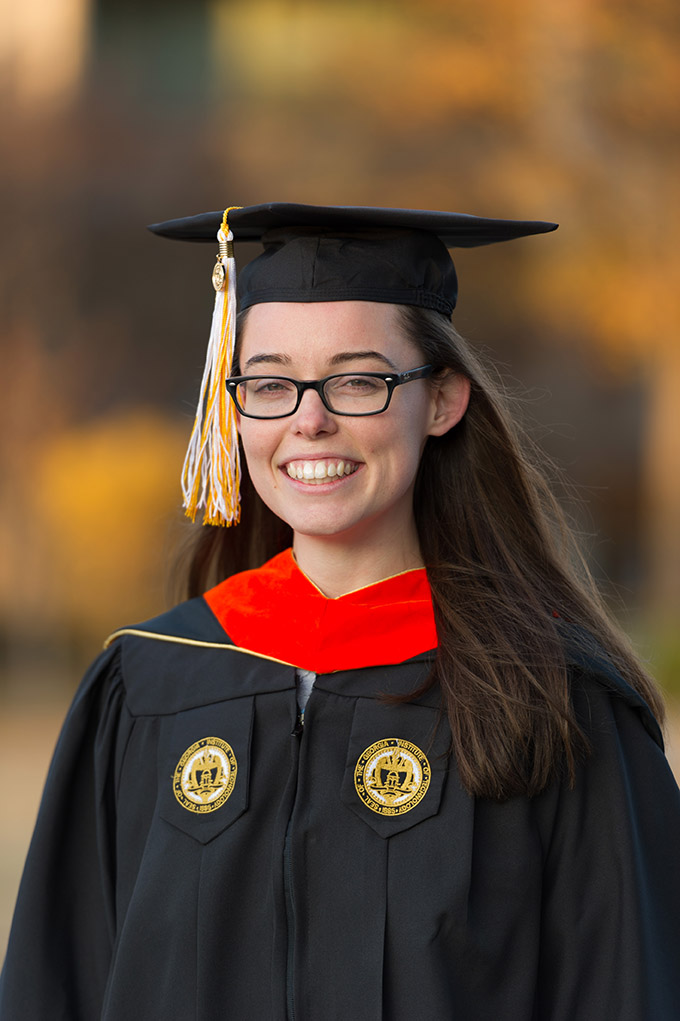 Helen Heindl earns her master's degree in civil engineering this fall. She almost didn't go to college at all; now she has two Georgia Tech degrees and a job lined up in property risk consulting. (Photo: Rob Felt)
When Helen Heindl walks across the Commencement stage this week, it will be her second time in 12 months earning a degree from Georgia Tech. She graduated with a bachelor's in civil engineering in December 2015, then Georgia Tech's BS/MS program — which lets students earn both a bachelor's and master's degree in five years — drew her in for another round.
Soon she'll start a full-time job in property risk consulting. She's been an executive board member of Chi Epsilon (a national civil engineering honor society), conducted soil research in France, started a custom hula hoop business, and had her master's degree paid for through research. Six years ago, though, she almost didn't even go to college.
"I was really bad in high school — a terror," Heindl said. As she approached the end of her high school career, she was abusing alcohol and drugs. She planned to finish high school, skip college, and run away to California. Her older sister insisted she apply to at least one college, though — Georgia Southern University — and went as far as filling out Heindl's application, completing her FAFSA for financial aid, and signing her up for the ACT.
Her sister didn't stop there: She also attended orientation with Heindl, drove her four hours away to move her in, and helped her set up her dorm.
"She was the only one who could get through to me," Heindl said.
At Southern, Helen found the Collegiate Recovery Program through friends. She got sober and started working toward transferring to Tech through the Georgia Tech Regional Engineering Program.
"I was so focused on being the best version of me I could be," she said.
Tech took some adjustment. Previously, her hard work had translated to perfect grades. Now, she found the same effort sometimes earned her Cs.
"Once I realized I didn't have to be the best, though, it was so much easier," she said. "When I realized I could get a C on something and be fine, I relaxed, and then I was able to actually think and could get an A. I had to stop taking myself so seriously."
One way to not take yourself too seriously? Start hula-hooping.
Around the time Heindl transferred here, she spotted a flyer for Flow at Tech, a prop manipulation club. Flow at Tech performs for events on campus and beyond, including local music festivals that garner thousands of attendees. Heindl's chosen prop is a hula hoop, and she designed a custom weighted hoop that is also packable (allowing her to take one along to France during her research work).
She also recognized the need for continued recovery support. She was one of the first members of Tech's Collegiate Recovery Program group after she transferred from Southern. Heindl researched what other programs were doing around the country and even attended a national conference on the topic to help establish Tech's community. With more drug- and alcohol-related deaths every year, this program helps students focus on academics and create a positive, supportive community.
"College is a place where it is normalized to binge drink, use uppers for studying, and downers to go to sleep," Heindl said. "There is a taboo related to being clean and sober. The CRP is a relaxed environment where students can find support, friendship, and the occasional free lunch." The group meets weekly and is open to all students on campus who are in recovery.
In recent years, Helen has become closer, not just to her sister, but to her parents as well. They'll be at this Commencement, just as they were last December, but this time, Heindl has a treat for them that she's adopted from her boyfriend's family.
"It's a Chinese tradition to buy dinner for your friends and family when you get your first job," she said. The Heindl family has a steak dinner to look forward to this weekend.
---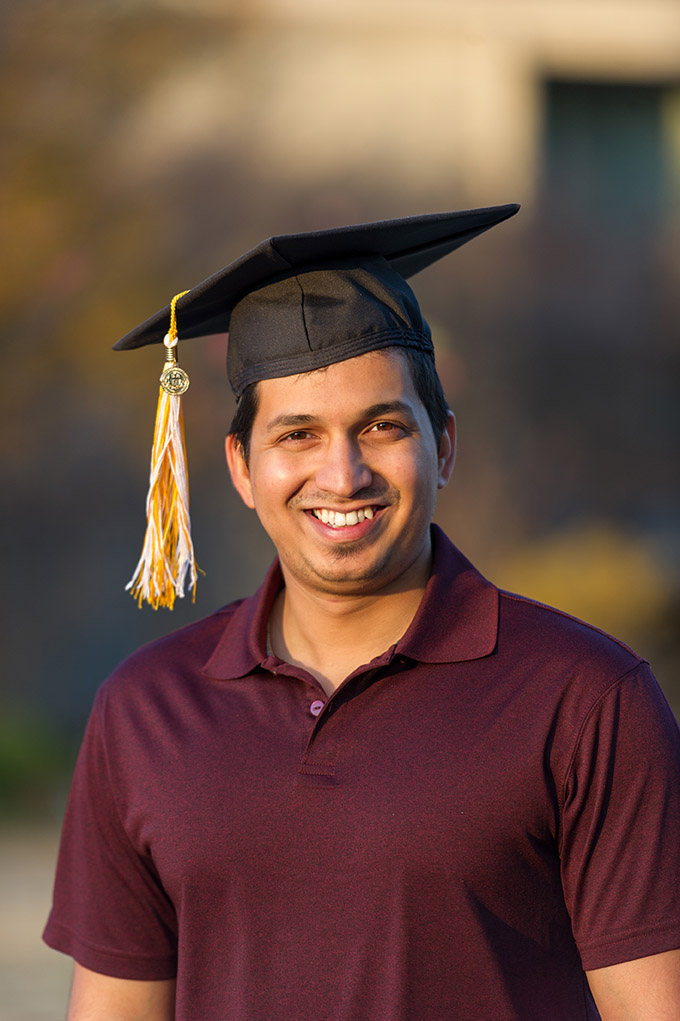 Himanshu Wad graduates this fall with his master's degree in civil engineering. He's the first person in his family to earn his degree away from his homeland of India. (Photo: Rob Felt)
The day Himanshu Wad landed in Atlanta was also his first day outside of India.
"I landed in Dallas in the afternoon, then Atlanta in the evening," he said. "I walked out, and it really was a whole new world."
Wad came to Georgia Tech in 2015 to pursue a master's degree in civil engineering with a focus in transportation systems. He's the first in his family to earn a degree from an international university. When he started investigating the idea as an undergraduate in Nasik, India, it was more of a dream — he hadn't known anyone to go abroad for a similar degree. Once he was accepted to Georgia Tech, though, it became real.
In spite of the large investment required for pursuing international education, his father, who had spent five months working at the University of Maryland College Park during his postdoctoral research, knew it was worth it.
"My mom and dad had more faith in me than I did — they never flinched about it," Wad said.
Once Wad got to Tech, his family kept cheering him on from across the ocean, calling every day to check on how things were going.
"They never gave a single sign of doubt," he said. "It was always immense positivity on the other end of the phone."
Now, Wad has a full-time job lined up with Jacobs Engineering, where he also interned. He has spent the past year and a half studying transportation engineering in one of the most traffic-addled cities in the U.S. Going in and out of utility boxes around the city for work has let him get to know Atlanta more intimately than some who have lived here their whole lives.
"I chose civil engineering because I wanted to see something change because of the efforts I put in," he said. "There's a lot of improvement happening in traffic engineering, but it's an underdeveloped field. I want to be able to work on the systems side as things change, and Tech has equipped me with everything I need. I'd love to try to implement some of what I've learned back home someday if given the opportunity."
One thing Wad will miss about graduate school is the relationships he developed within the transportation systems group. Though it took a few months to settle into life at Tech, his cohort eventually became a second family. A room in the Sustainable Education Building served as their central meeting point. His roommates for the past six months also became some of his most meaningful friendships.
"Everyone is so positive, so encouraging," he said. "Honestly, I'll miss lecture, figuring things out as a group, the little arguments and laughter in SEB 101. And the really fast internet."
Since he'll be living and working in Atlanta, Wad plans to stay connected to Tech as an alumnus. As an undergraduate in India, Wad captained his school's ping pong team, but he never had a chance to play with Tech's table tennis group as a graduate student. Now, he hopes to have time for that in post-graduate life.
He hopes to help his younger sister eventually study in the U.S. as well.
"No matter the political scenario, there is so much to learn here and the U.S. has one of the best education systems in the world," he said.