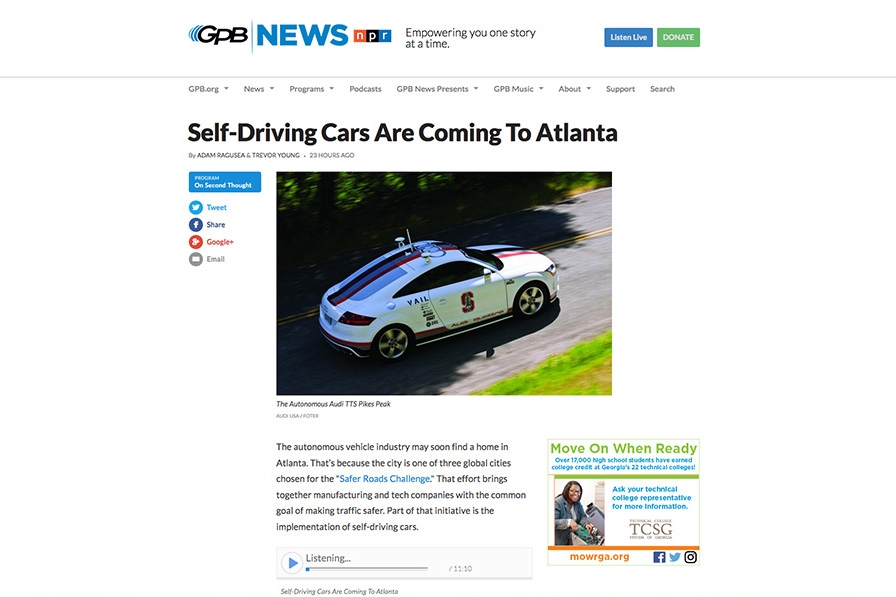 Appearing on the GPB public radio program On Second Thought March 16, transportation researcher Michael Hunter said the jury remains out on whether autonomous vehicles will make our roads safer.
Hunter said such questions are the focus of inquiry as cities and states move closer to allowing the driverless cars on their roadways.
"We certainly have places for advantages: You don't have attention issues, you don't have distraction issues when you look at the technology. So, from that perspective, clearly you can see an advantage over the human driver," Hunter told host Adam Ragusea.
But: "There can be conflicting signs or there can be issues with the striping on the roadway, and you're going to have to ask some questions on how well the vehicle can handle that sort of conflicting information and how well are they going to traverse through that situation.
"So the jury's still out."
Hunter, an associate professor in the School of Civil and Environmental Engineering, joined Faye DiMassimo from the City of Atlanta on the program. DiMassino is general manager of the Renew Atlanta Bond. They discussed Atlanta's recent selection as one of three cities for the Safer Roads Challenge by the industry consortium Together for Safer Roads.