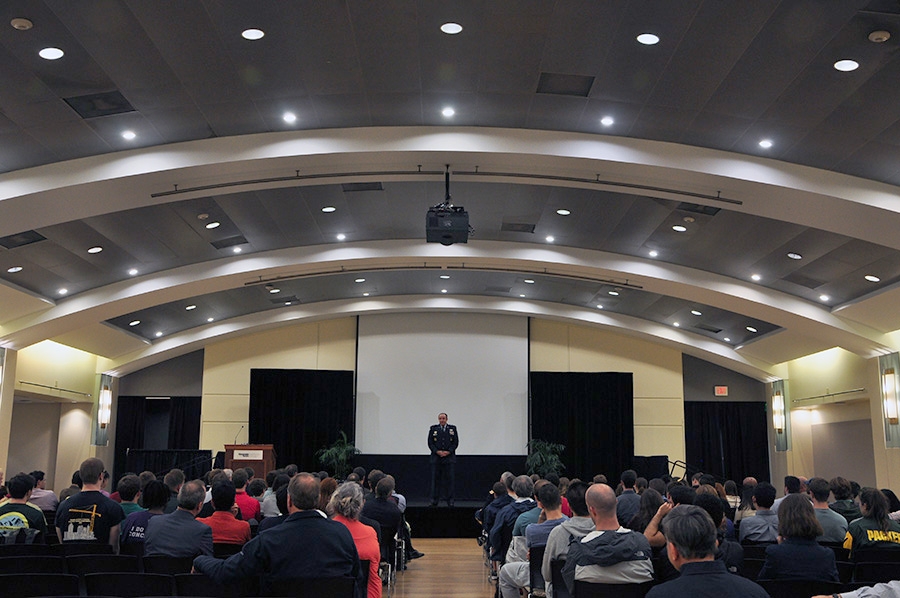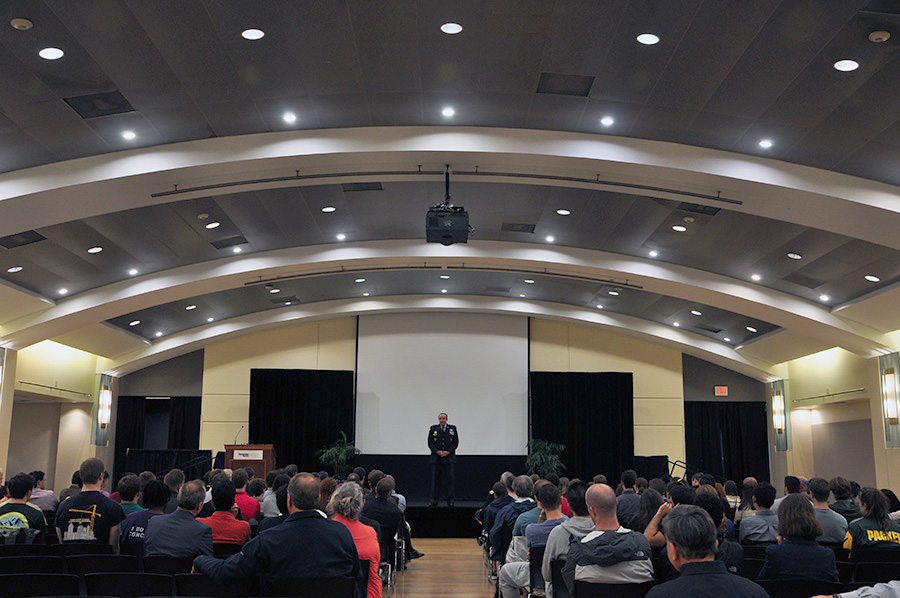 U.S. Air Force Gen. Philip Breedlove delivers the second Hyatt Distinguished Alumni Leadership Lecture Oct. 26. Breedlove graduated with a bachelor's in civil engineering in 1977 and is now commander of all United States and NATO forces in Europe, a job first held by Gen. Dwight D. Eisenhower. (Photo: Jess Hunt-Ralston)
"Take care of your people, and they will take care of you."
That part of Gen. Philip Breedlove's mantra for young Air Force officers was also a key message from his remarks during the Hyatt Distinguished Alumni Leadership Speaker Series Oct. 26.
(Click to watch Breedlove's full presentation.)
Breedlove, a 1977 graduate of the School of Civil and Environmental Engineering and now the commander of all U.S. and NATO forces in Europe, said that people are the most valuable resources a leader has. They're the ones who will actually accomplish whatever mission the leader sets out for them, he said.
"As the leader, if you think you're doing the mission, you're wrong."
 

Supreme Allied Commander, Europe, Gen. Philip Breedlove delivering CEE's Hyatt Lecture now. #GTHyatt pic.twitter.com/W871XSLRl9

— Georgia Tech CEE (@CEEatGT) October 26, 2015

Want more from Gen. Philip Breedlove's talk on leadership? Check out the #GTHyatt hashtag on Twitter for live tweets from the event.

 
 
Breedlove said leaders must provide direction — they must paint the lines on the road, in his terms — but they have to empower people with the training and resources and the room to innovate and accomplish the job at hand.
"Trust your people absolutely, completely, explicitly, 100 percent right up to the nanosecond that they prove they cannot be trusted, and then fire them," Breedlove said. "Cut them out like the cancer they are. Get rid of them."
During his hour-long talk, Breedlove repeatedly made the point that everyone can be a leader, especially, he said, students who graduate from Georgia Tech. And recent graduates don't have to wait to move up in their organization to start taking on the mantle of leadership.
"In almost every organization, even when you have a great leader, there are going to be some informal leaders below them. They are the ones that keep things moving along," he said. "I would challenge you to be that informal leader. Find a way to take care of the people around you and below you."
"Whether you work in a group of 500 or a group of two, someone — and I'm looking at you — needs to take initiative and someone needs to lead," Breedlove told students in the audience. "In the world out there today, in the Pentagon, Georgia Tech engineers are known as leaders."
The general, an F-16 fighter pilot in his early career, said leaders also have to learn to balance the demands of their work and their personal lives. It's a lesson he said he figured out as a young officer before it was too late. He said losing sight of the proper balance almost cost him the most important part of his life, his family.
"You could put IBM or Georgia Tech in this equation, but here's how it goes: The family is before the Air Force. The family is during the Air Force. And the family is after the Air Force. One of these two is permanent and one of them is temporary. So you need to make your big decisions and your life-balance decisions on the permanent piece, which is the family."
"This is easier said than done," he said. But: "Work-life balance is important."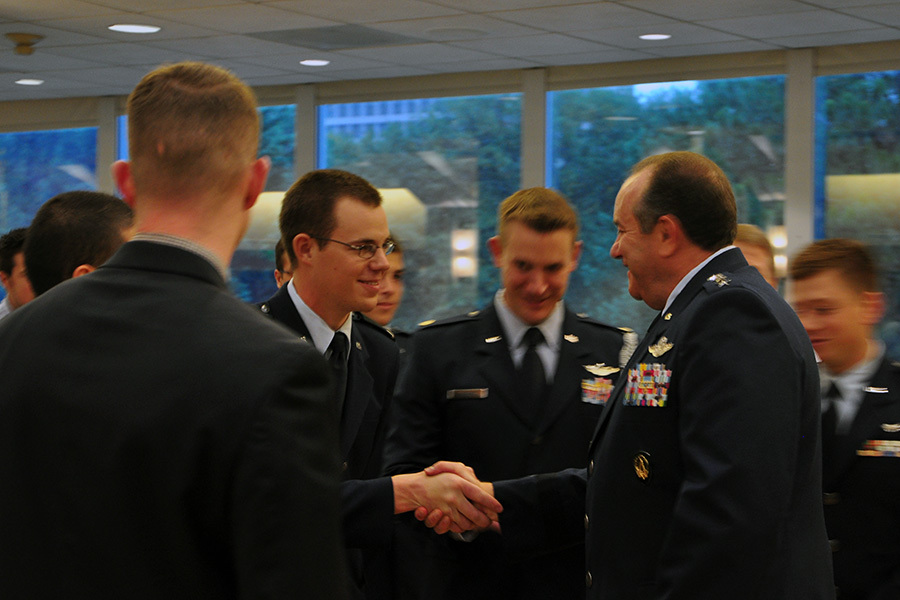 Gen. Philip Breedlove greets members of Georgia Tech's ROTC program after he delivered the Hyatt Distinguished Alumni Leadership Lecture Oct. 26. Breedlove was a member of the Tech ROTC while he earned his bachelor's in civil engineering. (Photo: Jess Hunt-Ralston)
Breedlove's remarks on leadership were peppered with love for his alma mater, including this parting thought from his time as the No. 2 official in the Air Force.
"I saw lots of Georgia Tech engineers in our [U.S. Air Force] labs, from all kinds of disciplines here. Why? Because people know that students who graduate from here solve problems and make things work."
"In my business, that's the kind of people you want hanging around. So you all are in a fabulous place, getting a great education, and America is waiting for you."
The Hyatt Distinguished Alumni Leadership Speaker Series taps the School of Civil and Environmental Engineering's broad alumni base to bring a distinguished leader to campus each fall and spring who can share wisdom and insight with the School's students and the wider Georgia Tech community. It is made possible by the generous support of Kenneth Hyatt, B.S. 1962, MSIM 1966.