Tuesday, 21 February 2017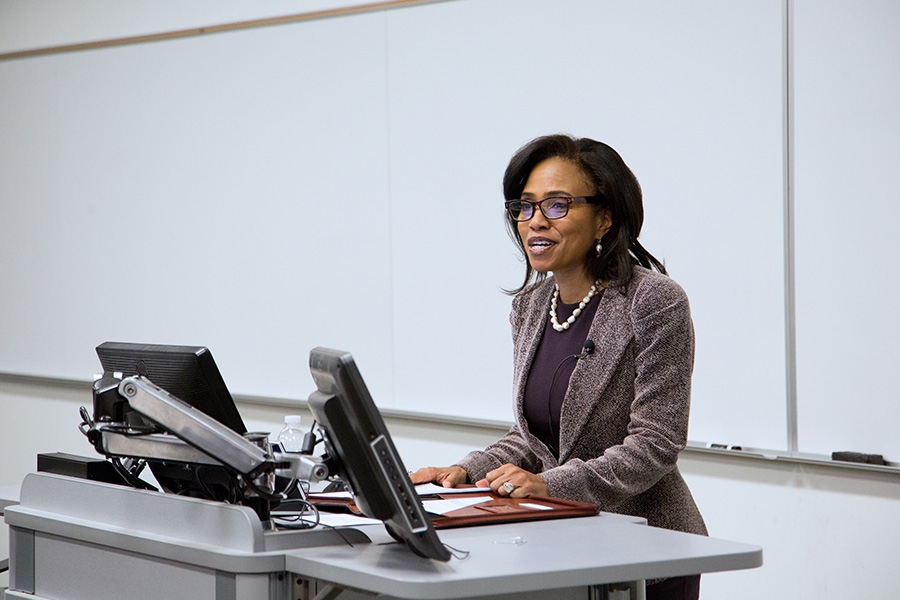 Even though she left engineering behind for Wall Street years ago, Suzanne Shank still keeps two textbooks on her bookshelf from her days as a civil engineering undergrad at Georgia Tech.
From her classes on differential equations and mechanics of deformable bodies, those two books remind her of a key lesson she learned in those days: "I was much stronger when I reached out and relied on the support of my peers. I realized I could only go so far on my own."
Shank said those two books "remind me about the people who helped me understand. And if I could get my head around those courses, well, anything is possible."
That lesson — leadership and success as a team sport and a collaboration — was the central focus of Shank's lecture Feb. 21 for the School of Civil and Environmental Engineering Kenneth Hyatt Distinguished Alumni Speaker Series.
She said leadership isn't about a lone individual in a position of power or influence; it's about connections.
"Like the networks you work so hard [at Georgia Tech] to innovate and improve, leadership is, too, a living, breathing network," Shank said. "Just as society has an infrastructure of water supplies, energy and systems of transportation, leadership cannot thrive on character alone. In my mind, it is not defined by an individual and his or her followers but, rather, by the characters and contexts that facilitated his or her ascension to a position of power and the characters and contexts that will inevitably result from his or her leadership."
Shank would know. As chairwoman, CEO and co-founder of Siebert Cisneros Shank & Co., she's built a company responsible for more than $2 trillion in financing for municipal projects and corporate bond and equity transactions. The firm is the top-ranked minority- and woman-owned municipal bond underwriter in the country.
As a result, some say Shank is the most powerful woman on Wall Street.
"I look at my success and I don't see Suzanne Shank, the only African-American female CEO on Wall Street or one of the 50 most powerful women in business or a founding partner of the nation's leading muni-bond firm," Shank said. "I only see connections: the people, the places, the events and the opportunities that brought me here."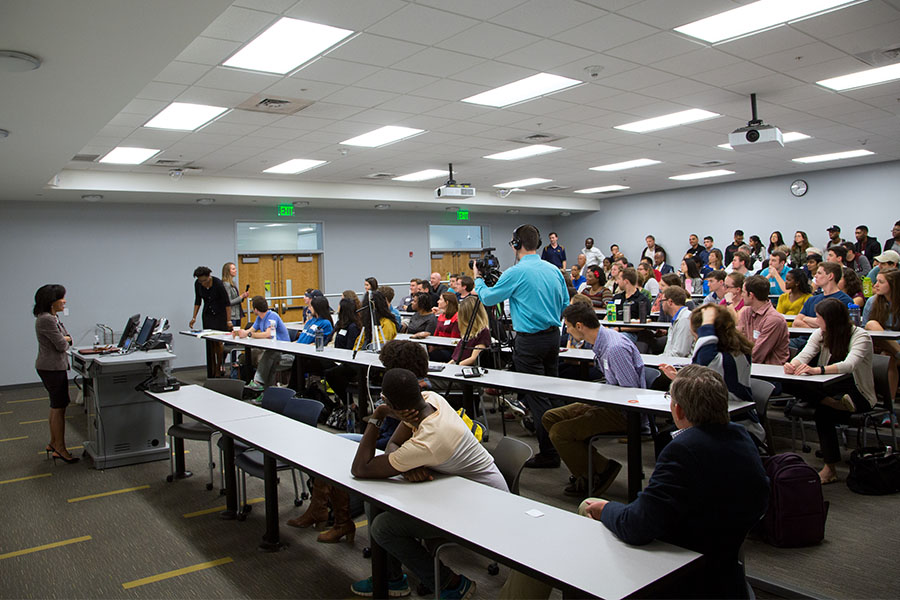 Wall Street powerhouse Suzanne Shank told a full house of School of Civil and Environmental Engineering students, faculty and staff that leadership is about the characters, circumstances and connections that build an individual's experiences. "Your ideas and decision-making skills were not created in a vacuum. Relationships, the positive and the negative, are how we come to understand people and understand ourselves. If a leader is not connecting with the people around them, then who are they really leading? And what can they really achieve?" (Photo: Zonglin "Jack" Li)
Context, circumstances matter
Shank said her connections and opportunities started with her parents, who taught her about hard work and integrity (and who drove from Savannah to attend the lecture).
Her father was the first black bus driver in Georgia and eventually director of transportation for Savannah-Chatham County. Her mother graduated from Spelman College at 19, later earned a master's degree, and eventually became an assistant school superintendent.
The October 1987 stock market crash created another opportunity for Shank. Now known as Black Monday, markets around the world plummeted and the Dow Jones Industrial Average hemorrhaged $500 billion.
Fresh from earning an MBA in finance from the Wharton School at the University of Pennsylvania, Shank saw many of her peers new to the finance industry lose their jobs. But at her small firm, she and her colleagues pulled all-nighters to save their clients millions of dollars.
As a result, she came to the attention of Muriel Siebert and Napoleon Brandford, who recruited her to start a new municipal bond firm and act as CEO.
"Yes, I was good at my job. Yes, I was determined and ambitious and all those complimentary terms that people throw out to describe effective leaders," Shank said. "But would I have been able to dig in and prove my mettle if I'd just been given a sweet job out of school and there had been no crisis? And would trailblazers like Muriel Siebert and Napoleon Brandford even have noticed me?
"As much as I like to take credit for my success, I think it's much more complex than that."