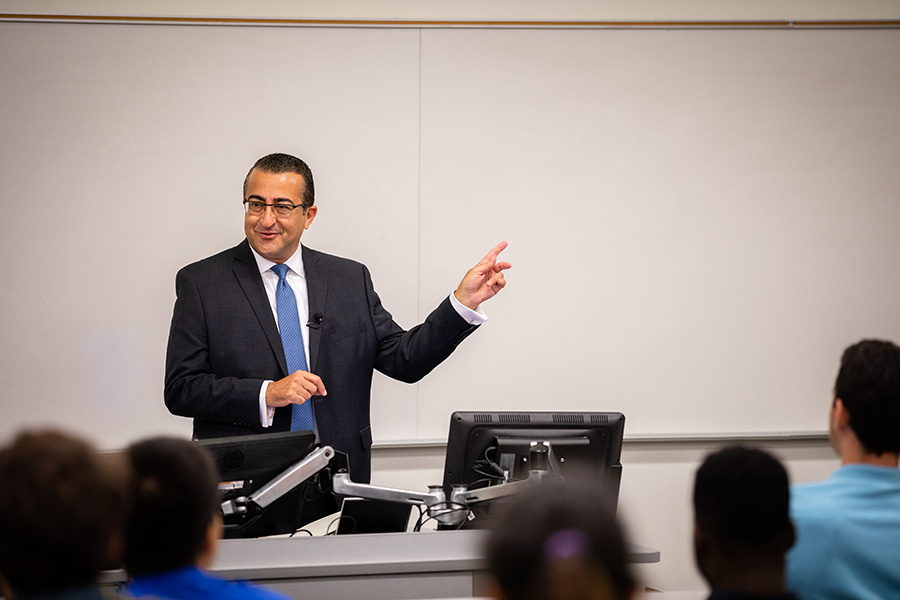 Wassim Selman, a triple alumnus of the School of Civil and Environmental Engineering, delivered the fall 2018 lecture in the Kenneth Hyatt Distinguished Alumni Leadership Speaker Series Oct. 2. Selman focused on the importance of keeping people in the equation — and even presented his own equation for how to do that. (Photo: Qiusen Huang)
Hyatt speaker Wassim Selman did a little bit of time traveling in his presentation to School of Civil and Environmental Engineering students, faculty and alumni Oct. 2.
Selman pulled lessons into the present day that echoed along the Mason Building's walls when he was a student more than 30 years ago, sitting in Peter Parsonson's undergraduate class on transportation — and still echo for him today.
"[Parsonson] stressed, quite a bit, the relationship between the highway, the driver and the car. He always talked about how you have to create the right balance," said Selman, president of the infrastructure business line in North America for Arcadis and the fall 2018 speaker in the Kenneth Hyatt Distinguished Alumni Leadership Speaker Series.
"You understand the natural and built environment. … You will need to consider the third part of the puzzle, and that is the human element," Selman said. "It could one person, it could be a group, it could be a community, it could be a city, it could be our global humanity."
Those lessons about keeping people in the equation have been key in defining his approach to engineering and leadership, Selman said. He recalled several examples of projects he worked on where clients said the biggest challenges were not technical or engineering; rather, they were challenges of building support for a project or convincing taxpayers to pay for it.
"Regardless of what you do, being able to understand and work with people will be key to your success."
He said that all starts with each individual.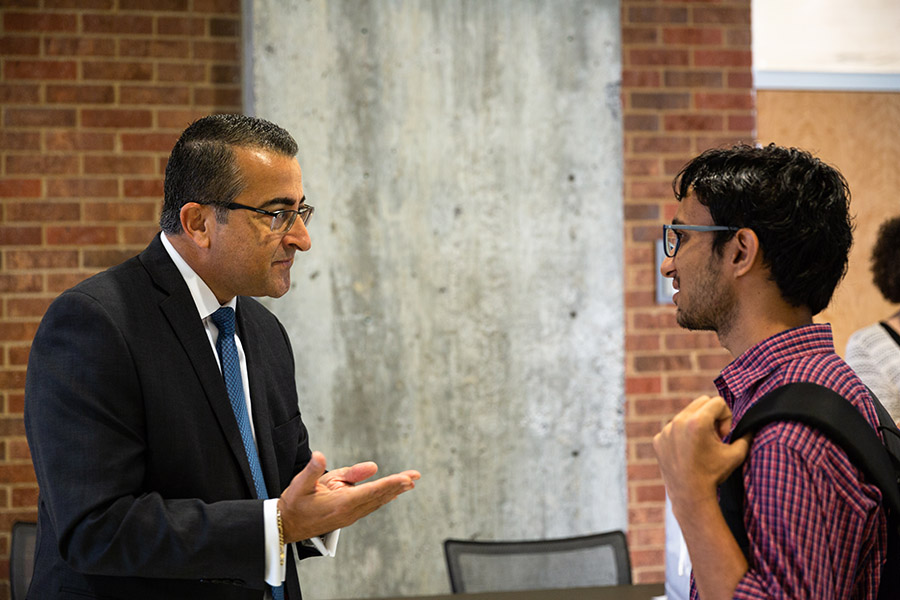 Wassim Selman talks with a student after the fall 2018 Hyatt lecture, which featured lessons Selman still carries with from his days as a civil engineering undergraduate at Georgia Tech in the 1980s. (Photo: Qiusen Huang)
"When we talk about people, the most critical person that you need to think about in that equation is you. That's where it all starts," he said. "The more you learn about yourself, the more you take that into consideration, and the more you actually think about where your passions are, the more successful you will be."
Selman — who earned bachelor's, master's and doctoral degrees in civil engineering at Georgia Tech in the 1980s — suggested that passions beyond science and math would serve students well as they moved into their careers. He pointed to his own early dreams of becoming an actor. It was a short-lived dalliance once he discovered that his desire to succeed in school outweighed his stage-bound aspirations. But it led him to an important discovery.
"I realized soon after I started working that my passion for acting [could] be very valuable to me in my career, because the first thing an actor does is understand the person that they will be in a role," Selman said.
"Think about those interests and passions you have in other areas, and think about those times when you think, 'Maybe I shouldn't be here becoming an engineer. Maybe I should follow my passion.' My message to you is, you can do both.
"Your passions, no matter what they are outside the technical arena, will be very helpful to you. That's who you are. Those are the passions that are going to result in the strength you will have as a person and as a professional."
Watch Wassim Selman's entire Hyatt lecture, "Including People in All Equations."