Wednesday, 14 November 2018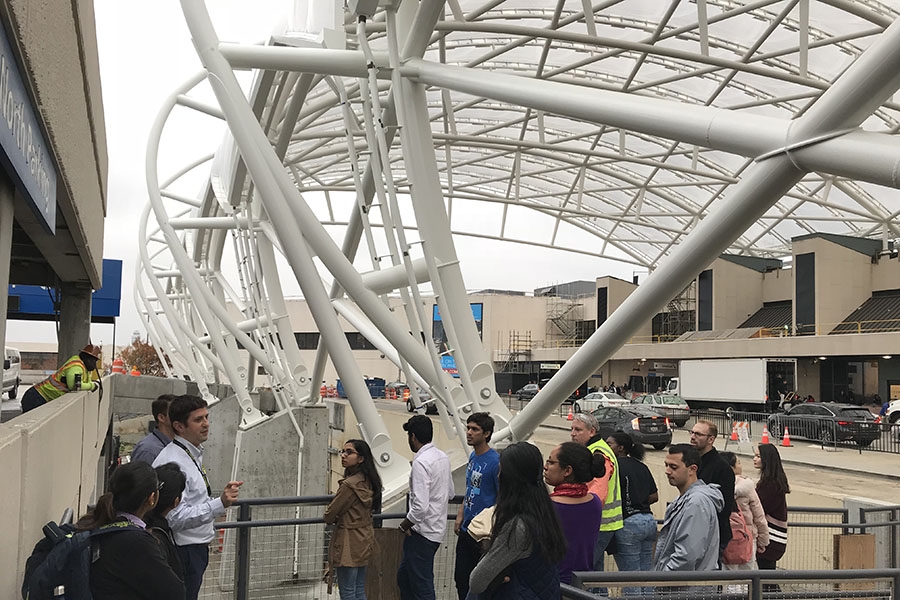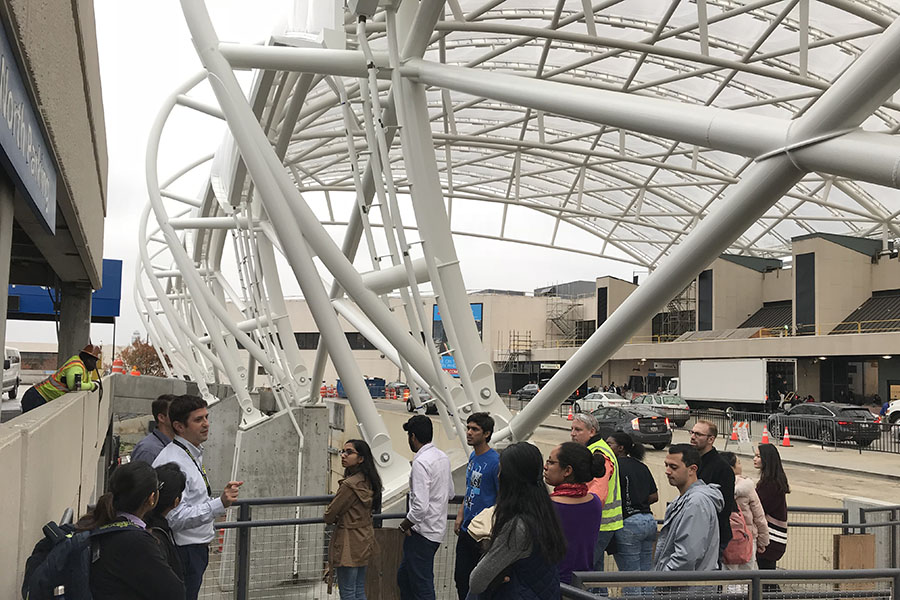 McCarthy Building Company Project Manager Justis Brogan tells a group of School of Civil and Environmental Engineering students about the canopies being installed at Hartsfield-Jackson Atlanta International Airport. Teams of students and industry mentors spent a day brainstorming ways to use robotics to improve the installation as part of the School's second Tech Blitz Nov. 9. (Photo: Eric Marks)
How could robots improve the installation of new canopies at Hartsfield-Jackson Atlanta International Airport?
That was the challenge for teams of School of Civil and Environmental Engineering students and industry mentors Nov. 9 at Tech Blitz, a day-long hack-a-thon designed to highlight the School's work driving technological change in the architecture-engineering-construction industry.
The winning team offered a suite of options, including autonomous, rail-mounted robots using lasers and cameras to track canopy installation and find trouble spots; robotic arms to perform and inspect welds; "zipper" robots to install the translucent canopy covering; and a network of sensors to improve worker safety and efficiency.
"The most challenging thing about working on a short time scale was getting people on board with a couple big ideas very quickly, and then setting them to improve upon those ideas in a cohesive manner," said Rachel Samuels, a Ph.D. student who helped come up with the winning ideas. "You need to be creative but focused, which involves a special kind of precision chaos. In fact, one of the industry professionals and I had been operating under very different visions of our solution up until I was sketching out the design half an hour before we needed to present. We had to improvise quite quickly."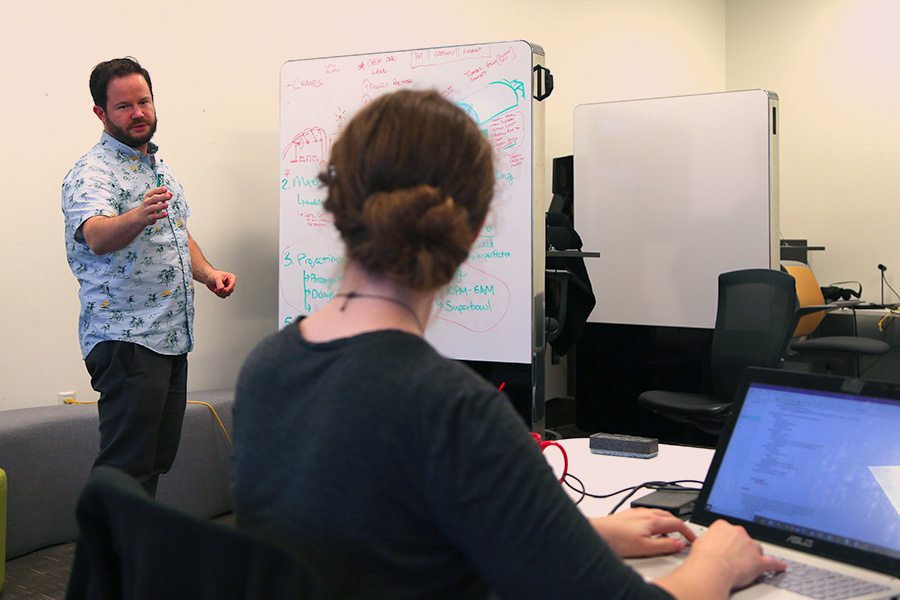 Rachel Samuels and Matt Vanture from Whiting-Turner discuss their approach to using robotics in the installation of steel canopy trusses at Hartsfield-Jackson Atlanta International Airport. Their team's combination of ideas won the second Tech Blitz, a sort of construction hack-a-thon at the School of Civil and Environmental Engineering.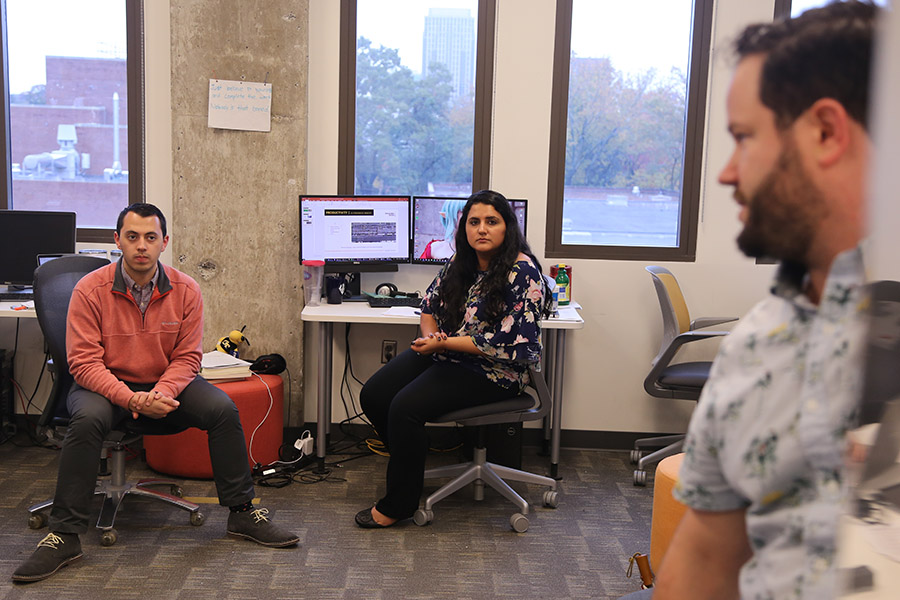 School of Civil and Environmental Engineering undergraduate Santiago Escobar, left, and Swinerton's Roya Agharahim listen as Matt Vanture from Whiting-Turner discusses final details of the team's plan for using robots to improve construction of canopies at the Atlanta airport. (Photos: Joshua Stewart)
The steel-trussed canopies are part of a massive infrastructure improvement project at the airport called ATL Next. Samuels' team said their system would improve safety, provide constantly updated information about the work's progress, and shave nearly three months off the project schedule.
Calling themselves the "Autobots," the team included Samuels, Matt Vanture from Whiting-Turner, Roya Agharahim from Swinerton, Kirk Voelkel from H.J. Russell, and civil engineering undergraduate Santiago Escobar. All told, 15 professionals and 13 students spent the day brainstorming ideas for the canopy construction process.
After a quick presentation about the project from two of the day's judges — Project Manager Justis Brogan and Jaimi Tapp, director of strategic planning at the airport — the five teams had about six hours to formulate a proposal and present it.
"It was a little pressure, obviously, but not the bad kind of pressure — the good kind of pressure that gets the best out of you," said Sakshi Hattargi, a master's student studying construction and infrastructure systems engineering in the School.
"I loved it. Talking to industry people directly, the direct one-to-one conversation, and then getting insights from them about how things go at their sites," she said, "it's a big thing, getting in touch with the industry."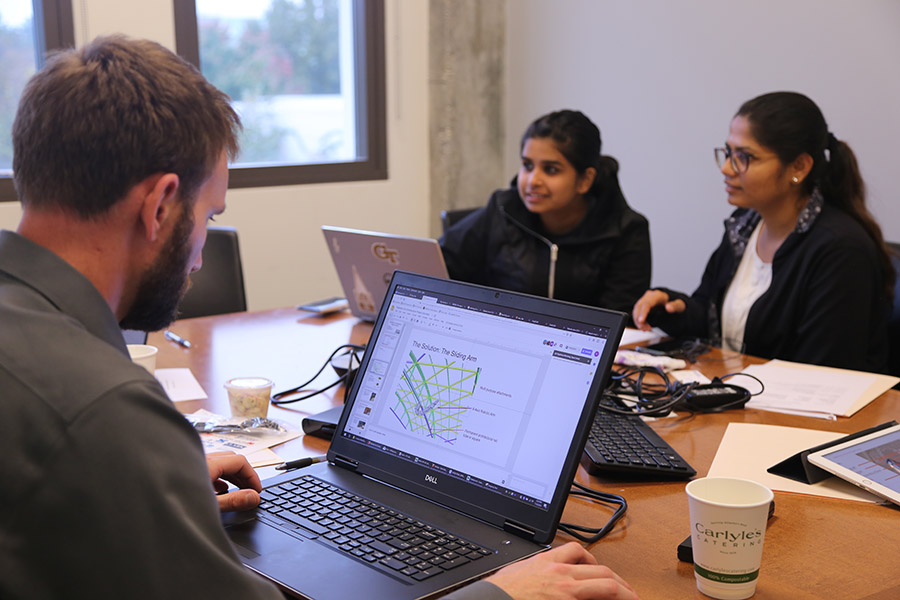 Rajshree Bhardwaj, right, and Sakshi Hattargi work with their team at the fall 2018 Tech Blitz at the School of Civil and Environmental Engineering. Teams of students and industry mentors had about six hours to come up with ideas for using robotics to improve the construction productivity, safety and quality of a project installing massive canopies at the landside terminal of Hartsfield-Jackson Atlanta International Airport. (Photo: Joshua Stewart)
Hattargi's group mate and fellow master's student Rajshree Bhardwaj agreed.
"It was an amazing experience," she said.
Raj Sharma from another team said he also benefitted from talking to the professionals who were on his team — though he was a little nervous to present their ideas to the judges and other teams.
"It was a learning experience. I'm pretty happy with the entire thing. It was a productive day," he said.
It's the second time faculty members John E. Taylor and Eric Marks have organized the Tech Blitz, which they said is the only event of its kind in the field. The idea came from conversations with a group of alumni and industry professionals who sit on the School's Construction Advisory Board. The challenge at the first blitz in April used Building Information Modeling to "radically" improve construction of Georgia Tech's Living Building.
"We think of our construction and infrastructure systems engineering program as the platform for technological change in the AEC industry," Taylor said at the time, "so we want to foster these kinds of interactions between our students and professionals to explore and expand the cutting edge of technology in our industry."