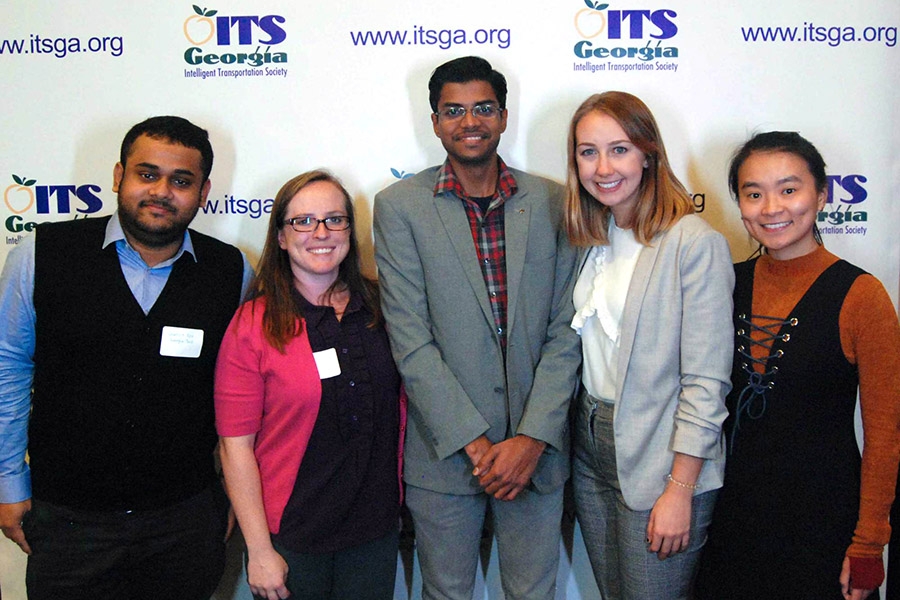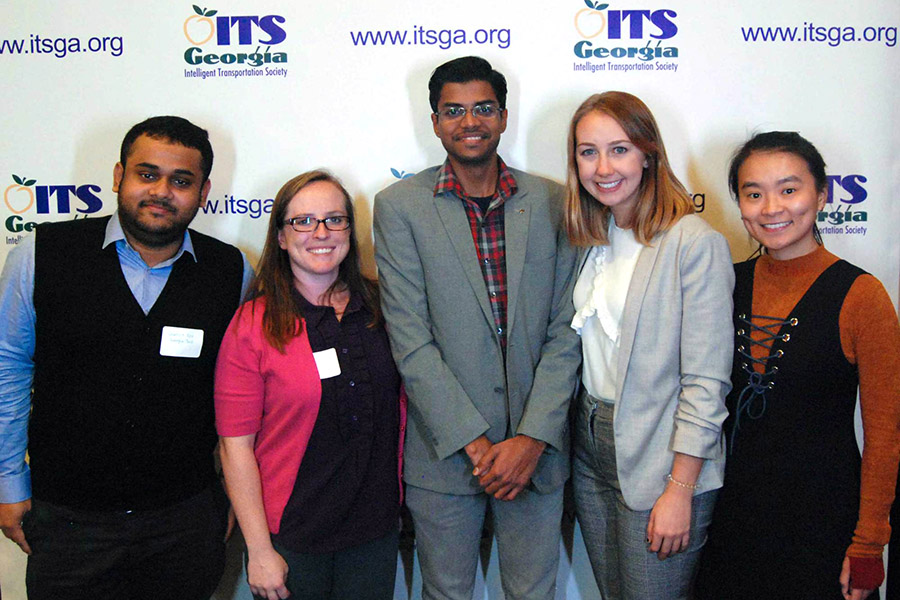 These five School of Civil and Environmental Engineering students won scholarships from the Intelligent Transportation Society of Georgia for their essays about the ways intelligent transportation systems and technology could help the United States eliminate roadway deaths and serious injuries by 2025. From left, Ph.D. students Somdut Roy, April Gadsby and Cibi Pranav; undergraduate Katie Popp; and Ph.D. student Hanyan "Ann" Li. (Photo Courtesy: Intelligent Transportation Society of Georgia)
The Intelligent Transportation Society of Georgia rewarded five School of Civil and Environmental Engineering students with scholarships Nov. 14.
"I appreciate the support from ITS, because it means that the organization is interested in the fresh ideas and perspectives of university students," said civil engineering undergraduate Katie Popp. "Winning this scholarship encourages me to continue my education in civil engineering because ITS demonstrates how important it is to continue innovating and pushing advancements in technology."
The 2018 Wayne Shackelford Engineering Scholarships support student involvement in transportation engineering. They're awarded based on student essays, which was one of the reasons Ph.D. student Somdut Roy applied.
"I found the topic of essay to be interesting. The topic was 'Assume we reach the goal of Vision Zero by the year 2025. What role did ITS and traffic technologies play in achieving this goal?' Connected vehicle and autonomous vehicle technologies are penetrating faster than ever. And these are things that beg to be discussed sooner rather than later," he said.
Vision Zero is a worldwide push to eliminate deaths and serious injuries on roadways and has been adopted by the Federal Highway Administration. Students pointed to initiatives like the North Avenue Smart Corridor in Atlanta, increasing use of autonomous or semi-autonomous vehicles, more vehicle-to-vehicle data sharing and communication, and employing a variety of on-road and in-car technologies to get drivers to slow down as some of the ways the vision could become reality by 2025.
Along with Popp and Roy, scholarships went to Ph.D. students April Gadsby, Hanyan "Ann" Li and Cibi Pranav. It's another sweep of college awards this month after WTS Atlanta awarded scholarships to four civil engineering students at Tech.
"I am passionate about applying advanced technologies to real-world transportation problems," said Li, who's in her last year of graduate studies. "I was absolutely honored to be awarded this scholarship."
"My research has always involved sensing technologies and has been, to some extent, related to intelligent transportation systems," Gadsby said. "The essay gave me a chance to consolidate my thoughts and fill in some gaps in my knowledge. Scholarships are also almost always worth applying for because they're an opportunity to get some financial help, some recognition, a resume boost, and a confidence boost."
For Popp, the scholarship aligned with her interests in building a smarter, more resilient world.
"Atlanta, specifically, is going through a decade of prosperity [and] rapid urbanization, which puts the city in a position to be the pilot in implementing new technologies as it continues to expand," she said. "ITS Georgia plays a key role in the methods the city will be using to tackle our infamous traffic problems and test new smart technologies.
"I appreciate the efforts they make to really stimulate interest in a field that will only continue to grow."
Read all of the winning scholarship essays on the ITS Georgia website.