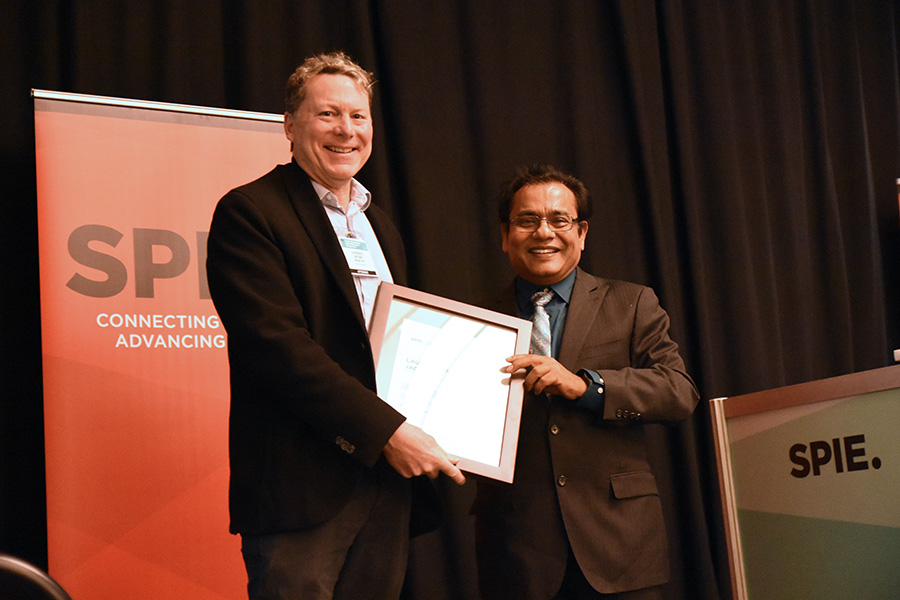 Professor and Associate Dean Laurence Jacobs, left, accepts a lifetime achievement award in nondestructive evaluation from Tribikram Kundu at the SPIE Smart Structures and Nondestructive Evaluation Symposium in early March. (Photo Courtesy: Laurence Jacobs and SPIE)
An international organization dedicated to advancing light-based research and technology has given Laurence Jacobs a lifetime achievement award for his work on nondestructive evaluation.
SPIE, the international society for optics and photonics, honored Jacobs earlier this month at the organization's smart structures and nondestructive evaluation symposium.
"I have had the privilege of working with a large number of outstanding students and colleagues at Georgia Tech and around the world, and this recognition gives me satisfaction that our hard work has had a positive impact," said Jacobs, a professor in the School of Civil and Environmental Engineering and associate dean for academic affairs in the College of Engineering.
SPIE reserves lifetime achievement awards for senior researchers who have made significant impact on nondestructive evaluation approaches and been instrumental in their growth. Jacobs' work includes using ultrasound to characterize fatigue, creep, stress corrosion and other damage in metals and to quantify microstructure and micro-cracking in concrete.
"There are a large number of practical problems in nondestructive evaluation, such as extending the usable lifetime of civil and energy infrastructure, that demand technically advanced solutions," Jacobs said. "These problems have allowed me to combine my interests in modeling and simulation with experimental measurements."
Jacobs, who also is a professor in the Woodruff School of Mechanical Engineering, said SPIE has long been a valuable forum for his research.
"I am thrilled to be recognized by my professional peers with such a prestigious award."
Related