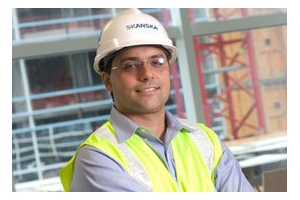 Jimmy Mitchell traces some of his success at Georgia Tech to the viola he played while growing up in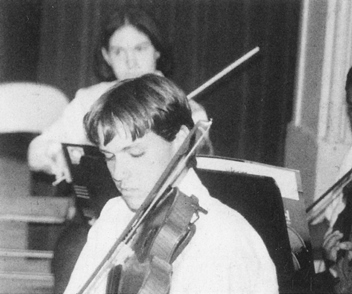 High Point, North Carolina.
"I went all-county, all-state with the viola. But when I came to Tech, I knew I couldn't do academics and music at the level I wanted to, so I gave it up," says the 2005 civil engineering alumnus, now the director of sustainability for construction engineering giant Skanska.
"Giving it up was a sacrifice, but it gave me some skin in the game as a student. I knew I wasn't at Georgia Tech just to get any degree. I was here to do well. I'd given up something I loved to make that happen, and I never forgot that."
He also never forgot his love of music.
"Now that I am a civil engineer, I can actually build a performance space for musical performers and I look forward to that opportunity," he says.
"Looking back, I can see that performing music helped me with public speaking and other social aspects of school. And there's a lot of math involved in music."
Anyone who knew Jimmy Mitchell during his time at Georgia Tech would be surprised to hear he gave up a single thing. An active member of the Ramblin' Reck Club, and the Sigma Chi fraternity, he could often be found heading up huge charity events (like the alumni pig roast and the award-winning Barnyard Bingo fund raiser) or cheering on the Yellow Jackets. He even found time to bake cookies for Alpha Chi Omega,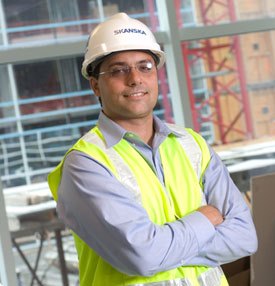 where he met his future wife, Angela Dobson Mitchell (PTCH '04).
"I wanted to have the full college experience," he says. "I didn't want to miss a thing."
Mitchell settled on that philosphy just a few months into his freshman year after declaring his first major: chemical engineering. That declaration led to a job – testing polymers in the MRC building. And that job led to a revelation.
"It was interesting work, I guess, but it wasn't for me. I hated working all by myself in a lab, which was what I did on that job," says Mitchell. "So, about eight weeks into it, I just stopped coming. It was the only time in my life that I burned a bridge professionally, but it had to be done."
From there, the decision to pursue civil engineering was a no-brainer.
"I immediately knew that civil engineering would be a good mix for me," he says. "I'd always wanted to be a problem-solver, and I wanted to have an impact on the way people live. In civil engineering, you get to do both. You can't solve the engineering problems without working with people. And it has all of the cool stuff that I liked - physics, math, science."
Mitchell said he briefly considered going to another college, nearer to his home, but he nixed the idea when one of the recruiters boasted that the school "even went up against Georgia Tech" in its intercollegiate academic competitions.
"When I heard that, I thought: 'Why would I go to this school? Even their recruiters envy Georgia Tech'."
That decision did not mean clear sailing for Mitchell, a top-performing high school math and science student who had always struggled with English and writing. At Georgia Tech he met students who'd always done well in everything. The competition was tougher all-around.
That's when a winning quality really shone forth in this Georgia Tech undergraduate: Jimmy Mitchell kept his cool.
"I'd already had the experience of not being at the top when it came to English, so I'd learned to cope. I'm competitive, sure, but I've always tried to measure myself through the quality of my relationships, not just my grades," he said.
"So it actually didn't bother me that I was not at the top when I got to Tech. If I got an 'A' in physics and a 'B' in calc-2, that was okay. I was happy to be around such smart people."
As he dug deeper into civil engineering stud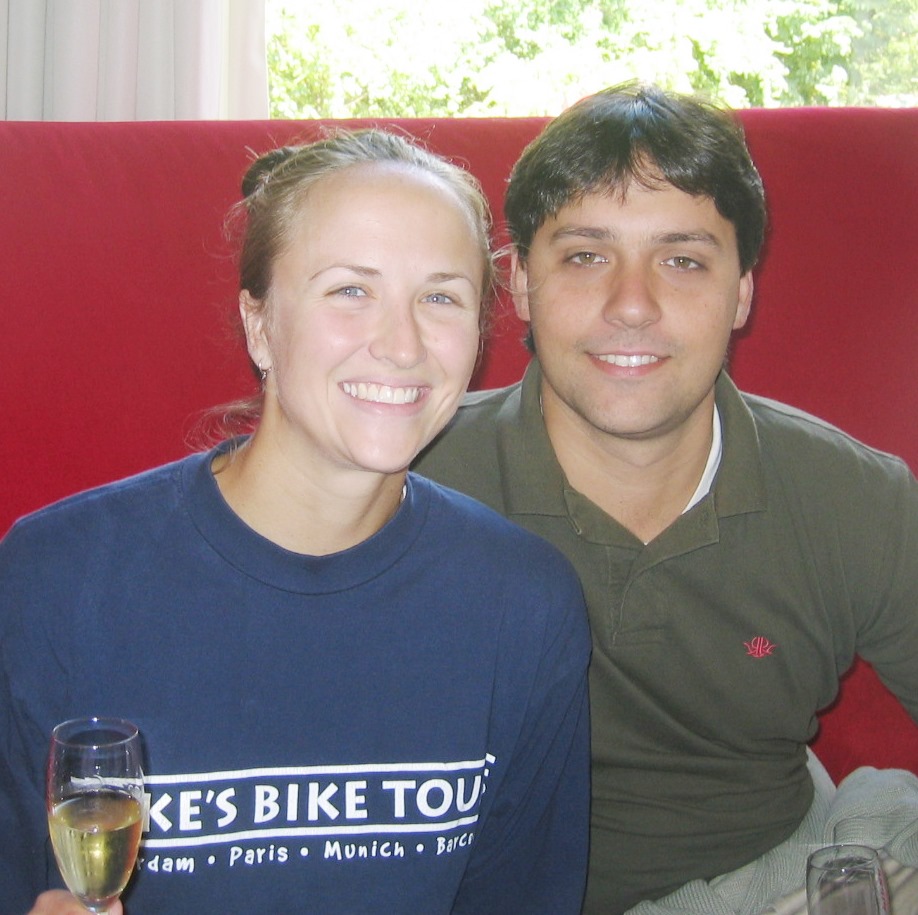 ies, Jimmy Mitchell showed all the signs of being one of those "smart people" he admired.
"Like I said, I wasn't here to get a 40 on a final. I was an out-of-state student  who came to Tech because this degree meant something to me."
By the time he was a senior, Mitchell was still known as the go-to guy for social events but he was also the get-it-done guy when it came to school work. Recognizing this, one  of his professors invited him to join the exclusive "Roundtable on Progress" seminar -- a weekly class that brought together select civil engineering and liberal arts students for a wide-ranging exploration of real-world problems.
One of those problems was environmental sustainability -- a theme that has defined Mitchell as a working engineer.
"That class really brought everything together," he said. "I worked really hard, because it was all about problem-solving. But it wasn't all about engineering. We developed plans to solve social security. We looked at renovating symphony hall. We met Governor Sunny Purdue. We looked at the taxes, the economics that make change possible."
It's been eight years since Jimmy Mitchell graduated from Georgia Tech, and that same combination of hard work and social engagement remains the driving force in his life. As an engineer for Skanska, he's been able to work on projects that make a difference in the world – New Orleans' University Medical Center, California's Paolo Alto Medication Foundation, and even the Meadowlands Sports Complex in New Jersey.
As a CEE alumnus, he's served as president of the Georgia Tech Alumni Association Atlanta Intown Network, Alumni Association Board of Trustees, and has recently joined the CEE External Advisory Board.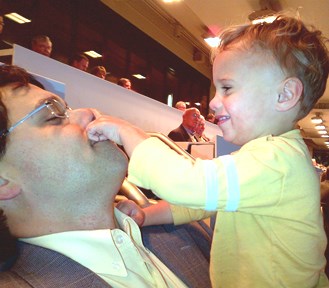 And as a private citizen, he co-founded Atlanta's Lifecycle Building Center, a non-profit dedicated to recycling and re-using building materials -  much of which has been culled from Atlanta's burgeoning film industry.
"It's maybe the most important thing I've done since I left Tech."
Well, almost.
Two-and-a-half years ago, Mitchell and his wife Angela became parents to Charlie – a rambunctious toddler who regularly teaches the couple lessons they never learned in an engineering class.
"His mom and his dad are engineers, so that probably means Charlie will end up at Julliard."