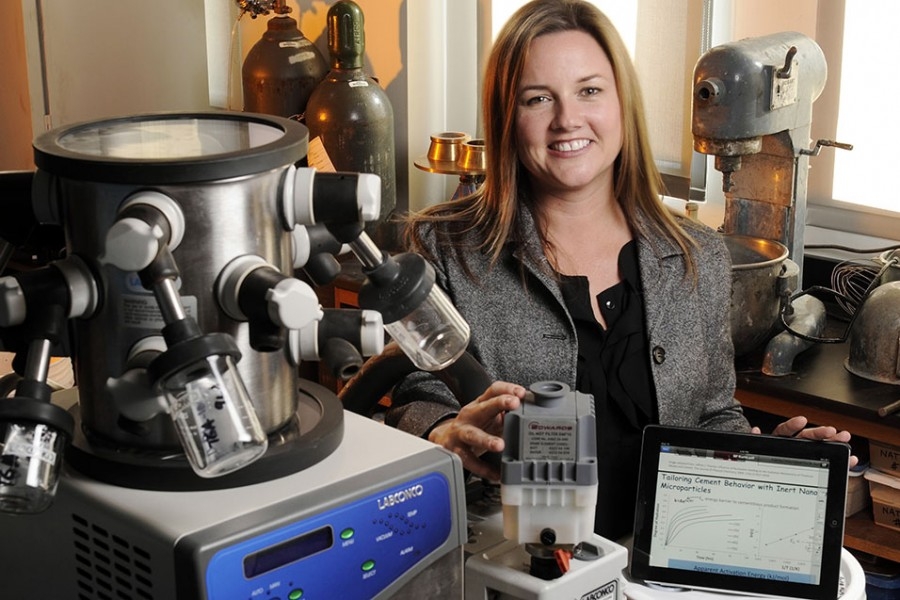 By Kay Kinard, College of Engineering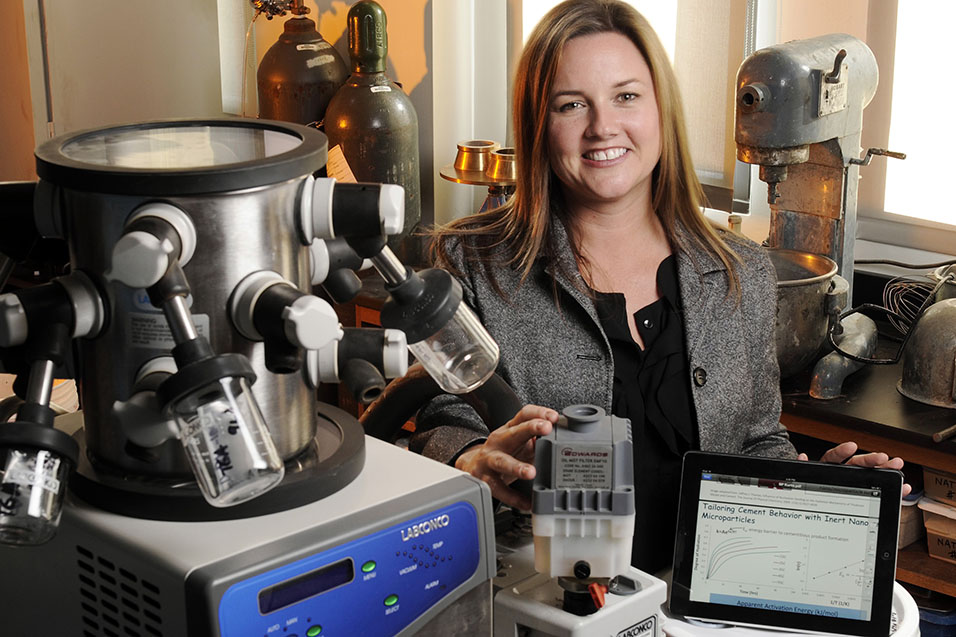 Professor Kimberly Kurtis has been named interim chair of the School of Civil and Environmental Engineering, effective July 1, when current chair Reginald DesRoches departs for Rice University. Kurtis has been associate dean for faculty development and scholarship in the College of Engineering since 2014. (File Photo: Gary Meek)
Kimberly E. Kurtis will serve as interim chair of the School of Civil and Environmental Engineering effective July 1, 2017. Kurtis has served as the College of Engineering's associate dean for faculty development and scholarship since April 2014 and has been on the civil engineering faculty since 1999.
"I am delighted that Kim will take on the position of interim chair for CEE," said Gary S. May, College of Engineering dean and Southern Company Chair. "Kim has shown leadership in developing programs that promote equity, diversity and advancement of faculty as well as having an extremely active and productive research laboratory. I am confident that the School will continue to thrive under her guidance during this transition period."
Kurtis will officially assume her new duties after current chair Reginald DesRoches leaves to become the dean of engineering at Rice University. She'll continue in the role until a new chair is named. May has said he wants someone in place by July 2018.
"Reggie's outstanding leadership and many accomplishments during his tenure as chair have continued to elevate the stature of the School, which has been recognized as among the very best in the country," Kurtis said.  "It is truly my honor to serve as interim chair of CEE during this period when the School embarks on a national search for a permanent chair."
Kurtis earned her bachelor's in civil engineering from Tulane University under a Dean's Honor Scholarship and her Ph.D. in civil engineering from the University of California, Berkeley, where she was a Henry Hilp Fellow and a National Science Foundation Fellow.
Kurtis's innovative research on the multi-scale structure and performance of cement-based materials has resulted in more than 150 refereed technical publications and three U.S. patents.
In addition to her technical and educational contributions to professional service organizations, she has held two leadership positions central to advancing science-based research on cement-based materials: chairman of the American Concrete Institute (ACI) Committee 236: Materials Science of Concrete (2006-2012) and chair of the American Ceramic Society's Cements Division (2008-2009).
Kurtis has served as associate editor of the American Society of Civil Engineers Journal of Materials in Civil Engineering and as an editorial board member of Cement and Concrete Composites and Cement and Concrete Research. After six years on ACI's Educational Activities Committee, she is currently serving on the organization's 12-member Technical Activities Committee, which oversees development of ACI standards, technical committee activities, and technical content presented at ACI conventions and in archival publications.
Kurtis has been honored with ACI's Walter P. Moore Jr. Faculty Achievement Award, ACI's Del Bloem Award for Service, Georgia Tech's Outstanding Senior Undergraduate Research Mentor Award, the ACI James Instruments Award for Research on Non-Destructive Evaluation of Concrete, and the ASCE Huber Civil Engineering Research Prize. Kurtis is a fellow of the American Concrete Institute and the American Ceramics Society.
Meanwhile, May also has announced School of Materials Science and Engineering Chair Naresh Thadhani will lead the search committee tasked with finding a permanent chair for civil and environmental engineering.
May said the College will conduct an international search, beginning immediately. The search committee includes:
Chloe Arson, associate professor
Molly Croft, College of Engineering development director
Hermann Fritz, professor
Kevin Haas, associate professor
Bill Higginbotham, BCE 1976, president and CEO of ET Environmental Corporation
Ching-Hua Huang, professor
Scott Marble, School of Architecture chair
Glaucio Paulino, Raymond Allen Jones Chair and professor
Atiyya Shaw, civil engineering Ph.D. student
Robert Simon, graduate programs manager for civil and environmental engineering
Iris Tien, assistant professor
Sean Tyndale, civil engineering undergraduate
Kari Watkins, Frederick Law Olmsted associate professor