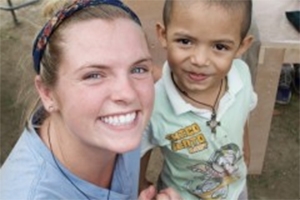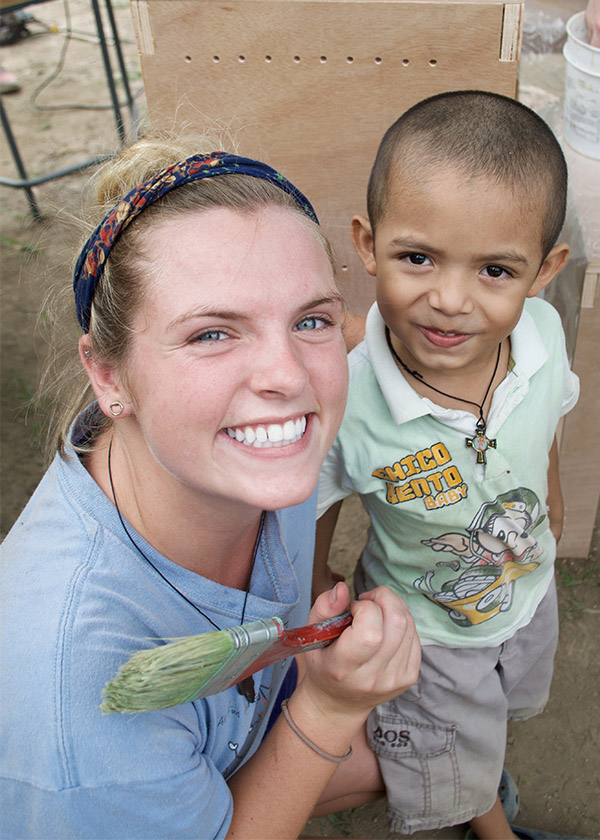 Senior Maggie Lindsey in Costa Rica with one of the young students who will attend a primary school she helped design and build. Lindsey has won second place in the American Society of Civil Engineers Daniel W. Mean Student Prize competition for her essay about professional ethics for engineers working in foreign countries. (Photo: Maggie Lindsey)
Maggie Lindsey has worked in Costa Rica designing a primary school for a poor community. She's worked on a water supply project in Uganda with Engineers Without Borders. She's traveled to Australia, Fiji and New Zealand with Georgia Tech's Pacific Program.
So it's no surprise when she says she wants to spend her career doing humanitarian work and putting her engineering skills to use improving the lives of people around the globe.
That made her the perfect choice to submit an essay on civil engineering ethics in foreign countries for the American Society of Civil Engineers Daniel Mead Prize. And all of those experiences, plus her heart for serving distant communities, won her second place in the nationwide contest.
"As civil engineers and global citizens, we have the ability and duty to greatly influence the health, safety, and welfare of the public," Lindsey said. "Protecting and enhancing the fundamental rights of humans is our ethical obligation and should be our primary motivation for our careers."
Lindsey, who is entering her fourth year of study, said classes in engineering ethics and her recent experience in the Construction Management and Megaprojects course that's part of the School of Civil and Environmental Engineering's Global Engineering Leadership minor have taught her how to apply different philosophies of ethics to her everyday work and demonstrated the value of understanding ethics across borders.
In fact, she said, that was a primary theme of her prize-winning essay: that ethics should have no borders since the work engineers do is not contained by those political boundaries.
"I feel like the curriculum and professors at Georgia Tech have really prepared me to not only have the technical competence I need to perform as a civil engineer in the field, but have encouraged me to realize how great of an impact we can have through our degree," Lindsey said.
"I am so fortunate to live somewhere where I don't have to question if the water I drink and air I breathe are clean, if there are adequate roads and bridges to allow me to get from place to place, and if the building I am in is going to stand if there is an earthquake or other natural disaster," she said.
"I chose civil engineering at Georgia Tech because I believe it offers me a unique and hands-on opportunity to be a problem solver and to help relieve people from questioning whether those basic necessities will be met."
Former ASCE president Daniel W. Mead established his eponymous prize for students to encourage their professional development and give top young civil engineers national recognition. The topic each year focuses on an aspect of professional ethics.
"It's really important for students to think about questions such as the topic for the Mead Prize paper," Lindsey said, "It is really awesome that ASCE is encouraging students to think about our ethical obligation as engineers."