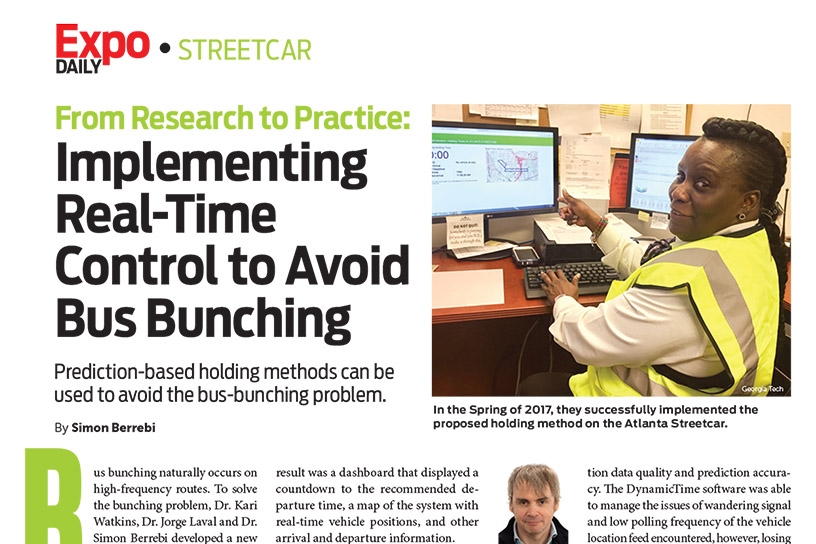 As thousands of public transportation officials arrive in Atlanta for their annual meeting, they're learning about research from School of Civil and Environmental Engineering transportation scholars that addresses a common problem on high-frequency transit routes.
Alumnus Simon Berrebi wrote about his efforts to fix "bus bunching" for a daily edition of Mass Transit magazine produced for the American Public Transportation Association Annual Meeting and EXPO that began Oct. 8.
Berrebi explains the problem in his piece for the magazine:
Have you ever waited for a bus way past its scheduled time to see it finally arrive with one or two other buses tailgating? If so, you have experienced bus bunching. Bus bunching naturally occurs on high-frequency routes. As a vehicle starts running late, it faces growing crowds waiting at stops, and gets further delayed boarding and alighting these passengers. Bus bunching happens when the following buses, which are neither slowed not crowded, catch up to the leading vehicle. Big gaps in service emerge and cause undue waiting time to passengers at stops.
Berrebi worked with Kari Watkins and Jorge Laval on a new approach for dispatching vehicles as part of his Ph.D. research. He graduated in the spring.
The team piloted their new dispatching method on Atlanta's Streetcar, the Georgia Tech Stinger bus, and a bus route in San Antonio, Texas.
"In all three transit routes, the method reduced bus bunching and big gaps in service, compared to the regular schedule," Berrebi wrote.
"The next step should be to implement the method with tablets inside vehicles or kiosks at control points to communicate holding instructions directly to operators. All the tools developed in this research are available in open-source format for any agency to implement and expand."