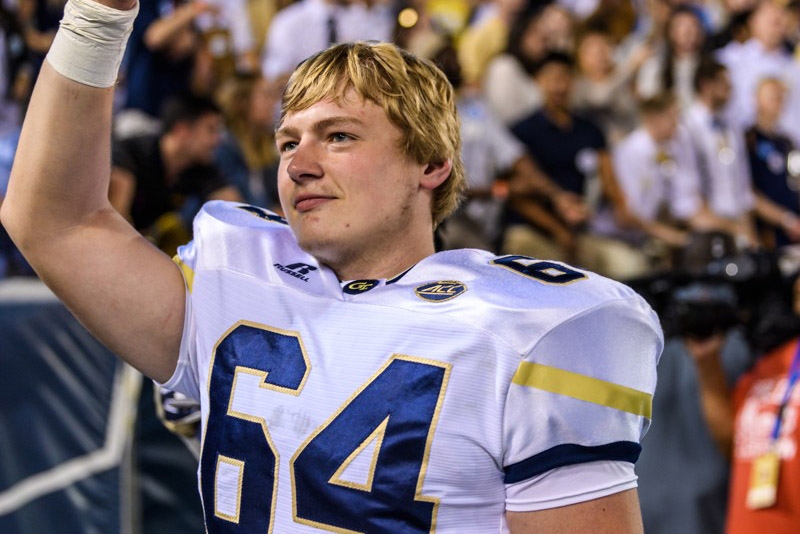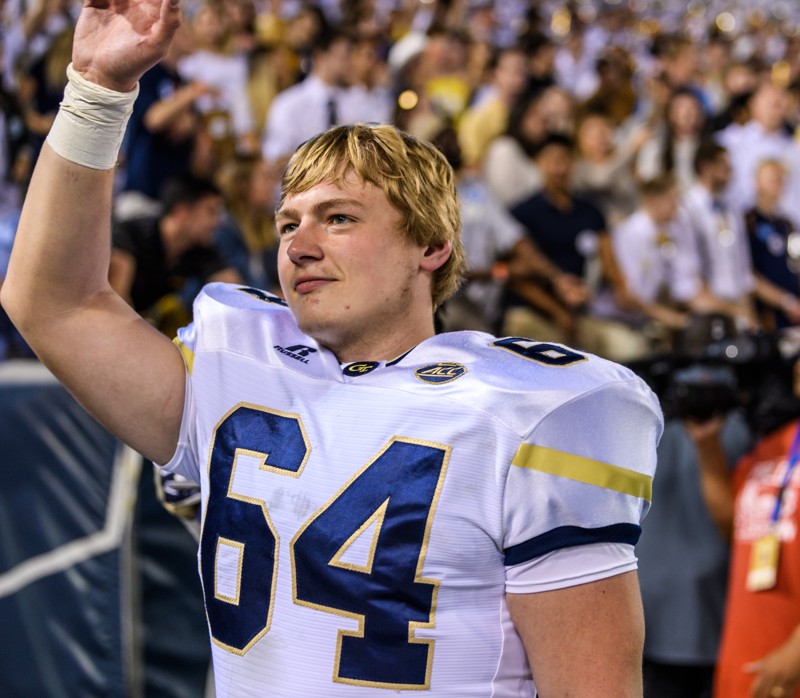 Civil engineering master's student Cheyenne Hunt waves during one of Georgia Tech's football games this year. Hunt is a walk-on offensive tackle finishing his final year on the team. (Photo: Danny Karnik/Georgia Tech Athletics)
Yellow Jackets offensive tackle Cheyenne Hunt finished his civil engineering bachelor's degree in May. But he'll still be celebrated on the field Nov. 17 with the team's other seniors.
Hunt now is working on his master's degree, and he just couldn't turn away from one final season playing the game he's loved since he was a kid. He told Atlanta Journal-Constitution beat writer Ken Sugiura that even without a scholarship or much playing time in games, his time on Tech's football team as a walk-on has been incredible.
Davis and Hunt will be two of the 24 players who will be recognized in senior day festivities Saturday prior to the Jackets' home game against Virginia. They won't leave with many statistics or highlights to their name – Davis has appeared in five games in his career and Hunt just one – but they will have the respect and appreciation of teammates and coaches.

"Guys like Cheyenne and Melvin are invaluable," coach Paul Johnson said. "People don't get to see them play, but they're a huge part of the team."

Hunt has been on the offensive scout team since his first season in 2014 and has been on it ever since. Once a player is a senior, he can opt out of being on the scout team – an assignment that essentially guarantees that a player won't be getting any regular playing time and that also can be a bruise to the ego. Realizing that his shot at the field was a longshot, Hunt chose to stay.

"I felt like it'd help the team a little more by giving good looks on the scout team," he said. "If I were not on there, I felt like I'd be standing around a lot more, not really contributing as much."

That Hunt is even on the team this year is highly unusual. Hunt had already earned his civil engineering degree (GPA: 3.8) in May, and walk-ons who graduate with eligibility remaining typically move on. But Hunt came back to get his master's in civil engineering, in part because he wanted to come back for one final season. He didn't want to have to look back and realize he'd missed out on something – maybe a special-teams role or a great bowl trip. Or just the locker-room camaraderie.

"So part of me is like, you don't want to let down your brothers," he said. "That's sort of what it feels like."
Read Sugiura's entire story about Hunt and A-back Melvin Davis in the AJC.