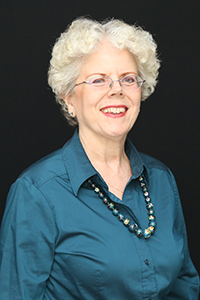 Mokhtarian
Professor Patricia Mokhtarian has been named the 2021 recipient of the Lifetime Achievement Award from the International Association for Travel Behaviour Research for her significant contributions to the field.
Mokhtarian is the first woman to receive this prestigious honor, which has only been awarded to nine others since its creation in 2003.
"I am overjoyed and overwhelmed — this is literally the honor of a lifetime," Mokhtarian said.  "My fantastic students and colleagues have made my work— and my life— immeasurably better, and the richness of those relationships is the real reward of my career. I deeply cherish the Lifetime Achievement Award for what it represents, but it is icing on the cake of a career that has been, and continues to be, everything I could have wished for."
The International Association for Travel Behaviour Research (IATBR) is a premier professional society that brings together scholars from various disciplines involved in the study of factors that influence the activity and travel choices of people and organizations.
IATBR's Lifetime Achievement Award is awarded once every three years to prominent researchers who have made fundamental and sustained contributions to travel behavior research for at least 25 years and have influenced the field through writing, teaching, service, and nurturing younger professionals.
An internationally recognized teacher, scholar, and mentor, Mokhtarian has had a profound influence on transportation research and education while impacting the lives of thousands of students and the profession at large over the past three decades.
After working in regional planning and consulting in southern California, Mokhtarian joined the faculty at the University of California, Davis in 1990. In addition to her role as a professor of Civil and Environmental Engineering, she also served as associate director of the Institute of Transportation Studies and as a founding chair of the interdisciplinary M.S./Ph.D. program in Transportation Technology and Policy. In 2013, Mokhtarian joined the Georgia Tech School of Civil and Environmental Engineering, where she held the Susan G. and Christopher D. Pappas Professorship for five years. She was recently appointed as the Clifford and William Greene, Jr. Professor, effective July 1, 2021.
At Georgia Tech, Mokhtarian has developed several graduate courses, including Application Issues in Statistics and Transportation Survey Methods.  Throughout her career, she has served as advisor to over three dozen Ph.D. and M.S. thesis students. Her former students hold faculty positions at top universities as well as leadership positions in the private and public sectors.
Mokhtarian's key research interests include the impact of telecommunications technology on travel behavior, the impacts of land use on travel behavior (particularly residential location and residential self-selection issues), the positive utility of travel, activities while traveling (travel multitasking), the use of machine learning to impute attitudinal information into travel diary databases, and commuting attitudes and behavior. She has directed or participated in several dozen projects related to these areas, involving about $8 million in external funding.
She is among the top five most highly cited scholars in the field of transportation and has shaped the nature of discourse in the field. She has authored or co-authored more than 175 refereed journal articles, together with numerous technical reports and other publications.   
Her work has had direct and tangible impacts in the policy arena. For example, she served on a US National Academies special study panel on the relationship between the built environment and vehicle miles of travel. Metropolitan regional planners and policymakers are able to use findings from her work to more accurately determine the potential travel impacts of their land use decisions.
 "Throughout her more than 30-year career, Professor Mokhtarian has had a profound influence on transportation research and education, impacting the lives of thousands of students and the profession at large," said Karen and John Huff School Chair Don Webster. "Few, if any, scholars have had as much impact in the field of travel behavior modeling as Dr. Mokhtarian. Her work has produced fundamental knowledge that affects the lives of hundreds of millions of people who use our freeways and roads every day."
Related: