Thursday, 09 February 2017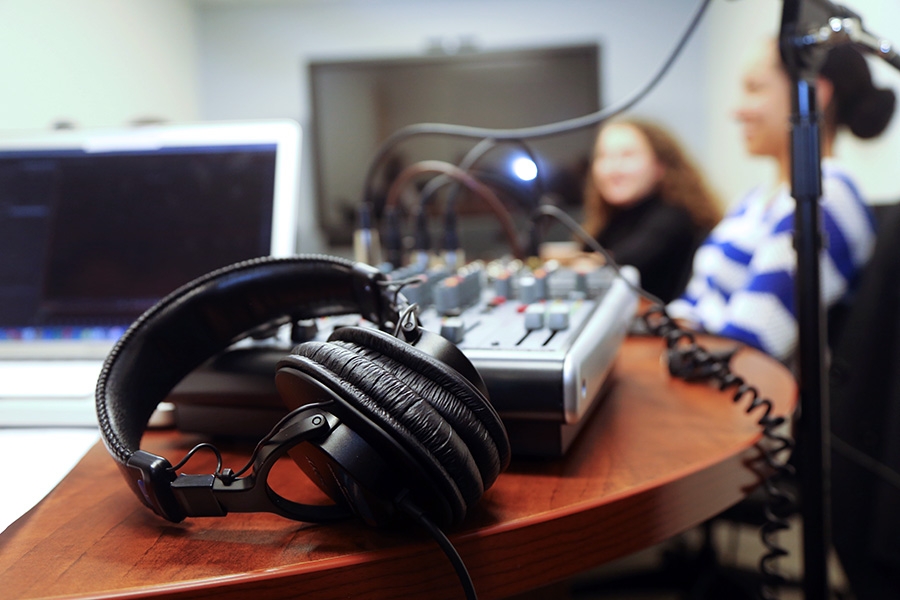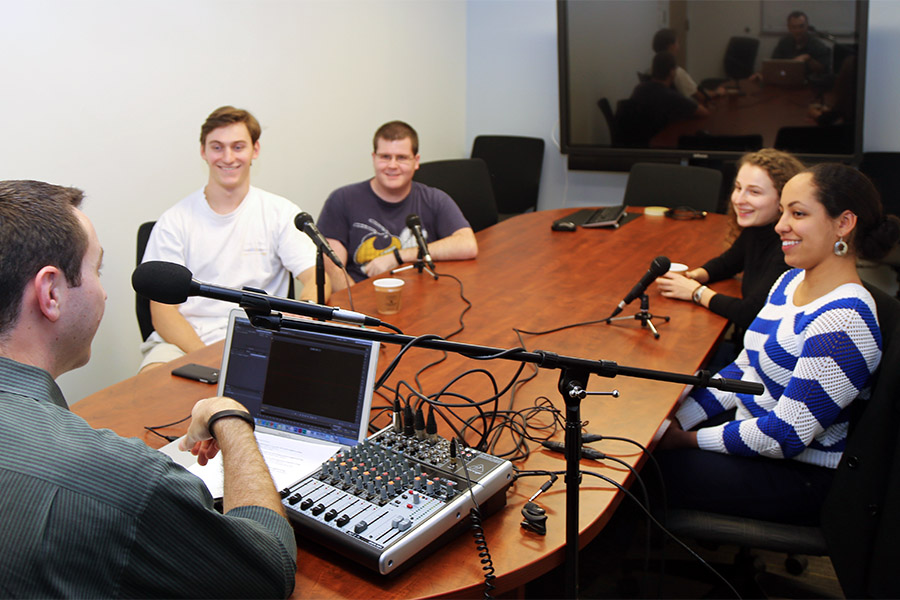 Students prepare for a recording as part of the School of Civil and Environmental Engineering's new podcast, Field Notes. The first episode focuses on giving prospective students insight into studying at the School and pursuing careers in civil and environmental engineering. From left, host Joshua Stewart, senior Robert Barclift, senior Daniel Huckaby, junior Diana Chumak, and sophomore Monica Martelly talk about classes, internships, living in Atlanta, and making it through the first year of college. (Photo: Jess Hunt-Ralston)
The School of Civil and Environmental Engineering has released the first episode of a new podcast that will feature conversations with students, faculty and alumni to explore ideas and help people connect with the School.
The aim of the first edition is to help high school students better understand the School and careers in civil or environmental engineering. It includes a range of conversations covering everything from the kinds of careers students can pursue after graduation to advice from current students.
"It has a reputation for being tough — and it is — but if you're accepted, then you can definitely do it," said Diana Chumak, a junior majoring in environmental engineering who joined a handful of students on the podcast to talk about their experiences.
"There's also a lot of things that come with it that I didn't expect," she continued. "I learned a lot about leadership with the global engineering leadership minor that I didn't expect going into Georgia Tech that I would have with a technical environmental engineering degree."
"I find that it's very easy to get in the mindset of just push, push, push for academics," said senior Robert Barclift, "but if you don't take the time to step back and really enjoy your college experience, you're not going to get everything out of it."
Barclift would know: he's about to graduate and start work as a practicing civil engineer.
"College in itself isn't solely about the academics. There are a lot of life lessons that you learn here, too, and you're really going to regret at the end of your four years or your five years, in my case, at Georgia Tech if you haven't taken the time to make these friendships and make these memories that are really lasting."
The inaugural Field Notes podcast also includes details from the School's advisers about some of the essentials for first-year students, including when you need to talk to them and what to be thinking about in your first semester on campus.
"They have to start thinking about how they're going to tackle their classes," said Tracy Boothe-Miller, the School's undergraduate academic advising manager. "When we meet with them during the first FASET [new student orientation], we talk about scheduling, we talk about class load — how many classes you should be taking, don't overload yourself, don't get too involved."
The podcast also features a conversation with Karen and John Huff School Chair Reginald DesRoches and three alumni who graduated in the last 20 years and have a range of career experiences.
Produced and hosted by Joshua Stewart from the School's in-house communications team, Field Notes is available for download from the School's website and on the audio-sharing platform SoundCloud. New episodes will be released several times a year.