Thursday, 20 December 2018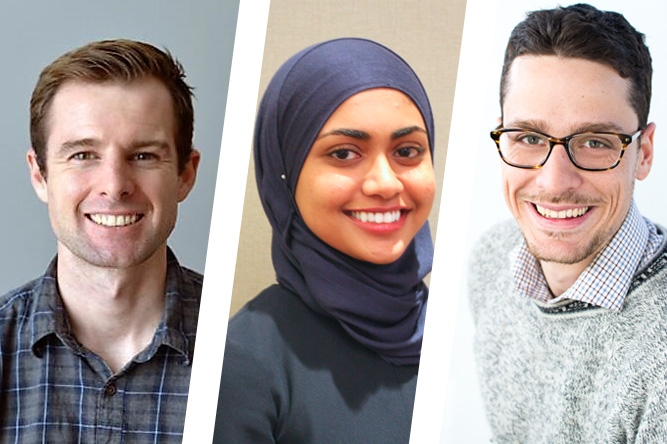 David Ederer
Degree: Ph.D.
Adviser: Kari Watkins

Second Eisenhower Fellowship

Atiyya Shaw
Degree: Ph.D.
Advisers: Patricia Mokhtarian & Michael Hunter

First Eisenhower Fellowship

Andreas Wolfe
Degree: Dual master's in civil engineering and city and regional planning
Adviser: Laurie Garrow

First Eisenhower Fellowship
The Federal Highway Administration has awarded selective Dwight D. Eisenhower Transportation Fellowships to three School of Civil and Environmental Engineering graduate students this year, supporting their work to improve travel forecasting models, rural transit services, and road safety.
That last bit is David Ederer's focus. He's a second-time Eisenhower fellow, and he's working with the Georgia Department of Transportation to predict where traffic crashes are likely to occur.
"Right now, we can only tell that a road is unsafe after a crash occurs. Basically, we'd like to be able to predict where the riskiest areas are so that GDOT can fix them before the crash even happens," said Ederer, a third-year Ph.D. student. "We're using some exciting new data that shows where people are traveling and how fast they are moving. We've never worked with data that is so comprehensive."
Before his graduate studies, Ederer worked at the U.S. Centers for Disease Control and Prevention on transportation safety. He said it's unacceptable for more than 40,000 people to die each year on America's roads.
"No one should have to risk their life when they're just trying to get to work or school or the grocery story. I hope our work can help make roads safer."
Those trips around town for rural Georgians are at the core of Andreas Wolfe's research. The dual civil engineering and city and regional planning master's student is working to improve the shuttle services that operate in many of the state's rural communities.
"The service is really vital, since some rural counties have close to 30 percent of households with no access to an automobile. Unfortunately, its faced a lot of neglect," said Wolfe, who won his first Eisenhower fellowship. "A new ridership tracking software is giving us a chance to take a deep dive at every trip in the state and offer service reform ideas to make the service easier to access. Improved service will increase job access and help reduce poverty."
Atiyya Shaw, likewise, is a first-time Eisenhower recipient. She's working to address what she sees as a significant omission in the regional models that planners use to forecast how people will travel.
"My proposed research aims to address the lack of psychometric variables in travel-demand models by testing a machine learning framework designed to integrate attitudes into the large-scale datasets used for forecasting," Shaw said.
"The implications for society are significant: improved forecasting and behavioral predictions would directly facilitate more efficient expenditures, improved infrastructure planning and development, and ultimately, better quality of life for everyone."
Eisenhowers are among the most sought-after fellowships for graduate students working in transportation and related areas. They recognize some of the nation's brightest young minds, according to FHWA, and recipients become leaders in the public and private sectors.
"I've known several other Eisenhower fellows over the years, and they are top-notch engineers and researchers," Ederer said. "The Eisenhower is a special program; we're lucky that FHWA is so committed to training the next generation of transportation experts."