The world of intellectual property involves strange intersections sometimes.
Back in 2015, Draion Burch filed paperwork to trademark his name. The Pennsylvania OB-GYN styles himself as a media personality with a video series and books about women's health issues, and he wanted to legally protect the name his friends, professors and colleagues have long used.
Almost immediately, "Dr. Drai" ran into trouble. Rap icon and producer Dr. Dre contested the trademark application, arguing — true story — that similar names would create confusion among consumers.
Just last year, the U.S. Patent and Trademark Office sided with Burch and awarded his trademarks in a decision that ultimately went viral.
The lawyer who won that case was a Georgia Tech civil engineer.
Andrea Hence Evans finished her bachelor's degree in 1999 and now runs her own intellectual property law firm outside Washington, D.C. In that sense, she's an entrepreneur. But she also spends all of her time helping entrepreneurs and other businesses protect their ideas.
"Ultimately, I am an extension of my clients' teams. I'm helping them to build and fulfill their dreams," said Evans, who has turned her love of patents, copyrights and trademarks into an Amazon-bestselling book and an appearance on the PBS reality competition Make48.
On the show, she helped teams of inventors quickly assess whether their ideas could be patented.
"The show was literally taped in 48 hours. It was an incredible experience," she said. "There were 12 teams, and on the spot, they give them a very broad topic, the clock starts, and they have to invent something [or] solve a problem, make a website and market it, pitch it, and even build a prototype."
Her role was helping teams make sure their idea would be patentable, meaning she had to work through her entire research process many times over the course of two days.
"I do that every day," she said with a chuckle, "but just not under those time constraints with cameras next to me."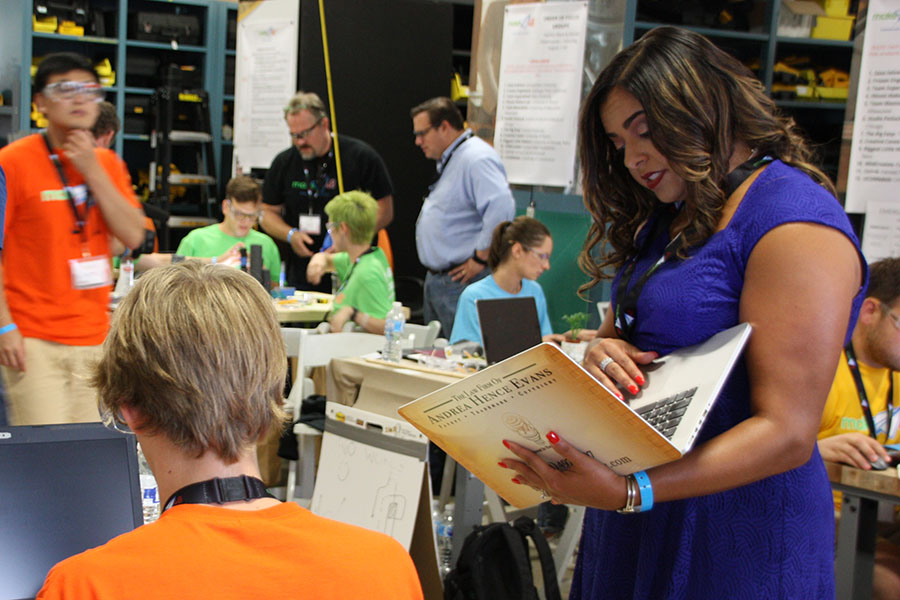 Andrea Hence Evans talks to a team of inventors about their idea during the taping of the PBS reality competition Make48 in 2018. Evans helped competitors assess whether the idea they were developing during the 48-hour contest could be patented. Though she studied civil engineering at Georgia Tech, Evans has started her own intellectual property law firm, written an Amazon bestseller, and appeared as an expert on the second season of the PBS show. (Photo Courtesy: Andrea Hence Evans)
All of this started when Evans was a college student volunteering around Atlanta. She knew she wanted to become a lawyer, and her work in the community convinced her to concentrate on environmental law.
She chose to study civil engineering because she knew she needed a scientific background, but then her law school professors suggested those skills could be put to good use in intellectual property law instead.
That's when Evans found her calling.
After a few years as a patent examiner and trademark examining attorney at the Patent and Trademark Office, Evans struck out on her own. Eleven years later, she said she still uses her engineering skills every day.
"My target audience is, essentially, independent inventors … who are in their garages, tinkering with things. Some of them have great ideas, [but] you can't ultimately patent an idea, so we have to talk to them about going from an idea to a real invention," Evans said. "We never can really call the invention what it is, so I need to understand how things work. I need to understand good synonyms to be able to do proper [patent] searches."
Evans said that's what prompted her to write a book, to help the inventor who has a great idea or a great product but is afraid to talk about it and doesn't know where to turn.
"What I found is that books go from one extreme to the other," Evans said. "[Some argue,] 'You don't need an attorney; let me teach you how to write this patent application.' And then I've seen other books that will say, 'Hey, you don't need a patent. Here's why you don't need a patent.' This book is not that. It's just making you a more informed consumer."
Evans said lots of books and companies promise shortcuts for people with interesting new ideas. That's why she takes every opportunity to explain how they can use intellectual property law to protect themselves — through books, social media (she said she's known to tweet along with Shark Tank), speaking at trade shows and the PBS reality series.
Evans said everyone has some kind of intellectual property; she's made it her mission to make sure they're protected.
Whether they spell their name Dr. Dre or Dr. Drai.
Read more stories like this in the spring 2019 We Are Engineers magazine.
Related