Tuesday, 24 November 2015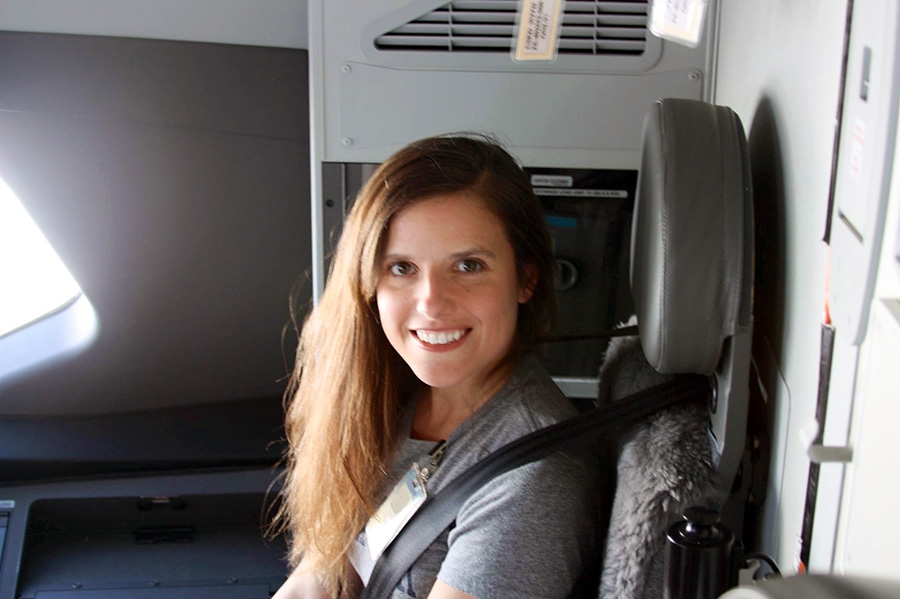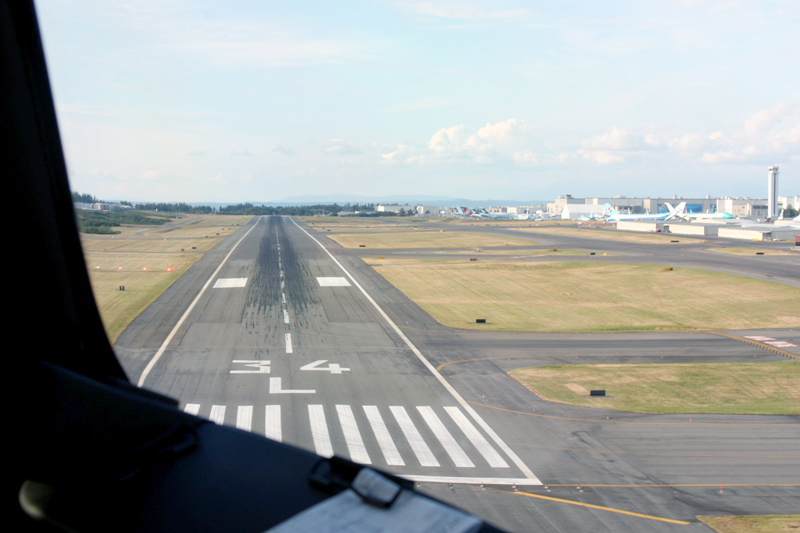 The view from the flight deck of a Boeing 787 Dreamliner as it approaches the runway during a test flight in September 2011. School of Civil and Environmental Engineering alumna Stacie Sire was aboard the plane and riding in the cockpit for the landing on this flight, a recognition of the years she spent helping lead the teams designing and testing the groundbreaking airplane. (Photo: Stacie Sire)
Sometimes it's the littlest things that change everything.
Like the casual conversation with a professor one day after your soil mechanics class. He mentions airplane maker Boeing is interviewing students on campus. Would you be interested in talking to them? He knows one of the recruiters.
Pretty soon, he's shared your name with the recruiter. You sit for an interview. And by lunchtime that same day, you have a job offer in hand.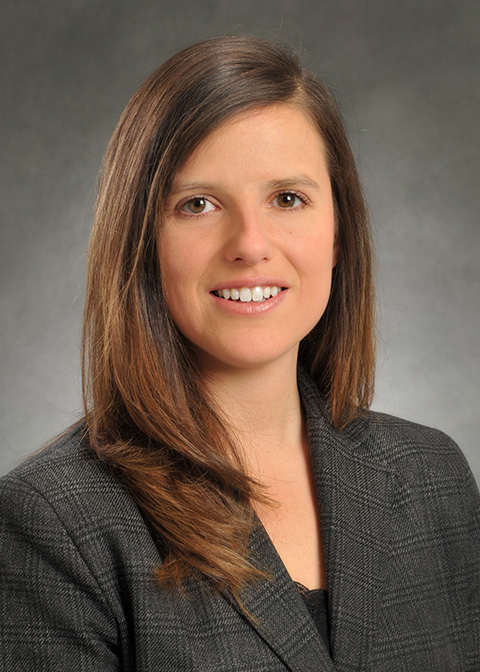 Sire
Less than 20 years later, Stacie Sire has turned that simple conversation into a successful career rising through the ranks at Boeing, including helping shepherd the vaunted 787 Dreamliner from its very early conceptual stages to the plane now carrying thousands of passengers on long-haul flights around the world every day.
"[That conversation] was just a connecting-the-dots kind of thing, because I had thought about aircraft structure," said Sire, who earned a bachelor's in civil engineering from Georgia Tech in 1996. "Not to the point that I had gone and taken any aerospace classes. It was not to that level. But then I have the interview with Boeing. I remember even in the interview I was like, 'OK, so you're looking for structural engineers that are working on an aircraft structure, right? Not your facilities or buildings?"
That's exactly what they were looking for, and, it turns out, they were exactly what Sire was looking for too.
"You know, I was a civil engineering major, interested in structural engineering. I had originally thought more about buildings and bridges, and even some of the work I had done during school was with companies doing buildings and bridges," Sire said. "The first time [I thought about airplane structural engineering] was when Professor [Leroy] Emkin, in a structural analysis class, mentioned aircraft design and analysis and that they used structural engineers for that.
"I perked up a little. 'Oh, that would be really cool.'"
It has turned out to be just as cool as Sire expected.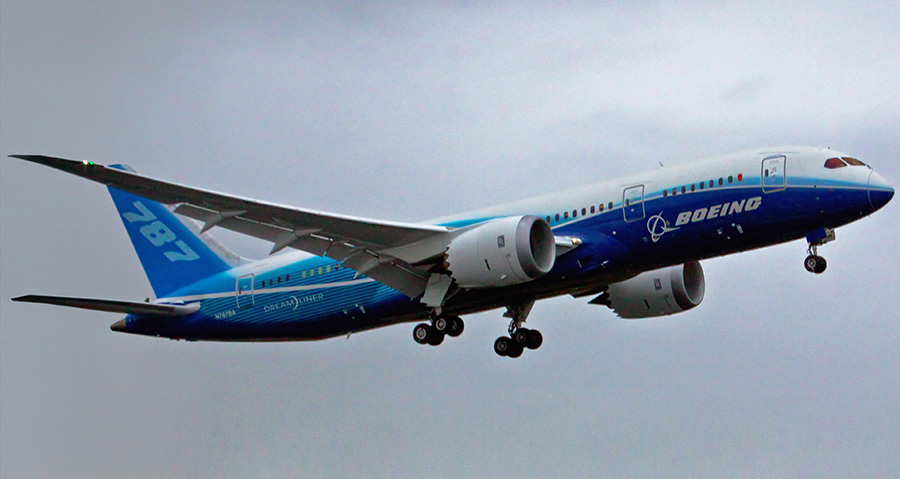 The first flight of a Boeing 787 Dreamliner in December 2009. The plane's design includes extensive use of composite materials, the first time a commercial airliner has used the lightweight material for structural elements like the fuselage and wings. Civil engineering alumna Stacie Sire was on the teams that helped design the plane and the test and certify its components. (Photo: Dave Sizer via Wikimedia Commons [CC BY 2.0])
Sire started out as a structural design engineer and a structure analyst, but it wasn't long before she was tapped to work on a new plane the company was starting to conceptualize. That plane would eventually become the 787, Boeing's most fuel-efficient aircraft ever and a groundbreaking design with extensive use of composite materials like carbon-fiber-reinforced polymer.
"That was just amazing, because I got to start on it as a pretty young-ish engineer," Sire said.
"We didn't even know we were going with the '87. We were looking at all sorts of different types of airplanes that I was running trade studies on. And getting to be a part of it so early on — I mean there were so many transformational things we did."
Originally, Sire worked on sizing for metal wings as the company tested designs of metals and composites for the new plane. As the project took shape — deciding on the 787 design, deciding on composites for the wings and fuselage — she got involved in structural testing, taking a full-scale stationary airframe and putting it through its paces.
"We take it to conditions way beyond what it would see [in its service lifetime,]" Sire said. "We do tests that target the wing, tests that target the fuselage, and tests that target the empennage and different parts of the airplane. We eventually break that airframe. We take it to failure."
Sire was tapped to lead the full-scale testing for the plane's wings, its landing gear, and its empennage, the plane's tail section. She became a manager in the 787 project's loads and dynamics analysis and then a senior manager in charge of the overall systems stress team, making sure all of the plane's systems met the Federal Aviation Administration's requirements.
And it all culminated in September 2011, when Sire and some of her colleagues packed aboard a 787 for a flight designed to test the finished interior and the flight entertainment system.
Near the end of that special flight, things got even better.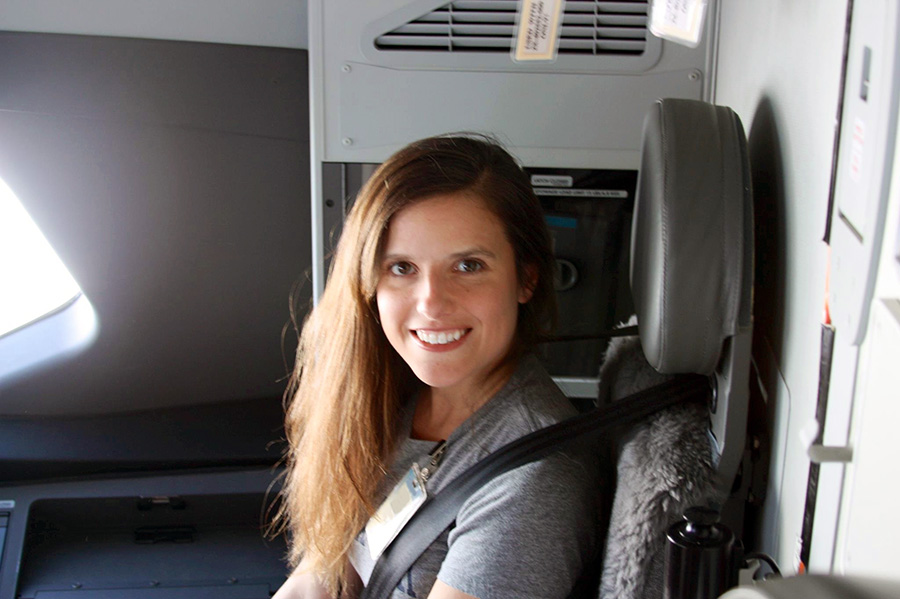 Stacie Sire, B.S. 1996, on the flight deck of a Boeing 787 Dreamliner during a test flight in September 2011. Sire was invited to ride in the plane's control center in recognition of the years she spent helping to design and test the 787 airframe. (Photo: Stacie Sire)
"I was asked to be in the flight deck for the landing," Sire said. "That was the pinnacle. I am in this airplane that I have started [working on] from very rough conceptual design. Landing in this airplane that now exists physically. I am thinking back on these finite element models that I ran that were so coarse on this airplane. It was just overwhelming."
Now that production is in full swing on the 787, Sire has moved on to new projects as director of airplane configuration and systems engineering. Instead of focusing on one particular model, her team supports all of Boeing's commercial airplanes.
Over the years, the company paid for Sire to get a couple of master's degrees from the University of Washington, near Boeing's headquarters. She's even spent the last few months at an executive leadership development program at Harvard.
And it all happened because of that on-campus job interview and a professor who mentioned her skills in structural engineering could be used more broadly than Sire had imagined.
Sometimes it's the littlest things that change everything.