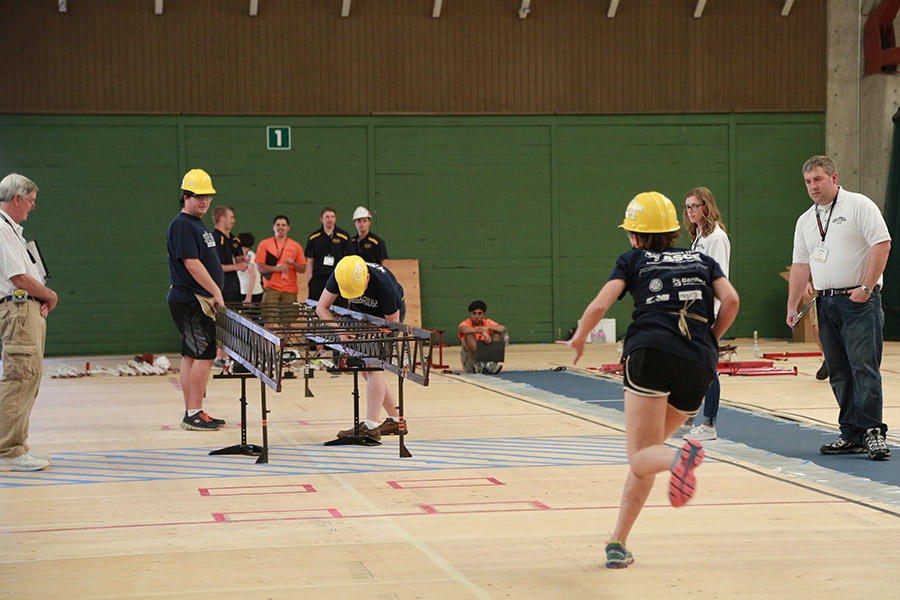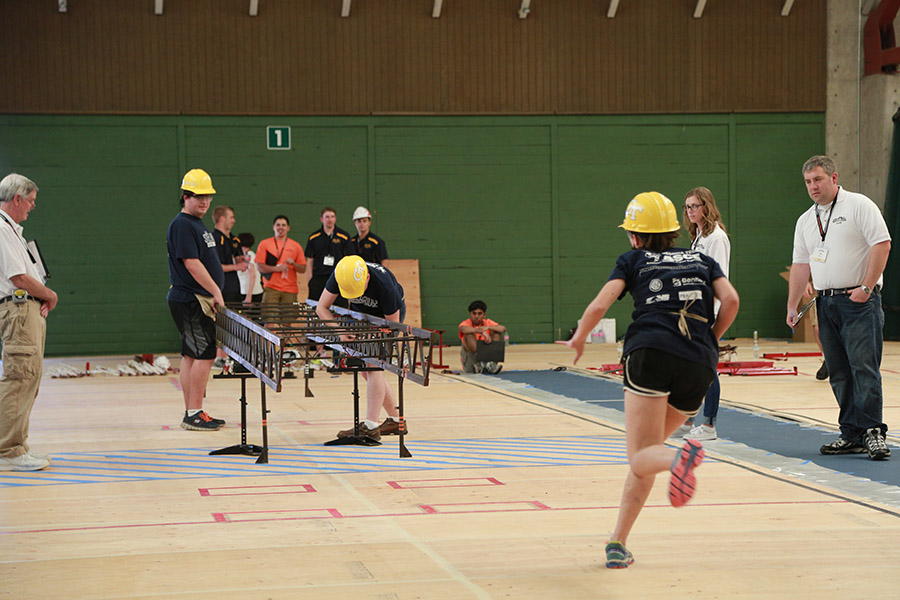 Judges watch as members of the Georgia Tech steel bridge team work to put together their creation at the National Student Steel Bridge Competition May 27 in Corvallis, Oregon. The team, which placed 14th out of 43 teams, advanced to nationals after winning their regional competition. (Photo: Zonglin "Jack" Li)
For members of the Georgia Tech steel bridge team, Memorial Day weekend wasn't about the traditional cookouts or gatherings of friends and family. It was about competing against the best student engineers across the country in a national throw-down in Oregon.
In the end, the team finished 14th at the National Student Steel Bridge Competition organized by the American Society of Civil Engineers and the American Institute of Steel Construction — the top third of the 43-team field.
"It was a very challenging competition," said Mihai Mavrodin, co-captain of the steel bridge team, which is part of the Georgia Tech ASCE student chapter. "We had a perfect build, so we did our best, and we're proud of it."
The team made it to nationals after winning the bridge competition at the Carolinas Regional Conference this spring.
In the competition, the students must design and fabricate a steel bridge that meets detailed specifications. Then they have to put it together as quickly as possible in front of judges, who evaluate it on everything from weight to efficiency. The idea is to teach students what it's like to work on a project where the constraints of space, money and materials are real.
The steel bridge team included:
Captains: Colin Martin and Mihai Mavrodin
Team members: Kanaad Deodhar, Akemi Flores, Ben Keffer, Nam Kim, Jack Li, Daniel Maciolek, Monica Martelly, Michael Nieman, Austin Sanders, Perry Smith, Caroline Stanton, Jarr Strydom, Jason Tam, Taka Yoshimoto
Team members expressed special appreciation to chapter adviser David Scott as well as Andy Udell and Blake Baklini for their help with the bridge.