Thursday, 21 November 2019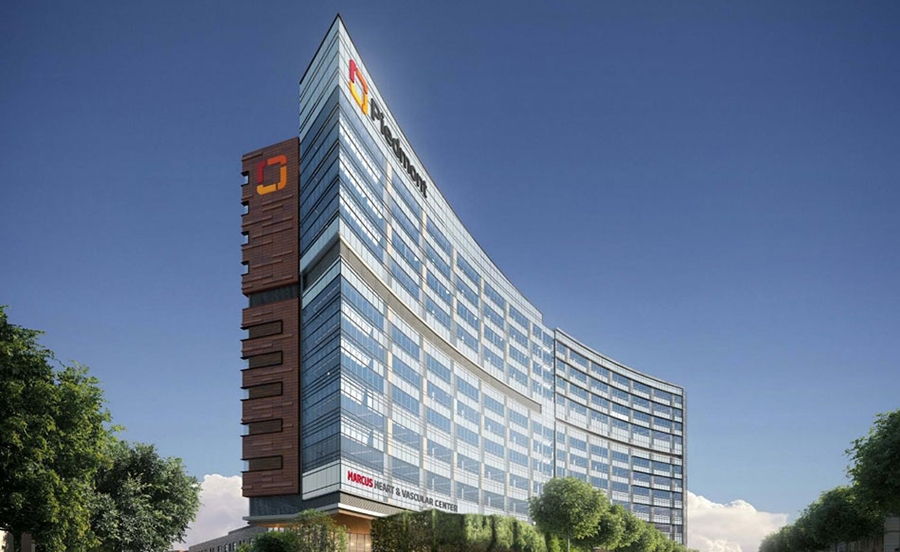 A rendering of the Piedmont Atlanta Tower, scheduled to be completed in 2021. Image Credit: Piedmont Healthcare

In just one day, could you devise a way to reduce construction time by 50 percent using virtual reality?
That was the challenge presented to four teams of civil engineering students at the third installment of Tech Blitz—an all-day hackathon focused on pushing the technological boundaries of the construction industry.
The Nov. 15 event focused on speeding up the construction timeline for the Piedmont Atlanta Tower, an expansion project for Piedmont Healthcare that's currently underway in Atlanta. The $600 million project, scheduled to be complete in February 2021, will feature a 16-story tower with more than 400 new patient rooms, 10 operating rooms, and a dozen new cardiac catherization and electrophysiology labs.
Vision-obscuring virtual reality headsets may seem like an odd companion for the very real business of construction here in this dimension.
But Professor of the Practice Eric Marks explains that by designing or building first in a virtual model, costly mistakes on a job site can be identified before they happen in the real world, saving precious time and resources.
Each Tech Blitz team was composed of undergraduate and graduate civil engineering students as well as industry professionals.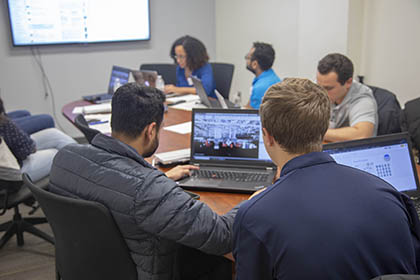 A Tech Blitz team working on their presentation. Photo credit: Amelia Neumeister
Following an introduction to the Piedmont Tower project, the teams received their marching orders: come up with an innovative use of virtual reality that has the potential to improve decision making for productivity.
"Be as creative as possible. The more unique, the more creative, the better," Marks said.
The winning team—students Lanna Farmer, Haley Eckert and Santiago Escobar along with Matt Almand from Gay Construction, Laurel Stephenson from Jordan & Skala Engineers and Tiffany Wommack from Jacobs— used virtual and augmented reality in conjunction with modular building and robotic connection to achieve the goal.
By pre-fabricating modular patient rooms in a warehouse offsite, the team hypothesized that weather delays would go down and productivity would go up, while virtual and augmented reality could be used throughout the process from design to installation.
For example, doctors could virtually "walk through" a patient room and provide feedback during the design phase; VR could be used to ensure the modular rooms are assembled correctly before they are brought to the construction site; and a virtual reality model could be populated with real-time data during construction.
"A McKinsey & Company study has found that prefabrication and modularization can reduce construction time by 20-50 percent in comparison to conventional construction practices," said Santiago Escobar, a student from the winning team. "With the combination of virtual reality, augmented reality, prefabrication and modularization, laser scanning and robotics, the overall construction schedule can be significantly reduced."
Tech Blitz was created in 2018 as a way to showcase the School's construction and infrastructure systems engineering program and to help advance construction through emerging technology.
An advisory board of board of 30 alumni working in architecture, engineering and construction was assembled to provide the Institute with input on what they see as the industry's biggest challenges. The two main issues identified were a shortage of skilled laborers and a plateau in productivity on construction sites.
"Productivity and work force shortage issues go hand in hand," Marks said.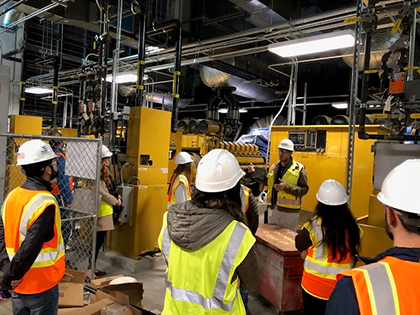 Students got a behind-the-scenes tour of the Piedmont Atlanta Tower construction site. Photo Credit: Eric Marks
One of the strategies the School of Civil and Environmental Engineering implemented was Tech Blitz. Now in its third iteration, the event offers students exposure to high-profile projects under construction in the Atlanta area.
The first Tech Blitz focused on using Building Information Modeling, or BIM, software to improve construction productivity the Kendeda Building for Innovative Sustainable Design now open at Georgia Tech.
The second edition of Tech Blitz challenged teams to use robots to improve the installation of new canopies at Hartsfield-Jackson Atlanta International Airport.
Tech Blitz also serves as a way for industry professionals to interact with the School's construction and infrastructure systems engineering students.
"The event allows our outstanding students to demonstrate their creativity and innovative capabilities to members of the architecture, engineering and construction industry," Marks says.

Related Links: