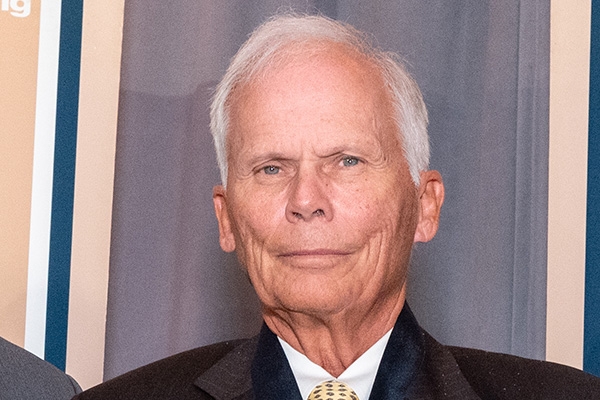 G. Ben Turnipseed has joined the Georgia Tech Engineering Hall of Fame, an honor reserved for alumni who have reached the highest levels of professional achievement.
Turnipseed was inducted alongside seven other members at the College of Engineering's Alumni Awards ceremony April 6. He was recognized for his work helping small and mid-sized cities meet their water needs and his long history supporting scholarships for Tech students. Turnipseed earned his civil engineering bachelor's in 1969.
Dean Steven McLaughlin also honored Arjun Bir, a 2018 graduate who runs a water-testing startup in his native India. Bir provides simple, cheap E. coli tests to households to help them evaluate the safety of their water. With the support of UNICEF, Bir and his colleagues have verified their test is just as effective as the gold-standard laboratory tests.
"Our test can be performed by anyone, anywhere," Bir said last year. "We've given it to children in India, where there's no access to education, and, just by following the instructions, they've been able to perform the test."
The College honored two other School alumni with awards: Stacie Sire joined the Council of Outstanding Young Engineering Alumni and Frank Williams became a member of the Academy of Distinguished Engineering Alumni.
More about this year's honorees:

Alumnus and Ojal founder Arjun Bir, left, with engineering Dean Steve McLaughlin. (Photo: Gary Meek)

Arjun Bir
Managing Director,
Oasis
Dean's Impact Award

Arjun joined Georgia Tech in 2014 as an undergraduate civil engineering student and began working with Dr. Joe Brown to broaden access to clean drinking water in the developing world. After two years of leading the development of low-cost water purification devices, his focus switched to accessible water testing methods. In 2016, Arjun led a capacity-building exercise focused on the use of low-cost water tests for UNICEF and the Government of Bolivia at UNICEF's national headquarters in La Paz.

 

This experience inspired him to design the Oasis water test, a simple and inexpensive device that enables anyone, irrespective of age or educational qualifications to test water for microbial contamination. By offering an alternative to the tedious and expensive lab-based method, the Oasis test enabled large-scale water quality monitoring and crowd sourcing of water quality data for the first time. Field trials conducted in partnership with UNICEF and universities across the world, including Georgia Tech, established the test as a powerful and accurate device. Arjun founded Oasis to take these tests to the market and established its headquarters in his hometown of Bangalore, India. He received the 2018 MIT Water Innovation Prize for his work.

 

Arjun also started India's first student-run nonprofit at age 16. Named "India Forward," the organization is dedicated to making quality education accessible to those who cannot afford it and has been actively involved in mentorship and after-school programs in Bangalore's orphanages and slums.


From left, ceremony co-host retired Adm. James A. "Sandy" Winnefeld, Ben Turnipseed, and engineering Dean Steve McLaughlin. (Photo: Gary Meek)

G. Ben Turnipseed
Chairman,
Turnipseed Engineers
Engineering Hall of Fame

Ben graduated from Georgia Tech in 1969 with a bachelor's degree in civil engineering (co-op plan). As both a cooperative student and after graduation, Ben worked for three engineering firms that specialized in environmental, water and wastewater engineering. In 1978, he founded G. Ben Turnipseed Engineers Inc. Since its founding, the firm has specialized in meeting the water needs of small- to medium-sized cities and counties in Georgia and South Carolina. Serving more than 100 cities and counties, the firm has designed more than 120 water and wastewater treatment plants. In 2002, Ben was inducted into the Academy of Distinguished Alumni by the Georgia Tech College of Engineering, and in 2011, he became a life member of both the Water Environment Federation and the American Society of Civil Engineers. The company name was changed to Turnipseed Engineers in 2015 when Ben became Chairman after serving as President for more than 37 years. Ben has served on the School of Civil and Environmental Engineering External Advisory Board, and both the firm and Ben have been active in providing endowed scholarships for students in engineering, public administration, or majors involved with water and wastewater treatment.


From left, ceremony co-host retired Adm. James A. "Sandy" Winnefeld, Frank Williams, and engineering Dean Steve McLaughlin. (Photo: Gary Meek)

Frank E. Williams III
Chairman, CEO and President,
Williams Industries Inc. &
Williams Enterprises of Georgia
Academy of Distinguished Engineering Alumni

Frank received his bachelor's degree in civil engineering from Georgia Tech in 1981. He currently serves as Chairman of the Board, CEO and President of Williams Industries Inc. and Williams Enterprises of Georgia. Upon graduation from Georgia Tech, Frank joined the family business, which has become the largest steel erection operation in the eastern United States. The Williams' companies specialize in structural steel erection, installation of prestressed and precast concrete products, heavy hauling, crane rental and rigging. Major steel erection projects include the World of Coca-Cola, Georgia Aquarium, Philips Arena, College Football Hall of Fame, Capital One Arena, U.S. Botanic Garden, renovations at the Pentagon and National Archives, and major additions to prominent urban airports. Frank served on the School of Civil and Environmental Engineering Advisory Board from 2004–2012. He also is a board member and past president of the Virginia/Carolina Steel Fabricators Association and serves as board chairman for the Northern Virginia Baseball Fellowship of Christian Athletes and the Vienna Baseball Foundation. He now lives in Vienna, Virginia, with his wife and son.


From left, ceremony co-host retired Adm. James A. "Sandy" Winnefeld, Stacie Sire, and engineering Dean Steve McLaughlin. (Photo: Gary Meek)

Stacie Sire
Director of Structures Engineering,
Boeing Commercial Airplanes
Council of Outstanding Young Engineering Alumni

Stacie received her bachelor's degree in civil engineering from Georgia Tech in 1996. She later received a master's in both mechanical engineering and business administration from the University of Washington. She also received certificates for aerospace manufacturing and advanced management from UW and Harvard Business School. Stacie started her Boeing career in 1997 as a design engineer for 777 fuselage structure. Stacie was a first-level manager in loads and dynamics managing and product development along with configuration analysis leader for airplane development for 787 derivatives. As a senior manager, Stacie led the 787 systems stress team through certification and delivery and created the 787 Airplane Integration office. As a director and chief engineer, she led 767/777 Airframe, which was a large integrated product team consisting of more than 800 people, while also serving as director of the Boeing Commercial Airplanes Airplane Configuration & Systems Engineering organization. Currently, she is the Director of Structures Engineering for Boeing Commercial Airplanes and sits on the External Advisory Board for the School of Civil and Environmental Engineering.
Related