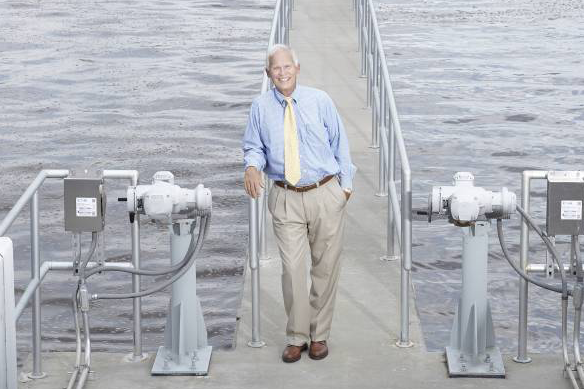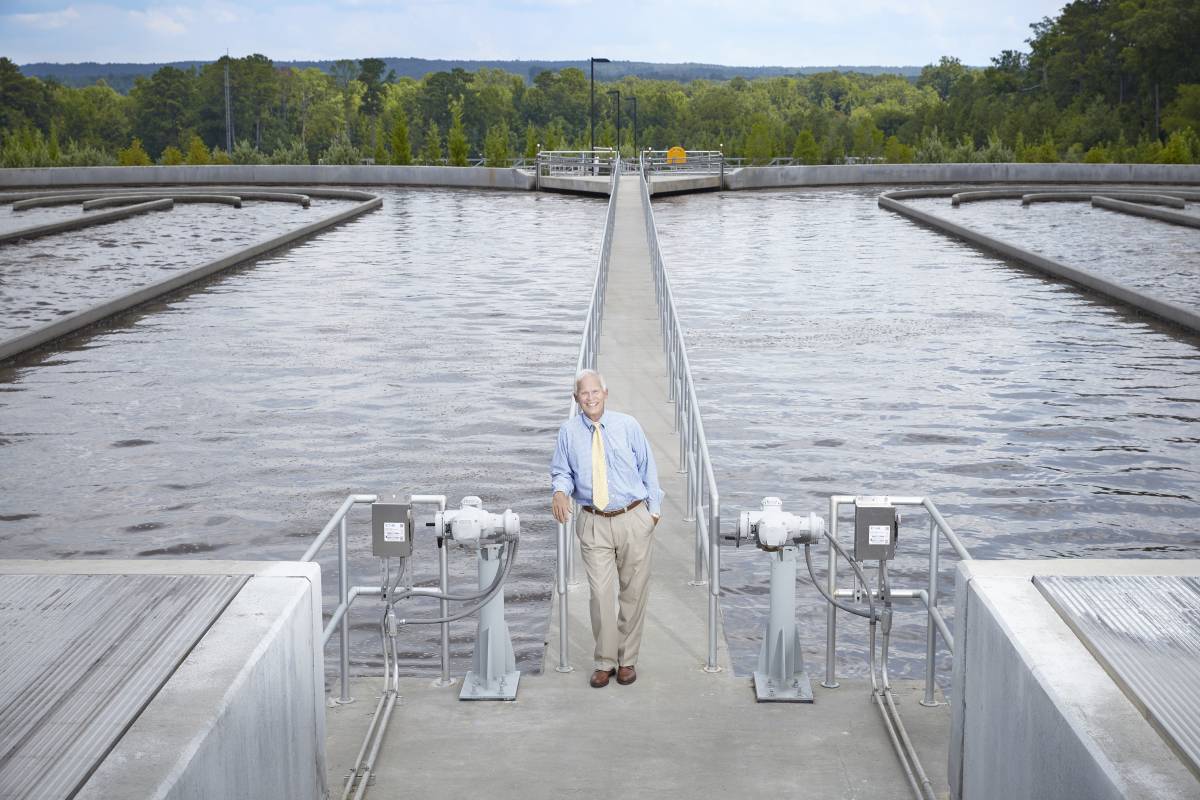 Ben Turnipseed at a treatment facility in Columbus County, GA.
By Kathrin Havrilla-Sanchez
In 1973, after five years working in the civil engineering industry as a Georgia Tech graduate, G. Ben Turnipseed will never forget a conversation that got him thinking about his future. 
"I was working at an engineering firm, and I was in the file room, and the office manager came in mad as a hornet," Turnipseed recalls. "She had been in an argument with the owner and said to me, 'Ben, when you own your own company — and trust me, you will — don't tell the financial people how to run the finances!'" 
Turnipseed started considering a jump to entrepreneurship, realizing that he could capitalize on the collective knowledge he'd gained while working at different engineering firms both during his co-op at Georgia Tech and since graduating.  
And so, in 1978, he left the firm he was working for at the time and started G. Ben Turnipseed Engineers, Inc., a private engineering firm specializing in water and wastewater treatment systems. He had enough money saved up to make a go of it for one year, promising his wife, Cheral, that if his business wasn't paying the bills at that point, then he would go back to work for another engineering company.
Turnipseed set up shop in the corner of his house's basement in Atlanta, pulled out a map of Georgia, and decided to go east to begin making business connections. The city of Harlem was his very first client, and they are still one of his clients to this day.
Repeat business is a big deal for the company, now called Turnipseed Engineers, which today employs more than 35 professional engineers, designers, drafters, surveyors and more and has designed more than 120 water and wastewater treatment plants over the past four decades throughout Georgia and South Carolina. The firm partnered with Columbia County in 1987 to build a new wastewater plant; Turnipseed had already assisted the county in expanding their other two plants twice, and his advice to them was that building a new plant would lead to more growth in the area. Now, Turnipseed Engineers has helped to expand the 1987 plant an additional three times to meet the county's ever-growing demand; the last expansion alone was a $20 million undertaking.
Many of the projects that Turnipseed Engineers take on create not only infrastructure improvements, but also major job opportunities throughout the state of Georgia. The firm helped West Point, Georgia, population 3,700, secure federal grant and loan money and create the design for a major water and sewage system expansion, which led to Kia choosing the city as the site for a new automotive manufacturing plant in 2006. Today, this facility is the only Kia manufacturing plant in the United States and the only automaker in Georgia, helping to employ 14,000 full-time workers along with nearby suppliers. 
In 2015, Turnipseed Engineers helped bring hundreds of jobs to Louisville, an east-Georgia town just 50 miles outside of Augusta, by adding a $10 million water and wastewater system at a formerly abandoned industrial site that served a new poultry processing plant.
Turnipseed's connection to Tech continues to run deep as a member of the College of Engineering's Academy of Distinguished Alumni and Hall of Fame. He is also dedicated to helping aspiring Georgia Tech engineers gain the education they need to enter the industry by endowing the G. Ben Turnipseed Scholarship for Georgia residents interested in pursuing civil and environmental engineering.
"I learned so much from a lot of people at Georgia Tech, especially in the civil engineering department, and that helped me start out my business with an eye toward making the right decisions," says Turnipseed. "The combination of the foundation I received at Tech and the willingness to hire the right people and listen to their expertise has contributed to the firm's success over the years. 
"I've been a Georgia Tech fan since I was young, and I'm proud to be able to support today's students on their own journeys to success."
 
Related