Wednesday, 27 September 2017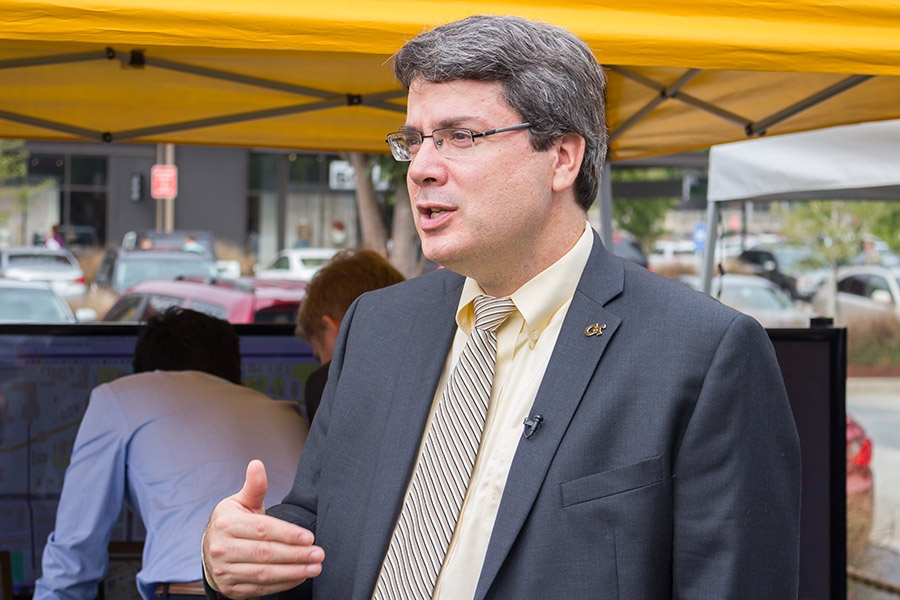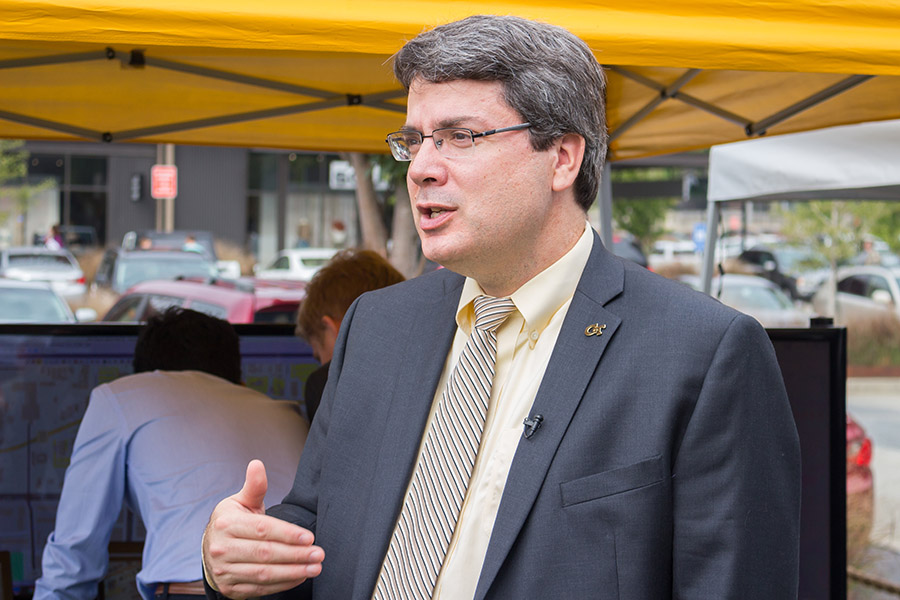 Associate Professor Michael Hunter explains his work with the North Avenue Smart Corridor at the ribbon-cutting event for the roadway. Hunter appeared on WABE-FM's Closer Look Sept. 26 to talk about his work on autonomous vehicles, one of the technologies that will be tested along North Avenue. (Photo Courtesy: Georgia Tech Institute for People and Technology)

On the roadway toward autonomous vehicles, we probably have another decade or so before the truly independent car is part of our transportation network.
But, transportation researcher Michael Hunter told WABE-FM's Closer Look Sept. 26, we're already in a world with partially driverless cars, where our vehicles help us with some of the tasks of driving.
And a quick reality check: "That's where we're going, where we're going to have vehicles driving on the roadway that do not have people inside them. And they may become a significant percentage of the vehicles that are on the roadway."
In the wake of the City of Atlanta unveiling the North Avenue Smart Corridor as part of its efforts to become a smart city, Hunter told Closer Look host Rose Scott many questions remain about how we'll use autonomous vehicles as they become more commonplace.
"The big question that's going to start coming into play on a lot of this is going to be the assumptions we make," said Hunter, an associate professor in the School of Civil and Environmental Engineering and director of the Georgia Transportation Institute at Georgia Tech.
In other words, how do we program vehicles to interact with other traffic, pedestrians, bicyclists, different roadway designs, human drivers and more?
"Until we really get that narrowed down, there's a broad spectrum of possibilities for how these cars are going to be used."
Hunter said that's a big reason Atlanta is a great place to be doing this work.
"Atlanta makes a good test case, because it's very diverse. You have a lot of different types of roadways. You have a lot of different configurations. If a car can navigate the city of Atlanta, it's going to be able to navigate most places," he said. "It's very dynamic, lot of things going on. There's a lot of pedestrians, a lot of cyclists, all these things that autonomous vehicles are going to have to be able to deal with.
Hunter said he and his colleagues are working on research to help answer some of the questions, including the one he's been talking about since he testified before the Georgia General Assembly in 2014. What's called, "bully driving."
"If there's an autonomous vehicle out there, there's nobody in it, and it's driving down the freeway, and you're trying to get in front of a car — that's the one you're going to pick," he said. "I need to get to this offramp. I see this driverless car that's 10 cars up. I'm going to shoot up there and cut it off, 'cause I know it has to stop."
"How are people — this is what we don't know — going to respond to these cars?"
Even with the cars available on the market today, like a Tesla, the autonomy features are limited. So, while drivers can put the vehicle in a form of autopilot, they still have to be able to take control at any time. The question in these forms of driverless cars, Hunter said, is whether a human operator will be able to do that.
"That's not how people really behave. If you're not engaged in the driving, cognitively engaged, are you going to kind of check out? And then can I count on that person, if the car gets it wrong, to jump in and take over?"
Click above to listen to the entire segment (jump to about the 20-minute mark), including the kind of infrastructure investments cities and states likely will have to make to prepare for an autonomous-vehicle future and the challenges facing researchers like Hunter in the quest to understand and prepare for that future.