Thursday, 28 September 2017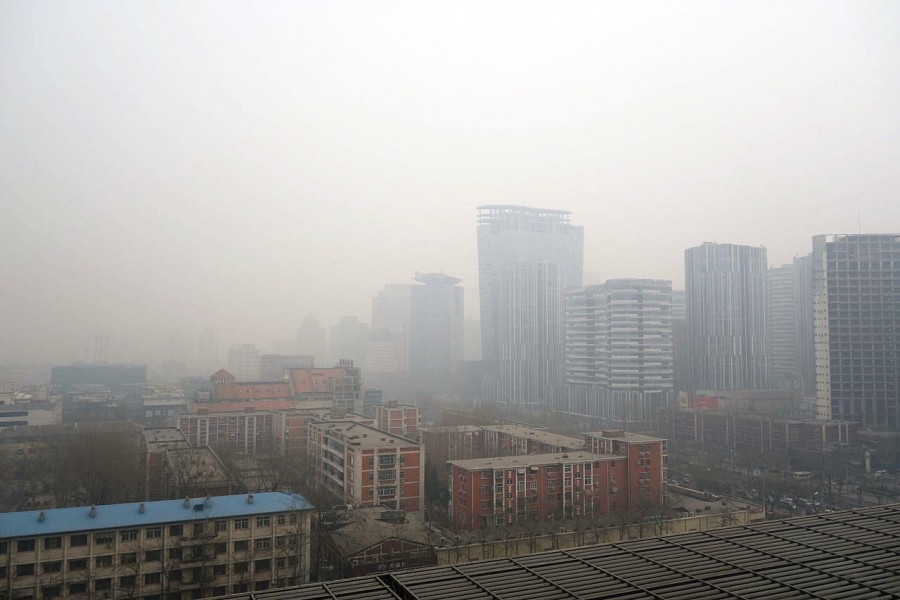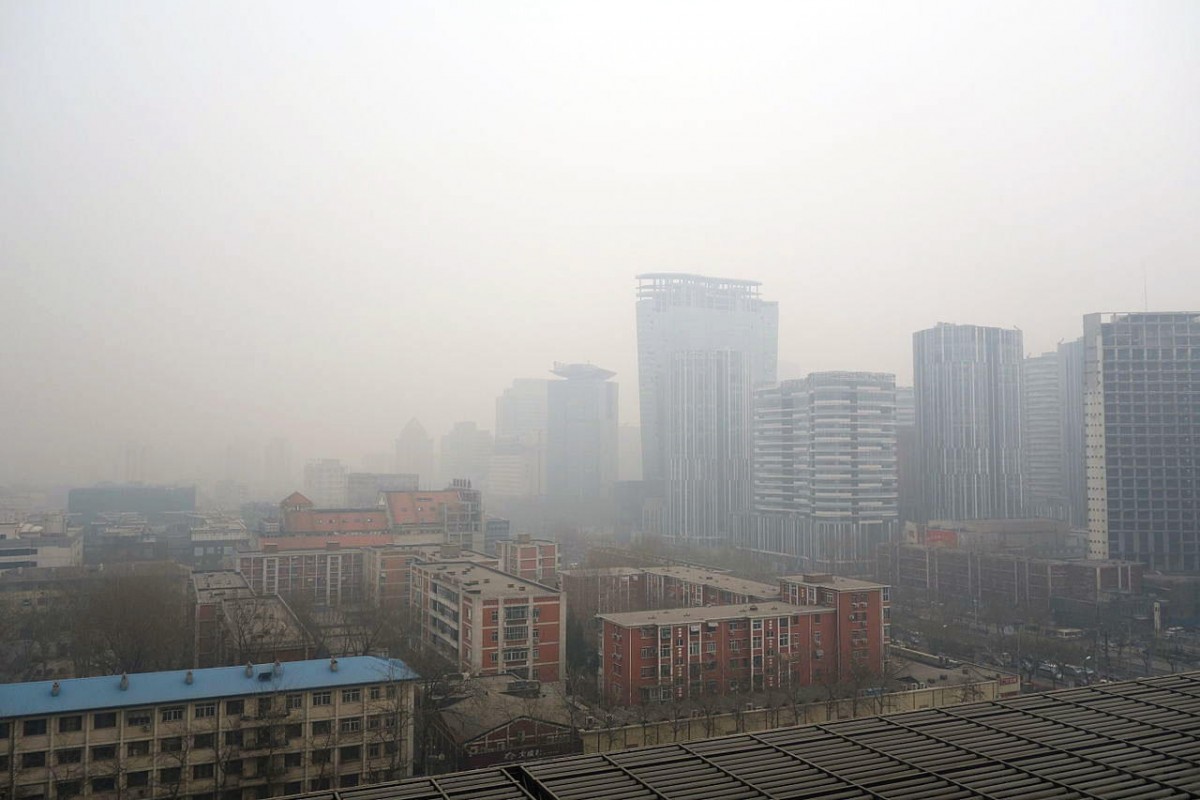 Air pollution hangs over a portion of Beijing, China. A new study by researchers from Georgia Tech, the University of Minnesota, Yale University and partners in China finds that cities could cut greenhouse gas emissions by a third, significantly improving air quality and health, by adopting a series of strategies to reuse industrial waste. (Photo Courtesy: Humphrey School of Public Affairs, University of Minnesota)
By Humphrey School of Public Affairs Communications Office, University of Minnesota
Cities in China could cut greenhouse gas emissions by more than a third if they were to adopt a series of strategies that reuse industrial byproducts for things like heating or construction material.
Those findings come from a new study in Nature Climate Change by Armistead Russell, the University of Minnesota's Anu Ramaswami, and others, that looked at potential carbon reductions and the expected improvements in health. The work is the first to demonstrate just how successful these strategies would be, if widely adopted.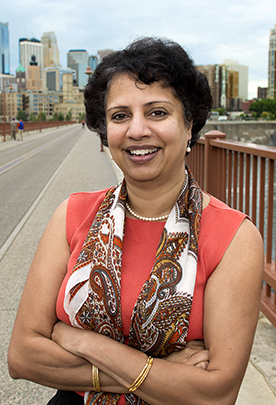 Ramaswami
"Cities are the critical centers of change when it comes to taking action on greenhouse gases," said Ramaswami, who led this study that looked at all 637 cities in China at the same time. "Our research shows there's great potential for cities to reduce energy demand and carbon emissions by adopting cross-sector strategies, such as reusing industrial byproducts like waste energy, on a mass scale. And that means a better quality of life for residents. It's a win-win."
Concerns over global climate change and local air pollution have led many cities around the world to get creative in their efforts to reduce the use of fossil fuels. They're going beyond conventional single-sector strategies such as energy-efficient buildings and power plants to look at innovative ways to capture waste heat from industries and businesses — from cement plants to pulp and paper mills to grocery stores — and pipe it to homes and buildings up to 30 km (18.6 miles) away.
Some cities are also reusing waste materials from industries in urban construction as a substitute for cement and other construction materials, helping reduce the demand for these materials.
Scientists use the terms "cross-sector strategies" and "circular economy strategies" to describe these new approaches to urban infrastructure planning, which are designed to reduce material and energy use; reduce reliance on fossil fuels; improve air quality; and improve the health of residents in urban areas while simultaneously creating value from resources that were previously wasted.
Russell and environmental engineering Ph.D. student Raj Lal led the air quality modeling that formed the basis of the just-published study — a tall order for the hundreds of cities involved.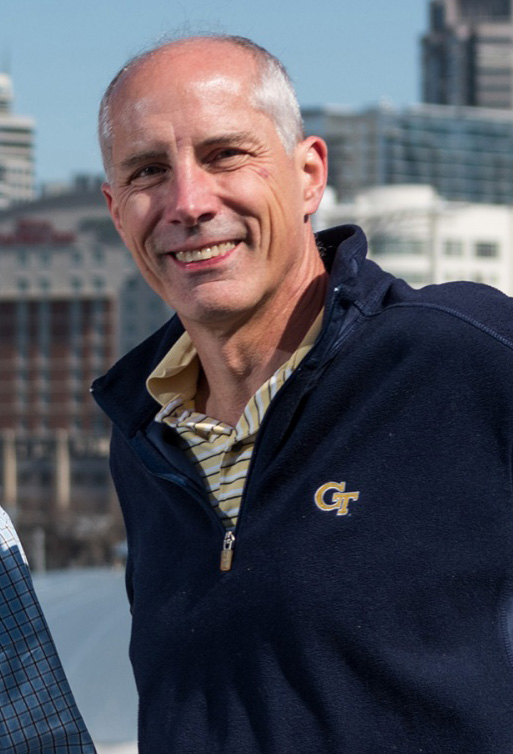 Russell
"Modeling the air quality impact of the energy reuse across the 637 cities was a significant undertaking, but really showed the potentially large health gains that can result," said Russell, the Howard T. Tellepsen Chair and a Regents Professor in the School of Civil and Environmental Engineering. "This further demonstrates that many strategies that might be considered to address climate concerns have large, if not dominating, health benefits justifying their more immediate implementation."
The study found that if all cities in China adopted these cross-sector strategies, they would reduce greenhouse gas emissions by up to 36 percent — and at the same time, protect up to 57,000 people from dying prematurely due to poor air quality.
The study also found that the benefits varied from city to city, depending on the locale.
For example, two cities can take similar actions and reduce emissions or energy use by the same proportion, and see very different health and environmental outcomes, due to differences in how air pollution flows into and out of their cities from the surrounding areas.
Ramaswami said most research on greenhouse gas emissions up to this point has focused on what national-level policies can do, typically impacting individual sectors of the economy such as power generation, transportation, or energy-efficient building construction.
This is the first study of its kind to measure the impact of holistic urban planning in cities that encourages compact city development, eco-industrial parks, waste-to-value projects, and district energy systems. Cities can readily adopt these practices, Ramaswami said, but they rarely get credit for them in terms of reducing greenhouse gases. 
Since the team's study is the first to collect information at the city level, it's a starting point for analyzing the science behind what cities can and cannot do to help reduce greenhouse gases on a nationwide basis, and what those steps mean for the local communities.
"The insights we gained from this study will inform how we design sustainable urban areas in China and elsewhere around the world in the future," said Ramaswami, the Charles M. Denny, Jr., Chair of Science, Technology, and Environmental Policy at the University of Minnesota's Humphrey School of Public Affairs. "That's important, because we expect to see another 2.5 billion people living in cities by 2050, with most of that population growth in Asia and Africa."
In addition to Russell at Tech and Ramaswami at Minnesota,  the team also included researchers at Yale University, Tsinghua University, and Shanghai University.
The collaboration was made possible by a Partnership for International Research and Education (PIRE) grant from the National Science Foundation. The PIRE project concentrates on reducing greenhouse gas emissions from cities, while addressing broader sustainability goals such as economic development, water scarcity, environmental pollution, and public health.
– Georgia Tech's Joshua Stewart contributed to this report.