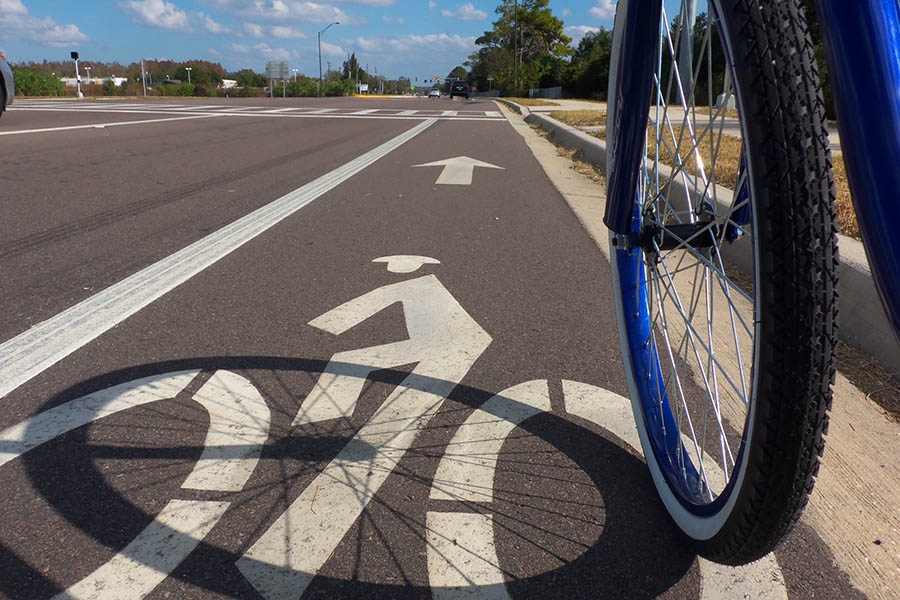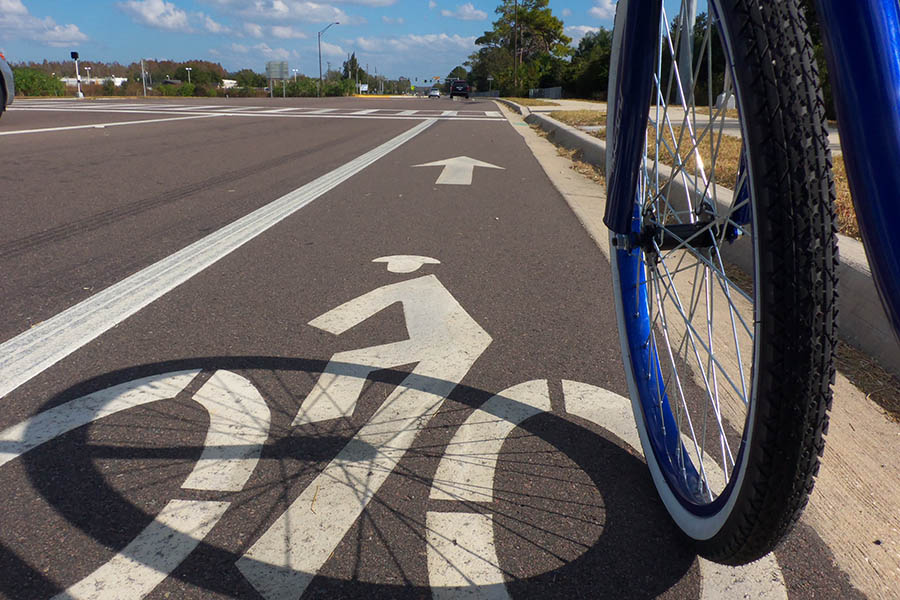 A bicyclist rides in a marked bike lane alongside a multi-lane road in Lutz, Florida. A new study of bicycle infrastructure from a team of School of Civil and Environmental Engineering researchers has found we don't know much yet about how well bicycle infrastructure like these lanes protect riders. (Photo Courtesy: Daniel Oines via Flickr.)
Shared lane markings. Bike lanes painted a bright color. Bike boxes at intersections. Cycle tracks that provide physical barriers between bikes and cars.
Communities have built these and other flavors of infrastructure to try to make it safer for people to ride their bikes along roadways or through neighborhoods. But which ones work best?
The short answer is, we really aren't sure yet.
That conclusion comes from a group of School of Civil and Environmental Engineering transportation researchers who analyzed studies on the effectiveness of bicycle safety infrastructure. Their work appears in the June issue of the Journal of Safety Research.
The longer answer is, of course, more complicated.
"There's just so little research that we really have no idea how well most of these pieces of infrastructure are working in terms of keeping people safer," said Kari Watkins, Frederick Law Olmsted associate professor and one of the study's co-authors.
That means transportation planners have no clear sense of the right solution for any given area and whether their investments protect the people who use the infrastructure, which was a concern for the Georgia Department of Transportation.
The agency asked Watkins, then-master's student Jonathan DiGioia, research engineer Ann Xu, Principal Research Scientist Michael Rodgers, and Professor Randall Guensler to see if they could help fill in that gap and develop what planners call "crash modification factors," statistical tools that can tell engineers whether their interventions actually reduce the rate of accidents.
"They're investing now in this kind of [bicycle] infrastructure, and they want to know what they should be building," Watkins said.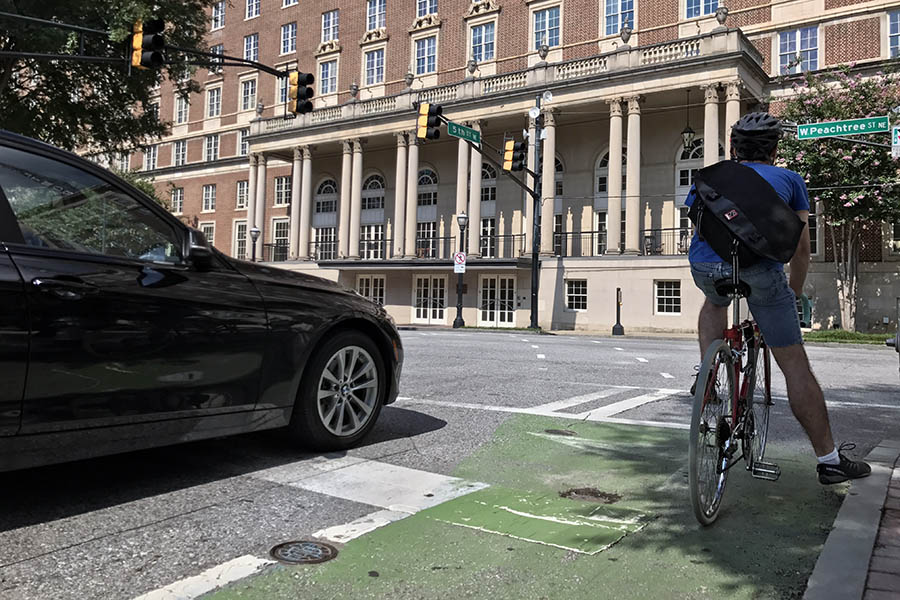 A bicyclist waits at a stop light in a green-painted bike lane in Midtown Atlanta. These kinds of lanes are designed to draw attention to bicyclists and identify potential points of conflict between bikes and vehicles. A just-published study from Georgia Tech transportation engineering researchers has found that engineers and planners lack the data they need to truly understand whether these kinds of interventions make cyclists safer. (Photo: Jess Hunt-Ralston)
So the team reviewed dozens of studies of bike infrastructure going back decades, but they only found 19 with meaningful results. And what they found were yawning gaps in data about all kinds of pedestrian and bicycle infrastructure.
"[The study authors] were using everything that they could get their hands on to try to [assess various bike infrastructure]," Watkins said. "We're not getting data in place so that these studies can be done the way that they need to be."
It's a complex problem, Watkins said:
People tend to under-report bike-versus-car or pedestrian-versus-car crashes, especially when there are no or minor injuries;
When they do report crashes involving bicyclists, police reports aren't designed to capture data that would help researchers understand what happened and why;
We simply don't know how many people are riding bikes and where they ride; which means:
We can't develop accurate measurements of the risks to bicyclists. Researchers call this "exposure data."
Watkins said that exposure data plays a key role in explaining the raw crash data.
"You might hear in the news about some big report that there are twice as many bike crashes as there were the year before in the city of Atlanta. And you think, 'Oh my goodness, twice as many bike crashes. It's so dangerous,'" she said. "But then you dive a little bit deeper, and you find out that there were four times as many people commuting to work by bike.
 "If you've quadrupled the number of people cycling and only doubled the number of crashes, that's actually half the crash rate."
The cycle track along 10th Street in Midtown Atlanta near Piedmont Park provides a physical barrier between two-way bicycle traffic and vehicles. A new study in the Journal of Safety Research analyzed studies on the effectiveness of bicycle safety infrastructure and found very little research that tells planners and engineers whether this and other kinds of bicycle infrastructure actually make riders safer. (Photos: Jess Hunt-Ralston)
 
Watkins said researchers also may have missed relevant and insightful studies from other countries where much more bicycling infrastructure exists, like Germany and the Netherlands, simply because the work has not been translated into English.
Still, she said, it's clear that much more work remains to understand when it makes sense to paint a bike lane or physically separate bicyclists from cars or something in between.
"What really needs to happen is, every time there's new infrastructure going in, there has to be a very thorough before and after study that goes with it."
Watkins also has begun conversations with the National Transportation Safety Board about the approaches the board's investigators use for airplane and train crashes.
"They can't look at statistical patterns in the frequency of plane crashes because they just don't happen that often. They use a very different approach, and we're wondering what we can learn from that."