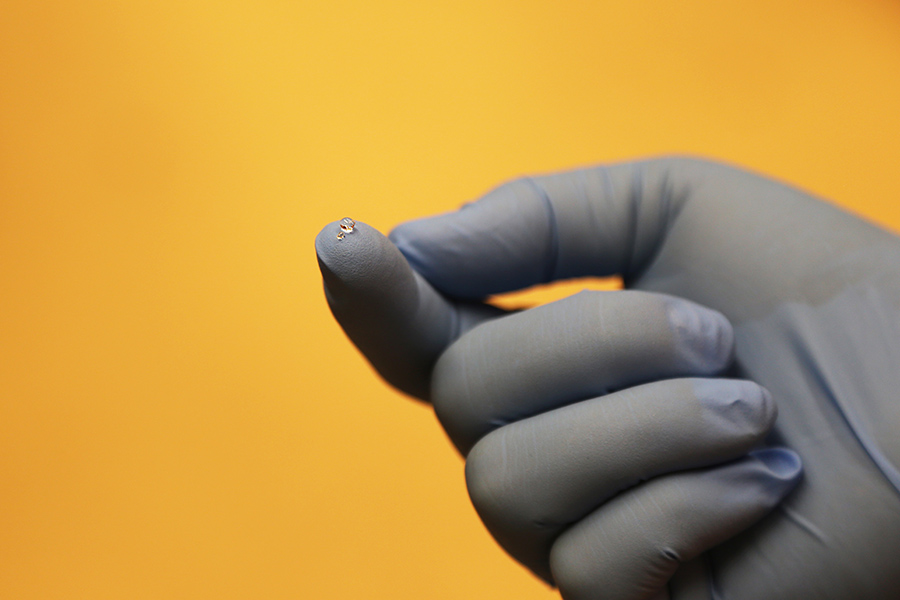 An example of the super-absorbent polymer beads Xing Xie is developing to improve the results of diagnostic tests on biological samples. Two beads are sitting on the fingertip: a dry bead roughly 500 micrometers in diameter and one that has absorbed water and grown dramatically. Originally intending to use them for environmental sampling, Xie has a grant from the Grand Challenges Exploration Initiative at the Bill & Melinda Gates Foundation to create beads that would target DNA, viruses or other molecules in biological materials and protect them for transport to testing labs. He has already developed beads that are even smaller and can absorb 200-500 times their weight. (Photo: Jess Hunt-Ralston)
Xing Xie has been developing a new environmental sampling technique that he thinks could have an unexpected application: preserving biological samples for transport to diagnostic facilities.
The Grand Challenges Explorations initiative at the Bill & Melinda Gates Foundation agreed, and has funded an exploratory project to see if Xie's idea works.
If it sounds more like biomedical engineering than environmental engineering, well, maybe it is. But it has the potential to significantly improve diagnostic test results in far-flung places.
The idea is to protect DNA or viruses in the samples from degradation during transport. Xie, a Carlton S. Wilder Assistant Professor in the School of Civil and Environmental Engineering, has proposed using super-absorbent polymer beads to target molecules in blood, urine, saliva or other biological material, and lock them away for shipping.
"The problem is, usually there's a long distance between the point of collection or final care to the clinic, and they have to take the samples back to the clinic for diagnosis," said Xie, whose work blends environmental engineering, material science and microbiology.
"I've been thinking about using these kinds of beads to take environmental samples, but I don't think I'd been thinking about, say, blood samples before. When I looked at this call for ideas from Grand Challenges Explorations, I thought, 'Oh, that could be a good way to go as well.'"
Xie's beads would grab DNA or a virus from liquid samples and allow contaminating bacteria or other cells to simply be poured away. Add in a pH buffer and preservatives, and the sample can travel to the lab undisturbed, offering reliable test results and diagnosis.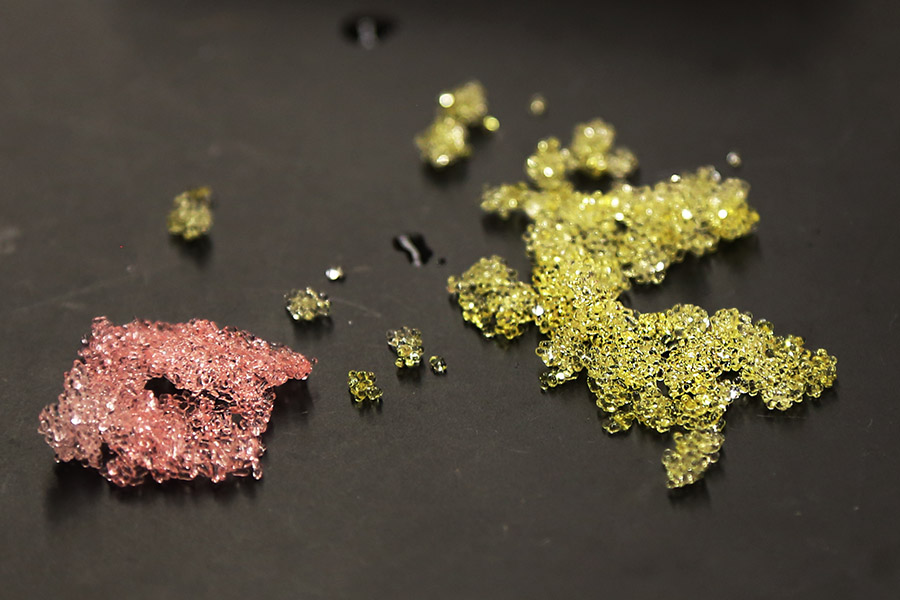 Two samples of the super-absorbent polymer beads Xing Xie is developing to improve diagnostic tests on biological samples in far-flung places. These beads, roughly half a millimeter in size, have been dyed so they're easier to see. (Photo: Jess Hunt-Ralston)
Xie is one of 35 researchers selected for the Gates Foundation's 20th round of Grand Challenges Explorations grants, a worldwide initiative to explore ideas that can break the mold in how we solve persistent global health and development challenges. Researchers had to present a bold idea in one of three critical global health and development topic areas, including innovations for diagnostics systems.
Xie said the super-absorbent polymer is widely available. It's the same kind of material used in diapers or in flower vases. The beads are inexpensive, and they can absorb up to 1,000 times their weight or more. He proposed using extremely small beads — roughly a fifth of a millimeter — which means they can absorb liquids very quickly, he said.
"We need to modify the bead materials a little bit, depending on what the target is," Xie said. "We can tune the pore size of these beads to determine whether the target molecules can go into the beads or be excluded from the beads. That will be a focus of our phase one study."
"In the end, we just want to demonstrate the idea."
The Grand Challenges Explorations grants are designed to accelerate development of innovations, funding high-risk, high-reward proposals twice a year. If Xie's idea works as he expects, he can pursue a $1 million follow up grant from the foundation.