Thursday, 04 December 2014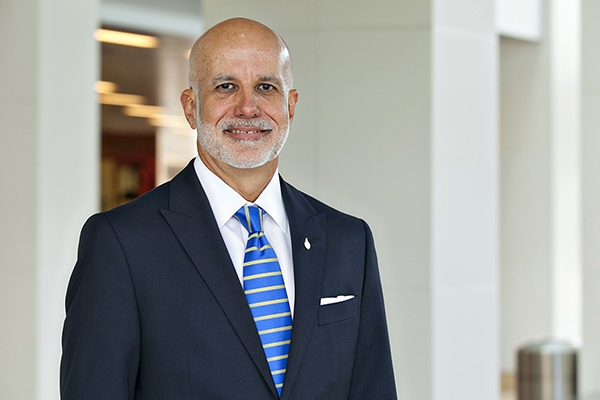 This story is the second in a series about new members of the School of Civil and Environmental Engineering External Advisory Board. Get acquainted with the series here.

"I've always said an engineer can do anything he likes. You know, what we are taught is to look at a situation, assess what the problem is, and find a solution. We have a structured mind, we have an analytical mind. And all businesses are the same thing."
 

Lopez
 
 
That's Silvio Lopez. And he should know a thing or two about CEE graduates becoming leaders and doing anything they like. He's now senior vice president of Banco Popular in Puerto Rico, charged with leading the bank's mortgage operations.

He got there by learning on the job, essentially. He was working in the bank's construction division after several years working in construction itself.

"One day, they needed somebody to run the mortgage business, and I told the guy when they approached, 'I don't know anything about mortgage.' They said, 'Don't worry, you'll learn.' And I did."

The mortgage operations lost money that first year, but seven years later turned an $80 million profit, becoming the market leader in Puerto Rico.

"I was willing to take risks," Lopez said. "If you don't take risks, there are no high rewards. But, then, you could also fail, you know; it can go both ways. I was confident that what we were doing was the right thing."

Bill Higginbotham's done some risk-taking in his career, too. He's president and CEO of ET Environmental in Atlanta, the latest success in the career of a serial entrepreneur.

"This is company No. 8," Higginbotham said. "Company No. 1 was when I was still a senior [at Georgia Tech]. It was the end of the Arab oil embargo. My best friend at the time was a plumber, so we started a company to do solar hot water installations.

"That paid for my last year of school."
 
| | |
| --- | --- |
|   | Higginbotham |
It didn't last much beyond that, though; oil prices fell sharply once the embargo ended, drying up the demand for alternative ways to heat water. Higginbotham got an engineering job and shuttered company No. 1.

No. 2 came about six years later, an engineering firm this time that Higginbotham got on the Inc. 500 list of fastest-growing companies in the country. In the meantime, he started a hazardous-waste services company, a couple of real estate development companies, a products company and a construction company.

"I was the kid who used to sell lemonade by stealing my mother's lemonade out of the freezer and going to the street. Cost of goods sold? Zero. That's just me," Higginbotham said. "It took me a long time to give up the engineering side of the business. I wear too many hats with what I do now, but I was still the chief engineer up until about five years ago."

Higginbotham said he's solely the "business guy," now. But he still uses his engineering skills.

"It's the rational thought process, the ability to solve problems, the ability to be objective," Higginbotham said. "I have a really good skill set with construction management, and all of that came out of civil engineering."

UP NEXT: Using engineering skills in non-engineering jobs — and why that makes sense for several of these folks.
Read more of the series:
Part 1: Series introduction and bios
Part 3: To CEE or not to CEE (Or, what you can do with a CEE degree other than engineering)
Part 4: One piece of advice