Two assistant professors in the School of Civil and Environmental Engineering have won one of the nation's premiere grants and the National Science Foundation's most prestigious award for junior faculty, the Early Career Development award.
Chloe Arson and Phanish Suryanarayana learned of their selection in early January for what are known simply as CAREER awards. The grants recognize the top educators and researchers in the country, those who "exemplify the role of teacher-scholars through outstanding research, excellent education and the integration of education and research," according to the NSF.
"The CAREER award is really for you to lay out a plan for what you want to do in terms of research and education. It's supposed to be a landscape or a broad description of what kind of academic you want to be," Arson said. "It articulates what you already do with the academic objectives you want to pursue and provides a vision for the long term.
"It's really a great proposal to write in the sense that it's supposed to help you grow," she said. "You really reflect on what kind of professor you are, what's your style, what are really the essential things you want to do."
The CAREER award is $500,000 over five years, and the idea, the two scholars said, is to help them become leading experts in their fields and set them up for impactful careers.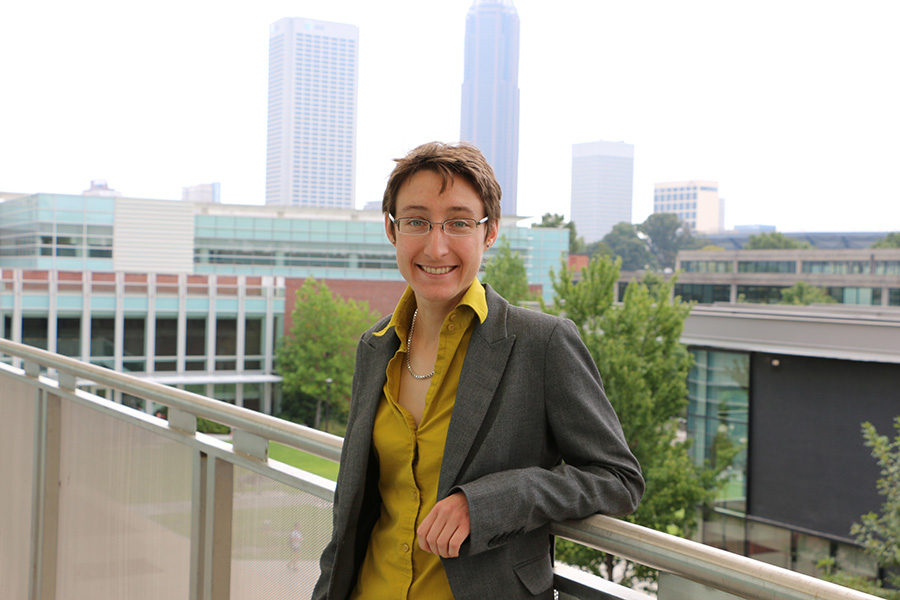 Assistant Professor Chloe Arson has won an Early Career Development award from the U.S. National Science Foundation, one of the most-prestigious grants available to young scholars. Her work will focus on damage and healing mechanics in rocks. (Photo: Jess Hunt-Ralston)
Damage and healing in rocks
Arson's proposal focused on her work on damage and healing mechanics in rocks, work that has broad applications in energy production and underground waste storage systems.
"We extract oil and gas from rock. We produce geothermal energy by extracting hot liquids or using heat exchangers that are embedded in the soil. Waste is stored in the ground," Arson said. "So here I found that there was a natural contribution that a geotechnical engineer could make just because of the essential processes that were involved."
Arson said her work will address fundamental questions like why cracks and pores form in rocks in the first place, how long it takes for rocks to recover from extraction or storage operations, and how much energy healing requires. She'll be creating numerical models of how the fractures start and spread, and her findings will help develop ideal conditions for minimizing damage or maximizing healing.
"[This work is] important for the energy and environmental perspectives, but I think that the process of doing this research will teach us much more than that," Arson said. "If we understand better how healing occurs in certain kinds of crystalline materials, that knowledge could also be applied to the design of better concrete, better cements — and why not better ceramics that you could use to repair bones or for a variety of purposes?"
Arson's proposal also includes significant educational goals, including building international collaborations and engaging graduate students in debate and deliberation about the work they do, weighing the societal and environmental impact of their engineering solutions. She's also going to work on symbolic language, with the goal of removing an obstacle that prevents some students from succeeding.
"Often the mathematical symbols are an obstacle for people who may be good conceptually but not so good formally," Arson said. "I've always wanted to explore alternative ways to learn. So many times I see students who may not be really good test takers but who are really creative. Everything I proposed goes in that direction."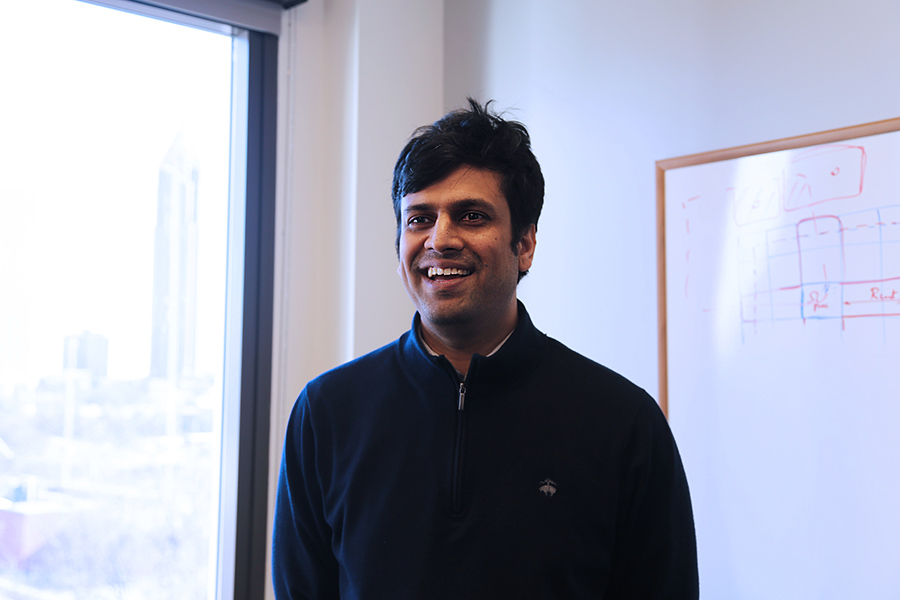 Assistant Professor Phanish Suryanarayana also has won an Early Career Development award from the NSF. His proposal focused on developing new kinds of nanostructures. He and Arson join six other School of Civil and Environmental Engineering faculty members who have won the prestigious award. (Photo: Jess Hunt-Ralston)
Characterization and design of nanostructures
Suryanarayana's proposal focused on nanostructures, extremely tiny materials that could have incredibly large implications for society. He plans to develop a theoretical and computational framework to help discover and describe new kinds of these atomic-scale structures.
"The basic question is, how does one design such a nanostructure with the desired properties? The answer is, currently there does not exist any systematic approach, and therefore it is common to rely on empirical insight," Suryanarayana said.
His approach will use symmetry to speed up the process of designing small-scale structures so that they are well suited for a variety of applications — like curing diseases, purifying air and water, or converting renewable energy. It's the kind of work that simply can't be done now because of the huge number of potential ways to configure the structures.
"It's a really hard problem because, how do we know what the shape should look like? How do we know where to place the atoms and which types of atoms?" Suryanarayana said. "There are so many possibilities; it's basically infinite. One needs a systematic way of doing it."
Suryanarayana said the key to the computational system he's building is symmetry, which plays an essential role in determining the properties of nanostructures.
"It turns out, most of the interesting nanomaterials and nanostructures have very high symmetry, either perfect, or just broken," he said. "Even bio-structures like DNA and parts of viruses have helical symmetry. The idea is, can we use the notion of symmetry to discover new phenomena and design new materials suitable for technological applications?"
Those materials could have uses we can't even imagine yet, Suryanarayana said, including in medicine, where his work could eventually help scientists better understand viruses and develop cures for diseases.
"Most of these biomolecules are at the nanoscale, so the code [I develop] based on the fundamental principles of quantum mechanics should be able to characterize them and study defects which gives rise to and/or have implications for some kinds of diseases. Maybe then one can discover techniques that can help rectify that defect."
Suryanarayana said such applications are still closer to science fiction than reality, but that illustrates why he wanted to develop such a grand vision for his work.
"If this is successful, it would revolutionize many, many fields including nanoscience and nanotechnology. At the same time, that also makes it a very hard problem. My main motivation for picking it was because I thought it would have tremendous impact."