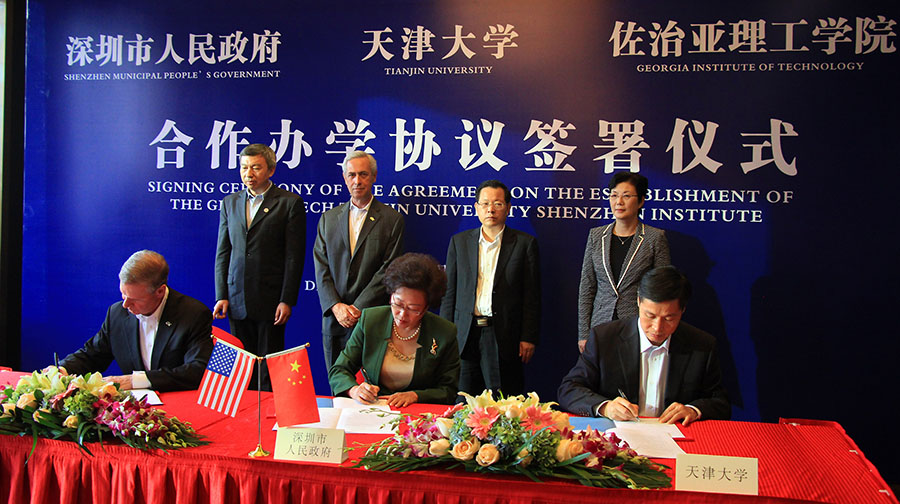 Georgia Tech President G.P. "Bud" Peterson, seated left, signed an agreement in a ceremony in Shenzhen, China, Dec. 2 to create a new collaboration with the City of Shenzhen and Tianjin University. Co-signers with Peterson are Vice Mayor Yihuan Wu of Shenzhen Municipal People's Government, center, and Tianjin University President Denghua Zhong, right.
Students in China soon will be able to earn a Georgia Tech master's degree in environmental engineering almost entirely in their home country.
The School of Civil and Environmental Engineering has joined a handful of other Georgia Tech programs, China's Tianjin University, and the city of Shenzhen to create a new campus offering engineering, computer science and design degrees. Tech President G.P. "Bud" Peterson officially signed an agreement creating the Georgia Tech Tianjin University Shenzhen Institute Dec. 2.
Georgia Tech will lead graduate programs at the new campus while Tianjin University coordinates undergraduate education.
"It's a great opportunity for us," said Jim Mulholland, the School's associate chair for graduate programs. "Over the past five years, growth in our M.S. program has been fueled by international students. So this is definitely a way to address that demand. And I think it's a benefit to the students, because it will be less expensive for them."
Environmental engineering students at the Shenzhen Institute will study for two semesters in China, then finish their degree with a third semester of study on Tech's main campus in Atlanta. The first students will enroll for fall 2019.
Graduate Programs Manager Robert Simon said students at Shenzhen typically will take about 18 months to complete their degree, taking classes in the fall, spring and following fall.
"That model is what the majority of our master's students follow — fall, spring, some take off summer, most intern, and then they complete their program in fall," he said. "So that schedule is pretty consistent with our Atlanta students."
The Shenzhen government provided land, startup funding and operational subsidies for the new institute. It will present new opportunities for U.S.-based students, including study abroad programs and internships, and will expand Georgia Tech's China Summer Program.
For the environmental engineering master's program, Mulholland said the School will hire a professor of the practice to work full-time in Shenzhen and teach core graduate courses.
"We'll have faculty here who will travel to China and teach courses," he said. "We very well might offer some of our classes here by video and, for that matter, some of the classes we deliver in China might be offered in Atlanta by video."
Environmental engineering was one of the key areas Georgia Tech's China partners identified for the new campus based on student interests. Georgia Tech also will offer master's degrees in electrical and computer engineering, computer science, industrial design and analytics.
"This historical agreement is in alignment with Georgia Tech's focus on internationalization, as outlined in our 25-year Strategic Plan," Peterson said at the signing ceremony in Shenzhen. "It will serve as a great vehicle to engage our strong alumni base in China and increase Georgia Tech's global reputation as a leading technological research institution."
Simon said the new institute also will solidify the School's ties to China.
"One of the things that's very exciting for CEE is it expands on our already existing partnerships within China," he said. "A few years ago, we signed the 3+2 agreement with Tongji University, so this just seems like a natural next step to cement our partnerships with the People's Republic of China."