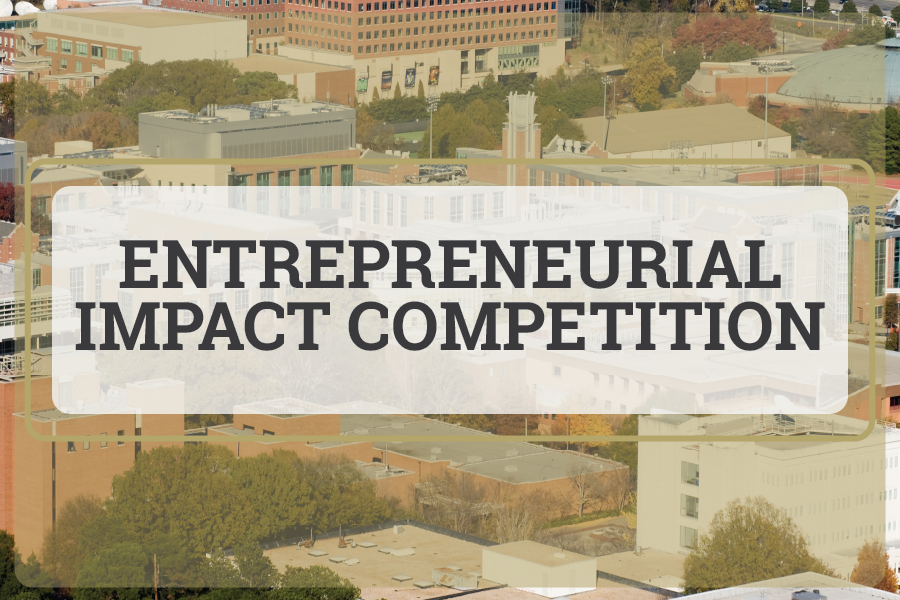 Four individuals and student teams have been selected to advance to the final round of the Entrepreneurial Impact Competition on Friday, Jan. 28 at 4:30 p.m.
During the two-hour virtual competition, the finalists will give a five-minute verbal pitch of their innovative projects to a panel of expert judges and a live audience, followed by up to 10 minutes of Q&A. After all the presentations are complete, the judges will deliberate and then identify the top proposals to win the Higginbotham Entrepreneurship Award and the Zeitlin Innovation Award, worth $5,000 each. 
Read more about the finalists below:
3D-Printed Wood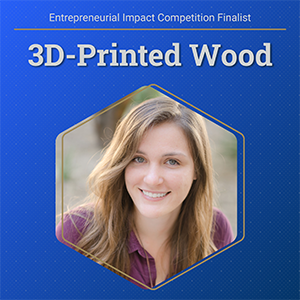 Katy Bradford
The construction industry faces many challenges in the future: high material costs, low labor availability and a growing population in need of housing. Civil engineering student Katy Bradford proposes using 3D printing technology to create a low-cost, low-carbon building material to rapidly develop the affordable, green, housing of the future. 
3D-printed wood is largely composed of cellulose, the most abundant polymer on earth. With the benefits of carbon sequestration, material availability, biodegradability, and optimal mechanical properties, the use of cellulose fibers in building materials can significantly reduce the energy consumption of buildings at a low cost. 
In addition to its sustainability, 3D-printed wood utilizes automation to offset shortages in labor and reduce the timeline of a construction project. This offers the potential to rapidly provide housing at a reduced cost—an issue of critical importance around the globe.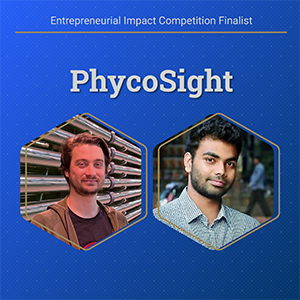 Benjamin Gincley, Farhan Khan
PhycoSight
The rapid proliferation of toxin-producing algae—known as harmful algal blooms—present a grave threat to inland water quality. Caused by excessive nutrient discharge into water and warming temperatures due to climate change, harmful algal blooms (HABs) kill fish and cause toxic discoloration and odor in drinking water supplies.
Environmental engineering Ph.D. candidates Benjamin Gincley and Farhan Khan have a plan to combat the threat of HABs through the development of PhycoSight: a low cost, rapid, accurate and automated device to monitor water quality. 
Continuous and autonomous monitoring would enable observation of the start of an algal bloom, providing the opportunity for decisive and strategic mitigative action to be taken. By providing early warning of an algal bloom upstream, PhycoSight would give drinking water utilities the ability to quickly take proactive measures to ensure safe drinking water to their communities.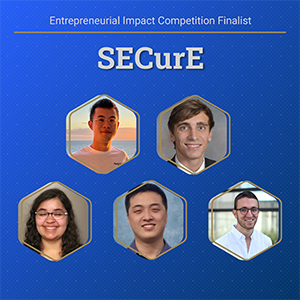 Marius Francois-Marchal, Ron Knezevich, Ariel Steele, Zhongyu Yang, Lucas Yu
SECurE
Driving around curves can be dangerous for motorists. Curves account for just 5% of all highway miles, but curve-related crashes make up approximately a quarter of all roadway fatalities. 
Curve warning signs are among the best safety measures and are known to decrease injury crashes by approximately 30%. However, it can be difficult for transportation agencies to identify where these signs are needed and keep track of those that already exist on thousands of miles of roadway. This is for two main reasons: manual interpretation is needed for every curve and there is lack of existing warning sign inventory. 
SECurE is a low-cost solution that uses a smartphone as a data collection device. Created by CEE graduate students Ron Knezevich, Ariel Steele, Zhongyu Yang and Lucas Yu, along with electrical and computer engineering student Marius Francois-Marchal, SECurE works by mounting a smartphone on a vehicle so users can passively collect data during routine travel. Automated processing will accurately extract curve data that can be used to design curve warning signs to make roads safer.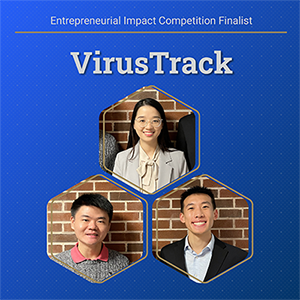 Wensi Chen, Zeou Dou, Eric Mei
Virus Track
Wastewater surveillance testing is an emerging epidemiological tool to monitor municipal sewage for traces of infectious pathogens, like Covid-19, in entire communities. Through wastewater testing, researchers can confirm whether a viral pathogen is present in the population and whether transmission is increasing or declining.
A limiting factor is that this process requires refrigeration for virus sample handling, so the high-cost cold chain processes greatly limit the implementation of large-scale virus surveillance.
The VirusTrack team, comprised of environmental engineering PhD candidates Wensi Chen and Zeou Dou and undergraduate student Eric Mei, created a sampling and storage technology that doesn't require refrigeration. 
Through their low-cost and reliable solution, packed viruses can be stabilized and preserved for a prolonged period at room temperature before extraction for testing, which could help to facilitate and expand the coverage of the surveillance network. 
Related: