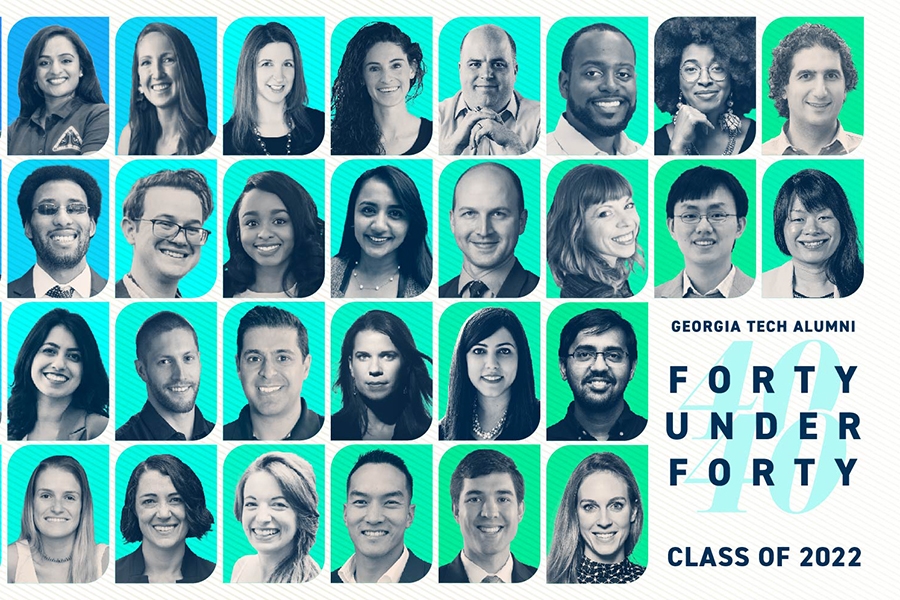 The Georgia Tech Alumni Association has announced the 2022 class of 40 Under 40, including five alumni of the School of Civil and Environmental Engineering.
The annual 40 Under 40 program showcases how Tech graduates impact industry worldwide and work to improve the way we live through their diligence and expertise from an early age.
"This has quickly become one of my favorite traditions," says Alumni Association president Dene Sheheane. "The opportunity to recognize alumni who are taking strides to improve the world we live in is such an honor for our organization. I know we will learn from and be inspired by this dynamic group of young leaders."  
Nominees, who must have completed at least one semester at Georgia Tech and be under the age of 40 as of June 30, 2022, were scored using a 25-point rubric by a committee of 24 faculty, staff, and volunteers who collectively represented all Georgia Tech colleges.  
Read more about CEE's honorees:
Cofounder | TruePani
Samantha Becker graduated from Georgia Tech with a bachelor's in Civil Engineering in 2016 and went on to receive her master's in Public Health from the University of Michigan in 2019. She is the cofounder of TruePani, a communications and consulting firm focused on protecting public health from the effects of lead in drinking water. TruePani is committed to the idea that safe water is a basic human right and actively advocates for better education and transparency about water quality issues, most notably around lead in drinking water. TruePani has designed state-wide lead in drinking water testing projects that are available to over 20,000 schools and childcare facilities across the country. TruePani's mission is to educate the public about water quality issues and the steps that can be taken to reduce exposure to dangerous contaminants.

Assistant Professor | University of California, Berkeley
Maya Elizabeth Carrasquillo is an assistant professor in the Department of Civil and Environmental Engineering and the principal investigator of the Justice, Equity, Diversity, Inclusion and Liberation Lab (JEDI (L)ab) at the University of California, Berkeley. The mission of JEDI (L)ab is to develop systems of critical infrastructure that support liberation and restorative justice for all. Carrasquillo is a Huelskamp Faculty Fellow, which recognizes a promising new assistant professor in UC Berkeley's College of Engineering for their innovative research.
Assistant Director for Environmental Science, Engineering, Policy, and Justice | The White House
Gretchen Goldman is the assistant director for Environmental Science, Engineering, Policy, and Justice at the White House Office of Science and Technology Policy. Previously, she was the research director for the Center for Science and Democracy at the Union of Concerned Scientists. For more than a decade, Goldman has led research and advocacy efforts at the nexus of science and policy on topics such as federal scientific integrity, fossil energy production, climate and air quality, and environmental justice. She has testified before Congress and sat on the board of the nonprofit 500 Women Scientists. Dr. Goldman holds a PhD and a master's in Environmental Engineering from Georgia Tech, and a bachelor's in Atmospheric Science from Cornell University.
Chief Operations Officer | restor3d, Inc.
Andy Miller is an entrepreneurial engineer with a diverse background in structural mechanics, biomaterials, 3D printing, and medical devices. He cofounded the medical device startup restor3d, Inc., where he currently serves as the chief operating officer. His focus is on developing internal processes and technology that deliver restor3d's mission to enable surgeons with an enhanced ability to repair and reconstruct the human body through orthopedic implants with superior integrative properties and enhanced anatomical fit.

Athletics Director | Clemson University
Graham Neff is in his first year as the director of athletics at Clemson University, one of the nation's premier athletic and academic institutions. He served in senior level positions at Clemson for the past eight years, and spent time at Deloitte, Middle Tennessee State Athletics, and Georgia Tech prior to his time at Clemson. He was also a board member for the Coaching For Literacy Foundation. He and his wife, Kristin, have three sons: Grady, and twins Nolan and Emmett.
Related: