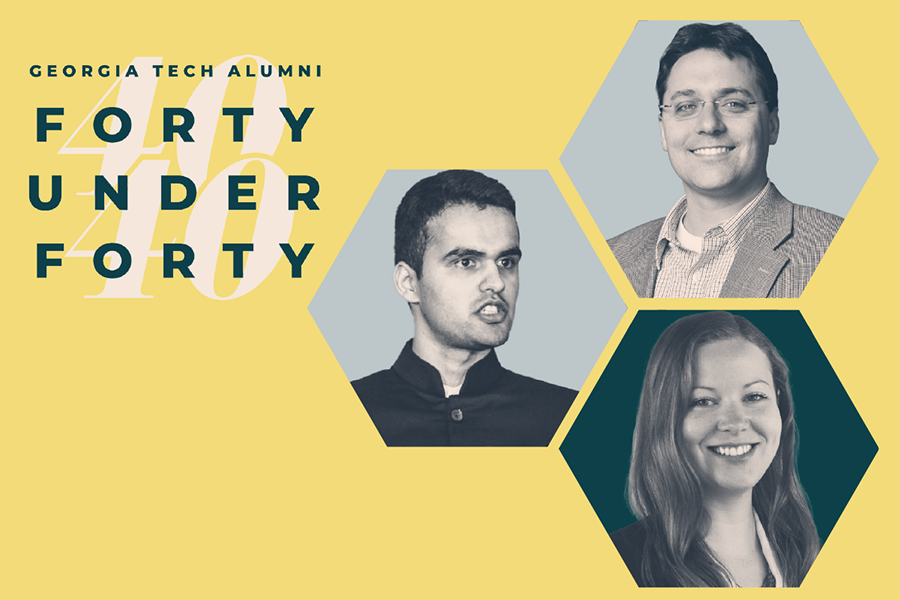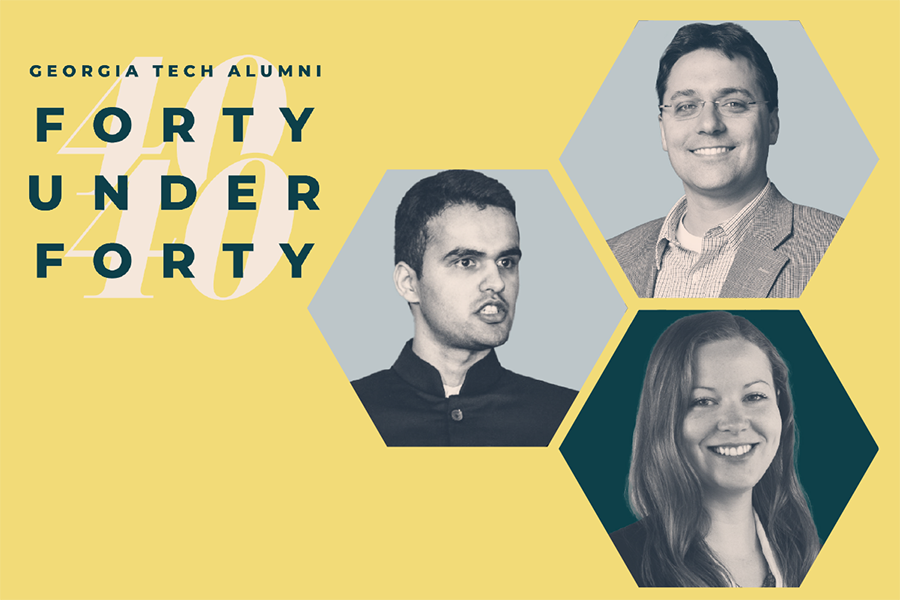 Jimmy Mitchell (top), Arjun Bir (left) and Carly Queen (bottom) represent the School of Civil and Environmental Engineering on the Georgia Tech Alumni Association's 40 Under 40 list.

The Georgia Tech Alumni Association's 2021 class of 40 Under 40 features three graduates from the School of Civil and Environmental Engineering.
Arjun Bir, CE 18, Jimmy Mitchell, CE 05, and Carly Queen, ME 09, MS CE 16, M CRP 16, represent the School on this year's impressive list of alumni who are changing the world for the better.
The 40 talented individuals selected for the 2021 class have made significant contributions in their fields at an early age. Those nominated must have completed at least one semester at Georgia Tech, be under the age of 40 as of June 30, 2021, and have made an impact in their profession or community, spanning all industries and sectors. A committee of 21 faculty, staff and volunteer leaders, who collectively represented all Georgia Tech colleges, scored each nominee using a 25-point rubric.
Read more about the CEE alumni on this year's 40 Under 40 list:
Arjun Bir, CE 18
Building Envelope Engineer | Raymond Engineering
Bir designed the Oasis E.coli test, a low-cost, water quality test that can be used by anyone without any prior training. He founded a company in Bangalore, India, to manufacture and distribute these tests worldwide. This work received the 2018 MIT Water Innovation Prize. In collaboration with Georgia Tech, UNICEF, and Johns Hopkins University, Bir planned and executed studies to test whether giving people the ability to test their own water would lead to improved behaviors around water and sanitation. The results showed unprecedented improvements in water quality in 589 households in Kanpur, India. Bir also studied the accuracy of low-cost E.coli tests to the U.S. EPA-accepted standards. As part of this effort, he established a microbiology lab in Bangalore, India. In addition, Bir runs India Forward, a nonprofit that provides scholarships and mentorship to students in need.
"Through Georgia Tech, I have met people who inspire me; I have made friends who are dear to me and have gained access to resources that enable the work that matters most to me," Bir says.

Fun fact: Bir doesn't just study water, he also paints with it. He studied watercolor painting in high school.

Jimmy Mitchell, CE 05
Sustainability Engineer | Skanska
Mitchell is a project team leader for the Kendeda Building for Innovative Sustainable Design, one of the world's most sustainable buildings. In 2021, the Kendeda Building achieved full certification on the Living Building Challenge. Sustainability was instilled in Mitchell early on as an undergraduate student at Tech, and it's been a guiding principle in his career in construction. He was an early adopter of the LEED program by the U.S. Green Building Council and led a LEED Gold effort for Skanska's Atlanta office from 2007 to 2008. In 2008, he spent six months in California, working on a healthcare project that fully incorporated 3D modeling, reducing time and waste through planning. In 2010, his focus shifted to the Atlanta Mission men's shelter, where he used sustainability to the organization's benefit by creating the Atlanta Mission Urban Garden and a utility-saving laundry-water-recycling system. In 2011, he joined a group of industry leaders to form the Lifecycle Building Center, which focuses on environmental stewardship and creating a sustainable lifecycle for the built environment. He is past chair of the Lifecycle Building Center and continues to serve as a board member.
"Georgia Tech people inspire me. I think I'm always trying to live up to their achievements. As a student, I was inspired by students, faculty, and industry, and that continues today," Mitchell says.
Fun fact: While at Tech, Mitchell won a Burdell's Best Award for most creative philanthropy. His fundraiser involved a cow at Burger Bowl and raised money for the Brain Tumor Foundation for Children.
Carly Queen, ME 09, MS CE 16, M CRP 16
Sustainable Transportation Specialist | AECOM
Queen leads AECOM's Multimodal Transportation Safety Team in Georgia. In this role, she directs transportation planning and engineering efforts focused on reducing pedestrian and cyclist crashes, injuries, and fatalities across the state. Queen's community service spans more than a decade and includes numerous leadership roles on nonprofits. While a student at Tech, she served as the founding president of Students Organizing for Sustainability. In graduate school, she was vice president of outreach and communications for the Women's Transportation Seminar and Institute of Transportation Engineers. She received an Outstanding Service Award from Georgia Tech's School of City and Regional Planning. She has continued serving in leadership roles post-graduation, including serving on the Generation Green Board of the Georgia Conservancy, Young Professionals in Transportation Atlanta, and Groundwork Atlanta, where she's in her fifth year as president of the Board of Directors.
Under her leadership, Groundwork Atlanta launched AgLanta Grows-a-Lot, a program converting vacant lots to farms and gardens in Atlanta's low food-access areas and a Proctor Creek Trash Traps pilot project, testing technologies for preventing litter in creeks from reaching larger water bodies. The project was the winner of Chattahoochee Riverkeeper's 2020 River Sustainability Award.
"My Georgia Tech classmates and fellow alumni connected me to an internship opportunity where I have since launched my career," Queen says.
Fun fact: At the time, Queen was the only woman in the Georgia Tech Off Road club and drove in the SAE Mini Baja East Competition during her sophomore year at Georgia Tech.
Click here to read about the rest of the 2021 Class of the Georgia Tech Alumni Association's 40 Under 40
Related: