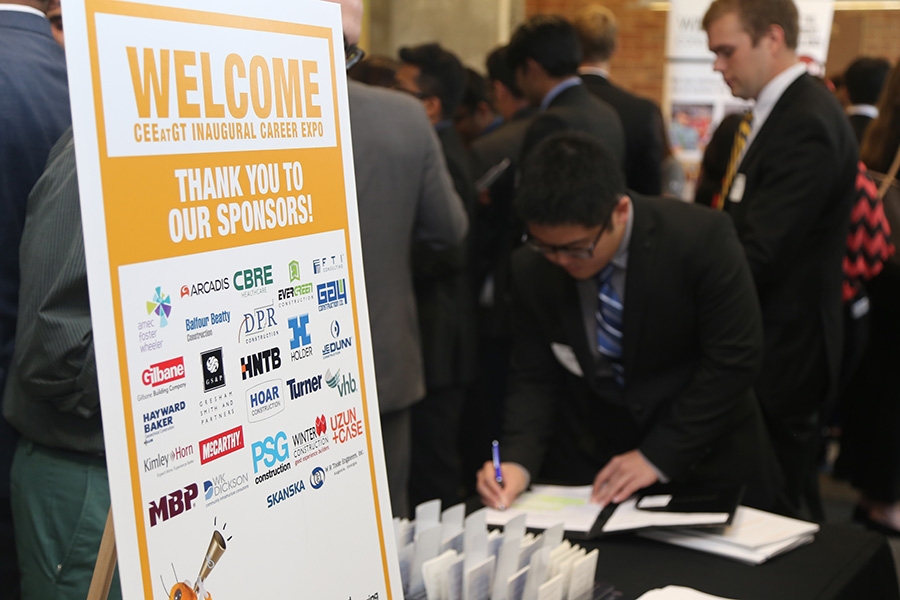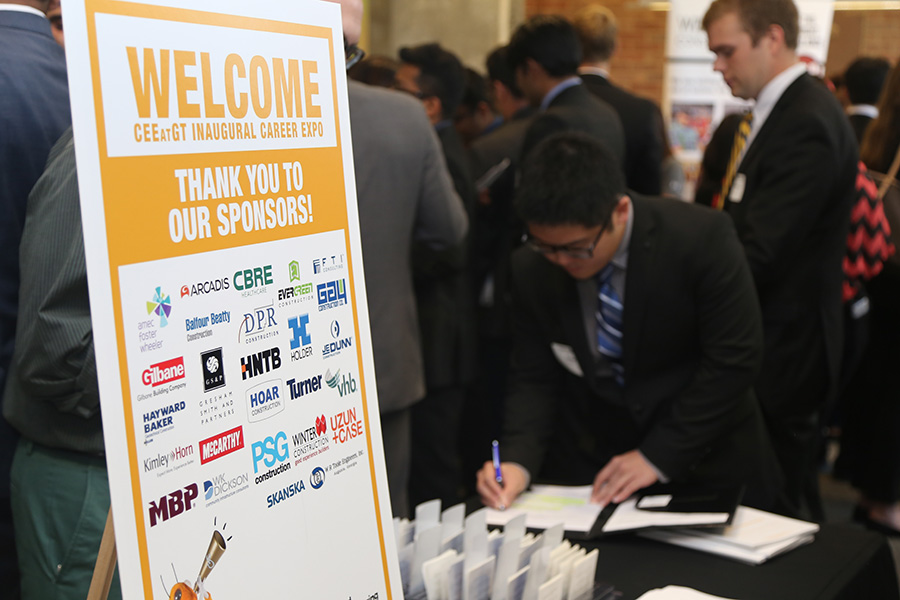 Students wait to meet with company representatives at the 2016 School of Civil and Environmental Engineering Career Expo. Among the firms that had success recruiting at the event were ARCADIS and Skanska, who were inaugural members of the School's Corporate Affiliates Program and had prominent placement at the expo. (Photo: Jess Hunt-Ralston)
For Adam Gersh, the School of Civil and Environmental Engineering's Corporate Affiliates Program has been about efficiency.
As a university relations manager for design and engineering firm ARCADIS, he said the program streamlined and maximized his recruiting efforts.
For Jimmy Mitchell, being a corporate affiliate of the School has been about relationships.
He said the program means he can interact with students and really assess whether they're a good fit for his company, Skanska.
ABOUT THE CORPORATE AFFILIATES PROGRAM
Corporate Affiliate partners get a direct line into the School of Civil and Environmental Engineering and help developing an engagement plan. They also receive:
VIP placement in CEE's Career Expo
Access to interview rooms in the Mason Building
VIP marketing support of your company to CEE students
VIP posting of jobs and internships
A Day in the Lobby
A session in one of our School's seminar series
Invitation to a special evening of Senior Design project presentations
Opportunity to pair company employees with CEE students for mentoring and career guidance
Invitation to networking events with CEE alumni, faculty members and students
ARCADIS and Skanska are just two of the more than 15 members of the School's Corporate Affiliates Program in its first year, and they're excited about the connections they've forged as result. The affiliates program — or CAP, as it has become known — is an effort designed to more closely link the School and its students with industry partners. That means it's a great recruiting tool for companies, and it's great exposure for students, according to the program's manager, Mariah Austin.
"We designed CAP to meet both needs," she said. "For corporations, we can provide access to the best and brightest young civil and environmental engineers in the region. They get face time with these students, and they get opportunities — through our seminar series or spending a day in our lobby — to really explain what their corporate values are and why students will excel with them. For our students, they get direct access to people looking for interns or employees and a window into working life."
Mitchell said he found a summer intern for Skanska's Atlanta office, and he connected students to opportunities in the firm around the nation. Recruiting at Georgia Tech has been a focus for the company, he said.
"Reading through a resume feels so subjective, especially since, at Georgia Tech, all the students are high-potential," said Mitchell, the Atlanta-area business development manager for the construction firm. "To me, a great value is meeting these students and getting to better understand their professional qualities for our company's specific opportunities."
Gersh, who is responsible for recruiting newly minted engineers for ARCADIS, said involvement in CAP has made the process much more effective.
"The CAP program really provides us with that opportunity to target the students we are really looking for."

– Adam Gersh, university relations manager for ARCADIS, one of the
School's inaugural partners in the Corporate Affiliates Program
"It's a much more targeted effort," he said. "It really allows us to more strategically position ourselves on campus versus just doing a splatter approach, going on a couple of events and hoping we find the right candidates. The CAP program really provides us with that opportunity to target the students we are really looking for."
Gersh said he hired eight new employees and 11 interns during the last year — all students he met through the School's career fair and other networking events he had access to as a corporate affiliates member.
"The investment is significant. But the return on investment has been excellent," he said. "We get entree into some activities that we hadn't normally gotten exposure to. We get an opportunity to really meet the candidates firsthand."
Created a year ago, the Corporate Affiliates Program offers interested companies the unique access Gersh and Mitchell mentioned. For a $5,000 annual contribution, firms get a session in one of the School's seminar series, VIP placement in the School's career expo, a day to recruit in the Mason Building lobby, and other networking opportunities with students, faculty and alumni.
Skanska's Mitchell said School staff helped him through the year to get what he needed out of the program. He said the experience benefitted his company's existing employees, too.
"The CAP is also a leadership opportunity for your employees to engage through programs such as the seminar series and the lunch panel."
Gersh said ARCADIS will definitely return for the program's second year.
"I go where the success exists."
Visit the Corporate Affiliates Program page to learn more about the program's benefits and how to get involved.