Wednesday, 17 October 2018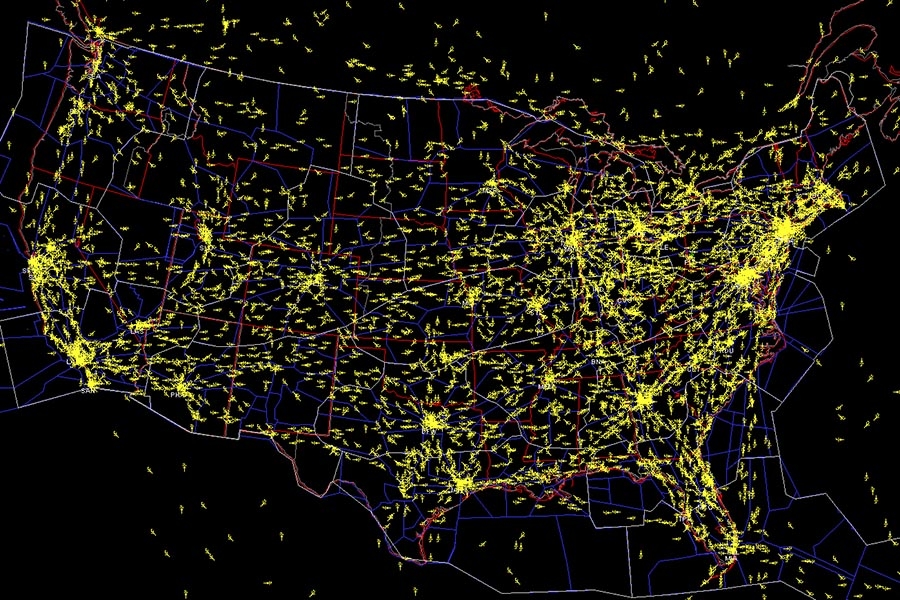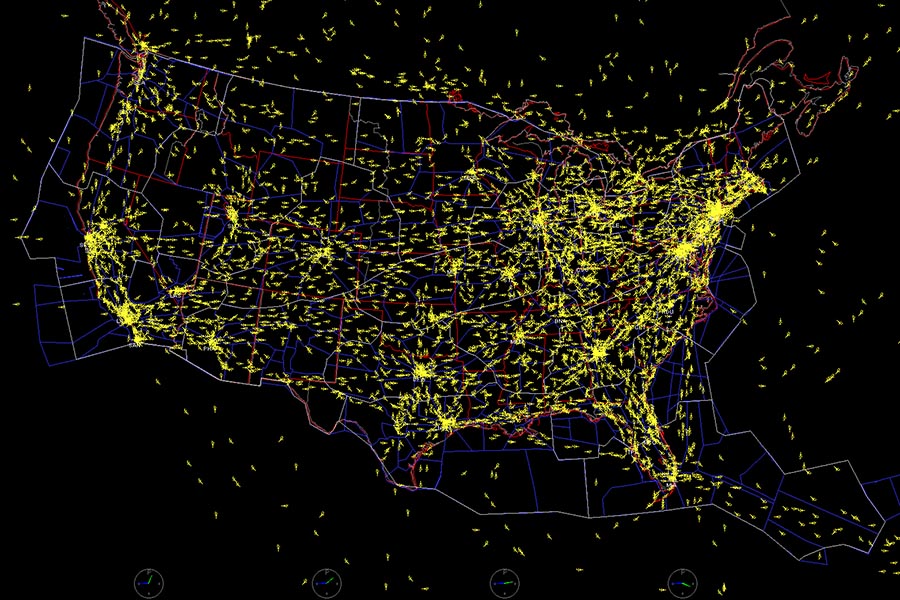 This image from software developed by NASA shows air traffic across the United States. Assistant Professor Sam Coogan has received funding from the U.S. Air Force to use new techniques to understand and manage how physical networks with interconnected components function. His work applies to all kinds of systems, like roads, airspace, water systems and factories. (Image Courtesy: NASA)
Sam Coogan will use a Young Investigator grant from the U.S. Air Force to develop a new approach to understanding and controlling physical networks like roads, air space and other critical infrastructure.
These networks are growing larger, more complex and more distributed, Coogan said, so it's essential to create new mathematical tools to understand the dynamics of how materials move through these systems — whether those are cars, airplanes, water or gas — and to provide guarantees about how they operate.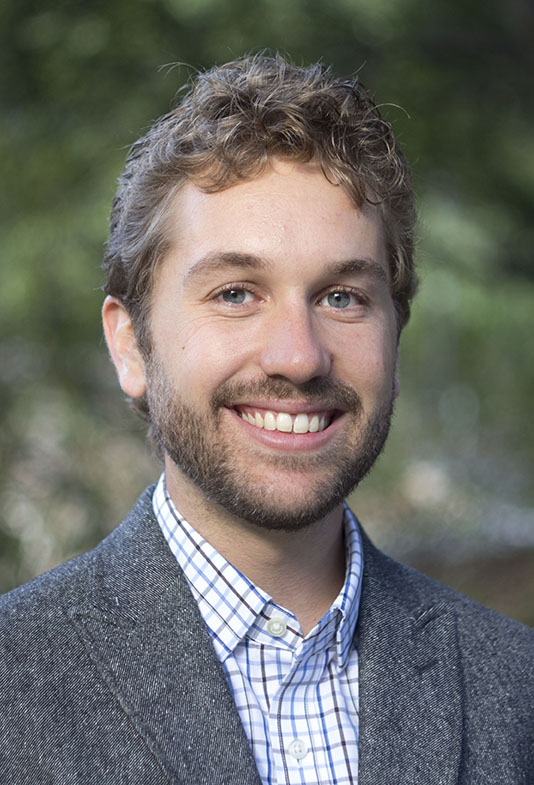 Coogan
The Air Force Office of Scientific Research agreed, and has given Coogan three years and $450,000 to work on those tools. It's one of only 31 grants awarded this year from nearly 300 applications.
"This is a generous award that will allow me to dive deeply into the theory underlying these types of networks," said Coogan, an assistant professor in the School of Civil and Environmental Engineering. "The award is recognition by the Air Force that complex networks with intricate connections, dynamics and nonlinearities are becoming pervasive in our built environment and physical infrastructure. I'm excited to contribute to the foundational research for these systems."
One of the techniques Coogan will apply to physical networks involves using inexpensive simulations to sample some of the possible behaviors in the system and then extrapolating the flow of material through the network.
"This allows for formal guarantees over all possible outcomes by sampling only a limited number of representative points," Coogan said. "Efficiently approximating all possible scenarios is a critical theoretical tool for ensuring safe and provably correct behavior of complex and large-scale physical flow networks."
His work applies to all kinds of systems with interconnected components, "such as roads, airspace, pipes, and factories capable of accommodating physical material such as vehicles, aircraft, natural gas and manufactured goods. Material flows from component to component, and thus the contents of the network change over time," Coogan said.
He said all of those networks exhibit commonalities that lend themselves to a similar modeling approach. Pairing that with the unique characteristics of each different kind of network will lead to better understanding of how these systems behave and, ultimately, to efficient ways to control that behavior.
The Young Investigator Research Program supports outstanding young researchers "who show an exceptional ability and promise for conducting basic research of military interests," according to the Air Force. The grant is the second sizable award this year for Coogan, who also is an assistant professor in the School of Electrical and Computer Engineering. In January, he received an Early Career Development Award from the National Science Foundation to develop the mathematical foundations for modeling and predicting traffic flow.