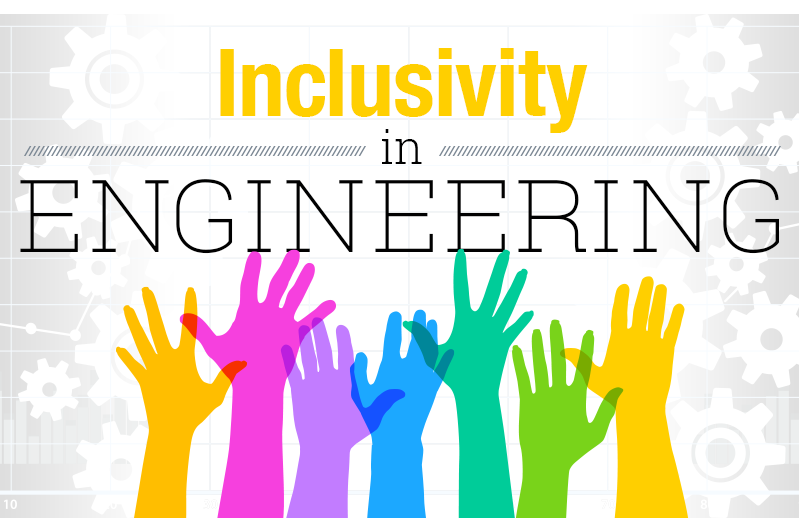 By Georgia Parmelee, College of Engineering
A paradigm exists within the engineering field, according to recent literature. It's that engineers think in binary terms, setting aside personal connections in favor of purely technical skills. Researchers have identified that the field as a whole is particularly masculinist and heteronormative, as well.
For an LGBTQ+ individual — Lesbian, Gay, Bisexual, Transgender, Queer and others — this environment can be daunting and unfriendly, and often keeps them in the margins. Most LGBTQ+ individuals pass for heterosexual cisgender individuals or cover their invisible identity.
Four Georgia Tech faculty members want to challenge the existing culture in engineering and promote inclusivity and diversity in schools across the country. Chloé Arson in the School of Civil and Environmental Engineering, Jennifer Hasler in the School of Electrical and Computer Engineering, Manu Platt in the Coulter Department of Biomedical Engineering, and Anne Pollock in the School of Literature, Media and Communication are trying to understand why LGBTQ+ people are less visible in engineering disciplines than in other fields, even within scientific and technological areas.
One of their core questions is: Does engineering attract fewer LBGTQ+ students and professionals because of its binary reputation? Or are they present, but invisible?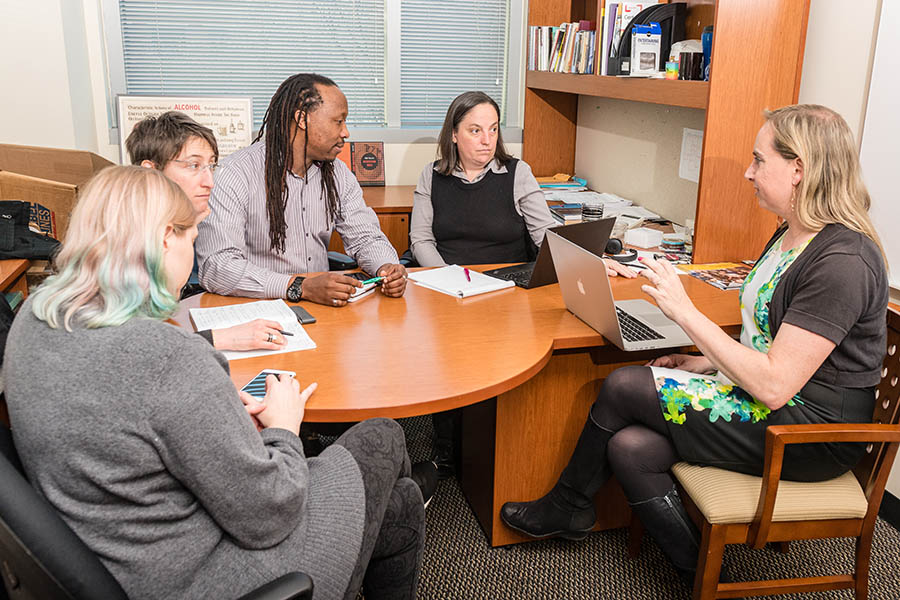 A group of Georgia Tech researchers discuss their National Science Foundation grant to understand what keeps LGBTQ+ people away from, or perhaps hidden in, engineering disciplines. Graduate student Kera Allen and faculty members Chloé Arson, Manu Platt, Anne Pollock and Jennifer Hasler started with an Inclusivity in Engineering conference in early March to lay the groundwork for their work. (Photo: Gary Meek)
To answer the question, the four professors have received a grant from the National Science Foundation (NSF) with the goal of making LGBTQ+ individuals more present and visible in the engineering field. The grant provided funds for a conference in early March that brought together faculty from across the country to discuss how to attract more diversity in engineering, as well as collect metrics and data on invisible identities like sexual orientation.
"Receiving this grant from the NSF is something very symbolic, and their support enhances our credibility," Arson said. "Our proposal was peer-reviewed, and people will trust the results. The support from the NSF will put our work in the public domain and encourage other LGBTQ+ projects to get started."
The Inclusivity in Engineering conference included engineering faculty, as well as professors from the humanities and social sciences with expertise on inclusion in engineering. The multidisciplinary model of the conference created an environment where many perspectives were brought to the table.
Although it was discussed at length, there was no definitive answer as to why engineering attracts fewer LGBTQ+ students and employees. Or if they are in fact present, but invisible. More work will have to be done to make that determination.
"LGBTQ+ individuals' lives do not fit neatly into an engineering department," Pollock said. "It makes it difficult to negotiate being out because personal life and the technical aspects of the job are generally thought to be completely separate."
A few conclusions did come out of the conference.
There was a common agreement that other aspects of identity also affect how LGBTQ+ faculty navigate the workplace, including gender, race and partnership status. Also, some longitudinal data was presented that indicated students become less aware and interested in making a social impact over the course of their engineering education. The research team indicated these two areas will be important to study and address going forward.
Arson, Hasler, Platt and Pollock said they hope the NSF grant will bring more attention to LBGTQ+ issues in engineering and help to develop an unbiased culture.
Post-conference, they plan to develop a methodology for collecting data and create benchmarks for how the engineering field can be more inclusive. The exploration and research fostered by the conference is the first step to creating an environment that celebrates differences and ensures everyone is welcome.