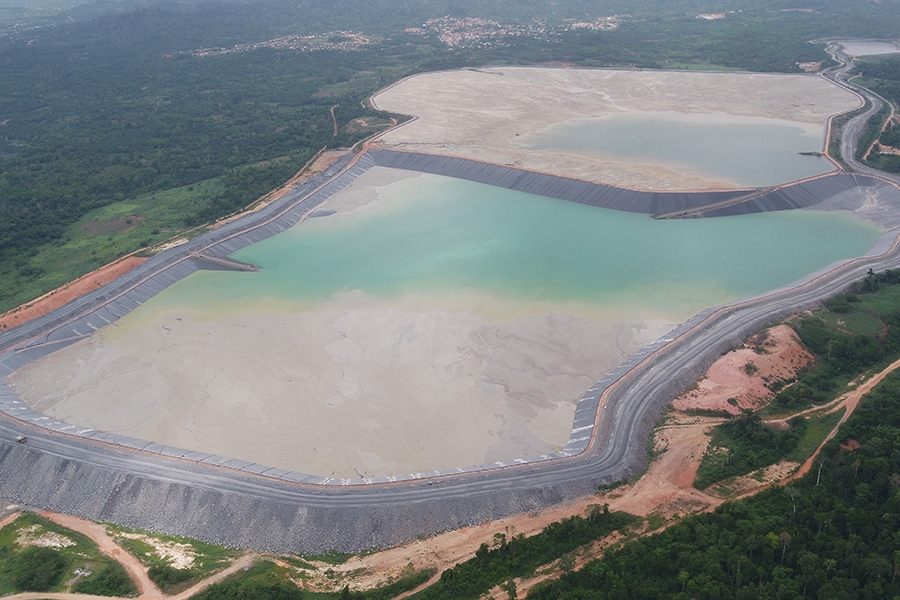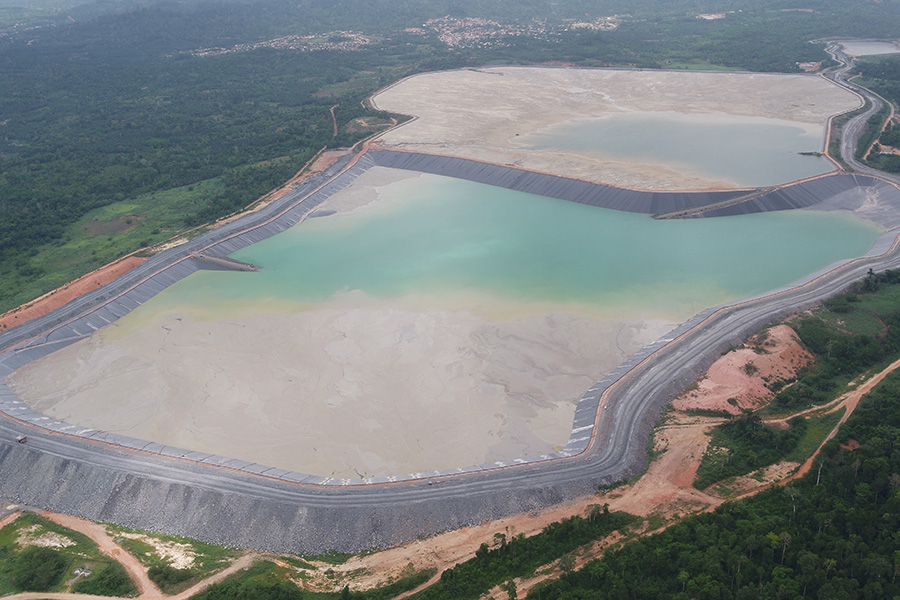 The Akyem Mine TSF Cell 1 (background) and TSF Cell 2 (foreground) at a tailings storage facility in Ghana. Photo: Newmont

A new research center called TAILENG, headquartered at Georgia Tech, has been established to study mine tailings and industrial waste. The Tailings and Industrial Waste Engineering (TAILENG) research center is a consortium of faculty at four universities: Georgia Tech, Colorado State University, UC Berkeley, and the University of Illinois. The center will be dedicated to studying mine tailings and industrial waste in an effort to build safer waste storage systems and reduce the likelihood of catastrophic failures. TAILENG will be coordinating its efforts with the Tailings Center of Excellence, a consortium of the Colorado School of Mines, University of Arizona, and Colorado State University with a focus on educational programs.
"There are several substantial challenges that mine operations are facing in terms of the management of waste residuals; these challenges go from the material science of waste residuals to the use of innovative technologies that improve the resilience of waste storage facilities. At TAILENG we are excited to have the opportunity to address these challenges through fundamental and applied research as well as through our educational programs," said Jorge Macedo, chair of the TAILENG Center.
TAILENG was established in response to recent catastrophic failures of major tailings and industrial waste storage facilities worldwide, which have resulted in the tragic loss of life and unprecedented environmental consequences. Recent notable failures include the 2019 failure of Dam I at Córrego do Feijão near Brumadinho, Brazil, which killed 270 people, and the 2015 Fundão dam failure at Samarco, Brazil, which is considered Brazil's largest environmental disaster. In the United States, the 2008 failure of the Kingston coal-fired power plant ash pond caused $1.2 billion in losses. These failures and others have triggered international debates regarding the safety of tailings and industrial waste storage facilities and the conditions that lead to failures of infrastructure in mining and industrial operations.
Through fundamental and applied research, TAILENG will work to: improve the resilience, safety, and sustainability of infrastructure in the mining and power industries, with a focus on innovative and economical technologies; advance the state of the art and practice in the design, operation, and closure of tailings and industrial waste storage facilities; and improve the understanding of anthropogenic geomaterials. As a key facet of its mission, TAILENG also will provide training and education to practitioners and students through a variety of short courses and other professional development opportunities to share new research and disseminate best practices.
"Sustainability of the mining industry with respect to tailings management is required through education of the future generations combined with improvements in our understanding of tailings behavior and advancing technology to enhance safety performance. The fundamental goals of TAILENG are founded in these principles," said Kim Morrison, director of tailings and water management for Newmont Corporation.
One of the initial thrusts of TAILENG is to improve the fundamental understanding of the engineering properties of mine and industrial waste geomaterials. Tailings are the soil-sized geomaterial waste created when valuable minerals are separated from an ore deposit, and they typically are mixed with water in a slurry to facilitate pipeline transport to a tailings storage facility. Whereas engineers have a good understanding of the behavior of sand and clay, there is still much to learn about intermediate and "man-made" materials such as mine tailings. A better understanding of these materials will directly impact the design of mining infrastructure, such as tailing dams.
TAILENG is led by Dr. Jorge Macedo, an assistant professor in Georgia Tech's School of Civil and Environmental Engineering. Macedo is currently investigating the fundamentals of static liquefaction, a phenomenon that has been associated with the recent catastrophic failures worldwide. Co-lead Dr. Christopher Bareither, an associate professor at Colorado State University, works on the development of fundamental laboratory experiments to assess mine tailings as well as on design aspects of filtered tailings and co-disposed waste rock and tailings. Dr. Jonathan Bray, the faculty chair in earthquake engineering excellence at Berkeley, is a pre-eminent expert in earthquake engineering, liquefaction of intermediate geomaterials, and seismic slope stability of earth structures. Dr. Scott Olson, a professor at the University of Illinois, is a leader in evaluating the shear strength of tailings and other liquefiable geomaterials and provides advice worldwide on the performance of tailings and industrial waste storage facilities.
Related Links: