Friday, 18 September 2020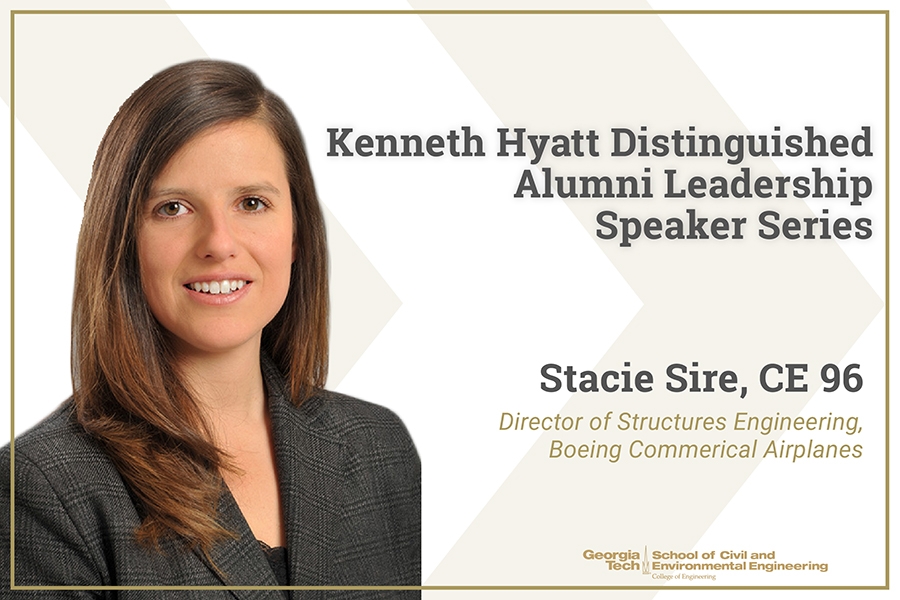 Stacy Sire, CE 96, loves her job as director of structures engineering at Boeing Commercial Airplanes.
Over 23 years, she has risen through the ranks at Boeing Commercial Airplanes and achieved a lot as both an engineer and an executive. But she's quick to credit her mentors, role models, peers and professors for helping her succeed along the way.
During the Fall 2020 Kenneth Hyatt Distinguished Leadership Speaker Series on Sept. 17, Sire shared advice and anecdotes from her career journey with a virtual Georgia Tech audience.
Sire said that cultivating a strong professional network begins with friends and teachers. 
"I wouldn't have my job at Boeing without one of my professors," Sire said. "Just know that those relationships and that network that you're building right now will be super important throughout your career."
Sire said in high school, she didn't know much about engineering at all until a friend's father, who worked as a civil engineer, answered her questions and supported her interest in the profession.
"It was through conversations with him about his work that I realized engineering was something I was very passionate about," Sire said. "I always thank him and give him credit for inspiring me to go into engineering."
After earning her degree in civil engineering at Georgia Tech, Sire set her sights on a career in structures engineering and accepted a position at Boeing Commercial Airplanes.
Sire began her tenure at Boeing as a design engineer on 777 fuselage structure. She spent time as a stress analyst in interiors supporting all Boeing Commercial Airplane models. As a senior manager, Sire led the 787 systems stress team through 787-8 certification/delivery and then created and led the 787 Airplane Integration Office.
Sire said one of the pinnacles of her career was riding in the flight deck aboard the 787-8 flight test.
"At one point this airplane was just an idea," Sire said. "It was just amazing that I was in this physical machine that had come from an idea and some crude engineering that evolved into something so amazing."
Over the years, Sire has continued her education. She earned a master's in mechanical engineering and a master's in business administration from the University of Washington. She also earned a certificate from UW for Aerospace Industry Manufacturing Seminar and one from Harvard Business School for completion of the Advanced Management Program.
Sire told the audience that she strongly encourages lifelong learning. It's important, she said, to be exposed to new people and new ideas to continue to grow and succeed in your career.
"I encourage you to stay humble. When you're humble, you're more curious. You want to be confident but not arrogant. When people get arrogant, they get less curious and they don't learn and grow," Sire said.
Related: