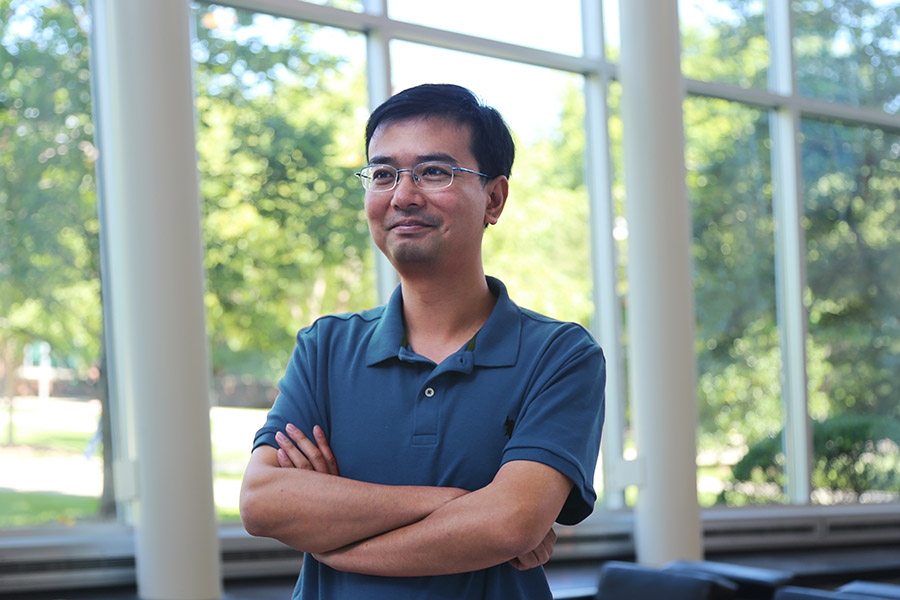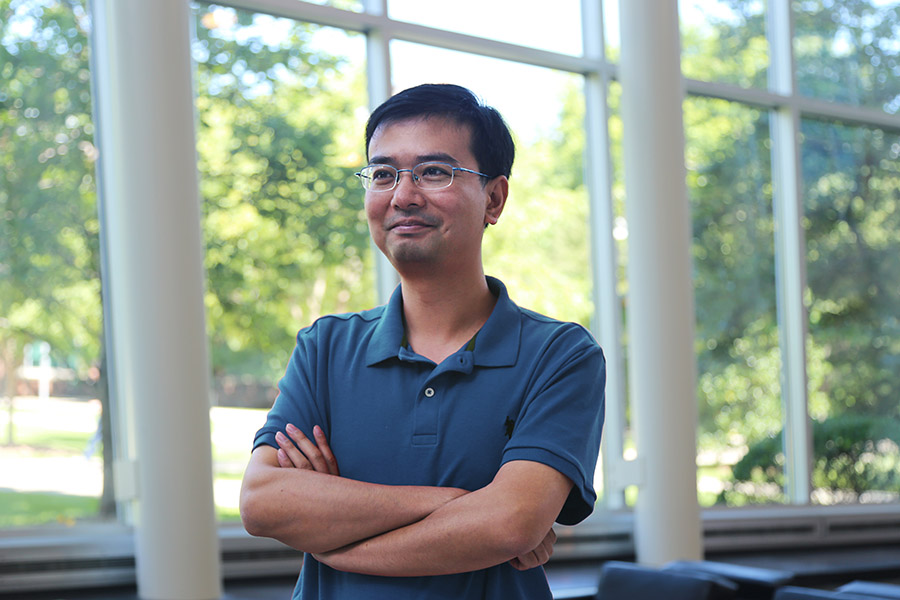 Xing Xie stands in the lobby of the Ford Environmental Science and Technology Building. Xie is the new Carlton S. Wilder Assistant Professor in the School of Civil and Environmental Engineering.  (Photo: Jess Hunt-Ralston)
The newest member of the School of Civil and Environmental Engineering faculty found his passion almost by accident.
Some funding issues when Xing Xie was a Ph.D. student at Stanford University led him to explore other opportunities on campus to support his graduate studies. What he found was another adviser, a materials science engineer interested in using nanomaterials for environmental applications.
The result of that serendipity has been a two-pronged approach to environmental engineering for Xie.
"One is the material; the other is the microbe, because my previous experience, before I was exposed to materials science, was environmental microbiology," he said.
"I really want to combine my knowledge of micro-organisms and the materials" to accomplish three goals, he said: killing microbes where we don't want them, using new materials to grow microbes that we can use to clean waste water, and creating new processes to monitor microbes.
"Basically, how you interact with microbes: you either kill them, you grow them, or you just keep an eye on them," Xie said.
For the first of those goals, Xie said we could skip the chemical disinfection of water that's been the traditional standard for a century and use an electric field to kill pathogens in drinking water supplies. The approach could have all kinds of benefits.
"We have a lot of issues when we go through this chlorination process. We have disinfection byproducts. Also, the water can be corrosive, so some of the pipelines can release toxic ions into the water — for example, lead," Xie said. "We're trying to see whether we can develop a new water disinfection technology where we don't need to put chemicals into water at all."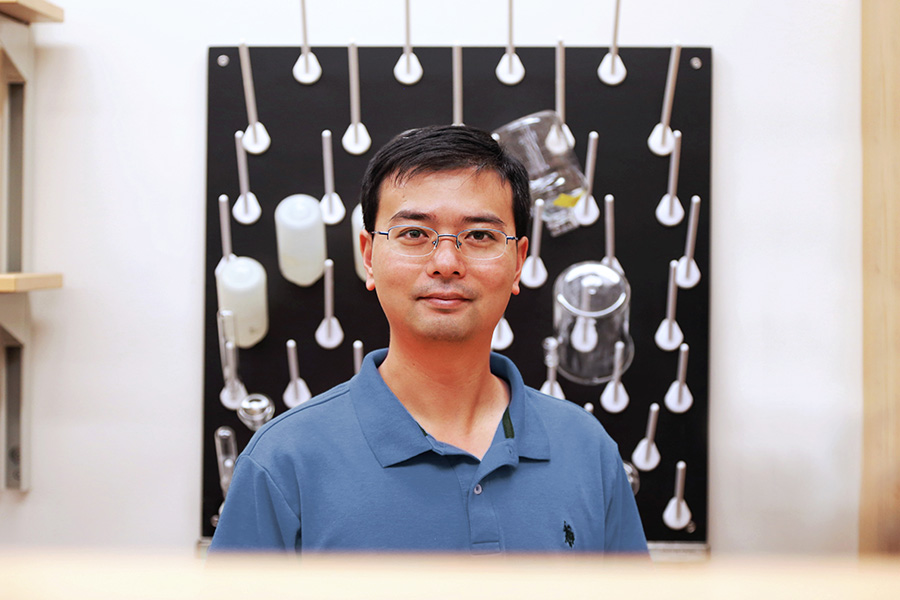 Xing Xie begins his first academic year as a faculty member of the School of the Civil and Environmental Engineering this fall. Xie combines environmental microbiology and materials science to find ways to limit, monitor or make productive use of micro-organisms. (Photo: Jess Hunt-Ralston)
Xie is working at the small scale in the lab now, but he said the approach could potentially become a device that people attach to their faucets as a kind of last line of defense. He also sees the possibility of much larger-scale implementation.
"The largest market is the drinking water treatment plants — treating thousands of gallons per day or even more," he said. "That would be the biggest promise in the future."
Xie's second goal — growing useful microbes — would come into play on the other side of the equation: treating waste water after we use it. His work focuses on developing new materials to accelerate the process of growing microbes that eat the organic waste so we can discharge the water back to the environment.
Xie also has been working on microbial electrochemical processes that could recover energy from waste water at the same time we're removing the organic waste.
"[We're] developing new processes where you see similar performance but less energy consumption, or we even have some energy gained from the processes," he said.
Xie will be doing all of that as the School's new Carlton S. Wilder assistant professor. He arrived in April after completing post-doctoral research at the California Institute of Technology.
He's already published nearly three dozen peer-reviewed articles, including in big-name journals like Proceedings of the National Academy of Sciences and Nature Communications. And he has helped develop technology that's the basis of eight different patents.
Xie is one of three new faces in the School of Civil and Environmental Engineering this fall. Read about Sam Coogan and Eric Marks.