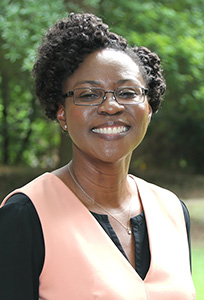 Amekudzi-Kennedy
Professor Adjo Amekudzi-Kennedy has been named the 2020 winner of Georgia Tech's Curriculum Innovation Award.
This award is given annually to one faculty member for improving the quality of education at Georgia Tech through pedagogical and curricular innovation.
Amekudzi-Kennedy is the School of Civil and Environmental Engineering's associate chair for global engineering leadership and entrepreneurship. She was selected for the Curriculum Innovation Award in recognition of her work leading the development and implementation of the Global Engineering Leadership Minor (GELM).
GELM aims to develop global engineer-leaders who have the technical know-how, global awareness and leadership skills to solve global challenges such as climate change, water scarcity and metropolitan congestion.
The program, which is administered through the School of Civil and Environmental Engineering, is one of three tracks in the Institute's Minor in Leadership Studies, alongside the business management and public policy tracks.
To graduate with the minor, students must complete 15 credits of academic and experiential work. They must also have a global experience—which can be work, research or study abroad— and attend a leadership seminar series.
"Dr. Amekudzi-Kennedy is very well deserving of this award: for the innovations in engineering education that this program has introduced within the Institute and externally; for the impacts of the Engineering Leadership Program on our students; and for the interdisciplinary culture and infrastructure these ongoing efforts are generating within our Institute," said Don Webster, Karen & John Huff Chair of the School of Civil and Environmental Engineering.
Related