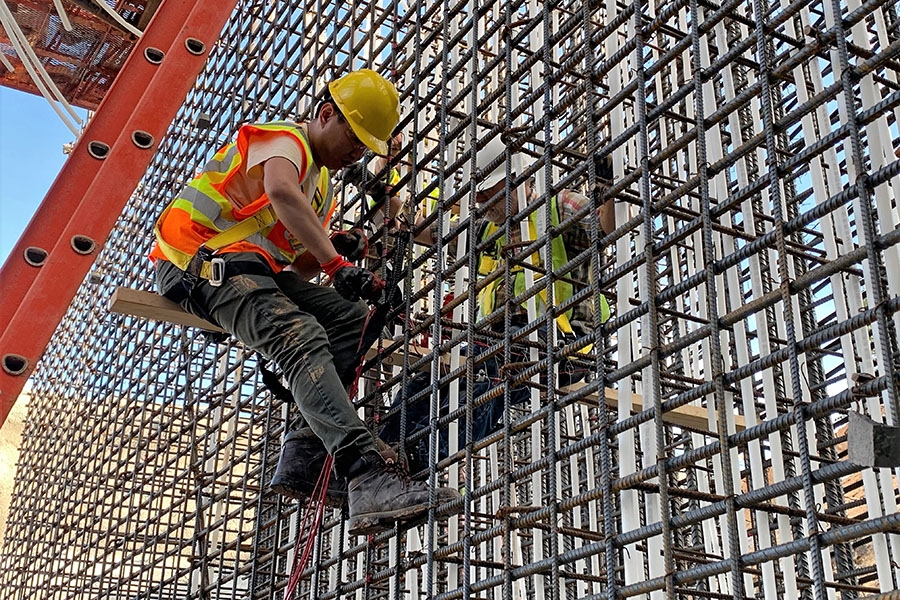 Civil engineering students are now able to earn a concentration in Construction and Infrastructure Systems Engineering (CISE), an official designation that lets employers know they are ready for careers in the construction industry.
Starting in Fall 2020, the School of Civil and Environmental Engineering will begin offering its construction and infrastructure courses in a formal concentration that will be recognized upon graduating with a civil engineering degree.
"The CISE concentration is unique to Civil Engineering and to the School of Engineering at large," said Eric Marks, a professor of the practice in Civil Engineering. "The concentration was created in tandem with our construction industry partners. Having this designation will enable our program to closer align with the needs of the industry and better equip our students for successful careers."
Students pursuing the CISE Concentration will be able to specialize in two tracks: Construction Engineering and Management and Infrastructure Systems Engineering.
Infrastructure Systems Engineering focuses on the facilities required to support societies and thriving economies: roadways, bridges, tunnels, water treatment facilities, electrical grids, telecommunications and more.
Construction Engineering and Management professionals implement innovative technologies, design and facilitate construction projects with sound engineering principles, and align a multitude of stakeholders while leading capital-intensive construction in the industrial, heavy civil, commercial and residential sectors.
Students in the CISE Concentration will take elective courses that allow them to specialize in construction management and infrastructure, while earning a degree in civil engineering. Students can expect to gain skills including quality management, cost estimating, project scheduling, pro-active safety engineering concepts, productivity assessment, and designing and managing projects through Building Information Modeling (BIM) technology.
The concentration was designed by faculty and an advisory board of alumni and industry professionals.
Paul Carter is the Walsh Group's senior vice president of the Southeast Division and a member of the School's CISE Advisory Board. Carter says that the coursework and opportunities provided by this new concentration will set students apart in their knowledge of multiple aspects of construction projects.
"We see the CISE concentration as a bridge between business management and civil engineering degrees, which thrive in our line of work," Carter says. "These courses will help the students build successful careers in the ever-evolving fast paced construction industry."
Blake Peck, MS CE 78, is the CEO of construction management firm MBP and a member of the School's CISE board.
Peck says for employers like himself, the concentration adds extra appeal to Georgia Tech's civil engineering graduates, who are already in high demand.
"The foundations of civil engineering can be applied to building a dam, a highway, a building, environmental sedimentation," Peck said. "The discipline is so broad that it grounds you in big-picture thinking and touches all of the other disciplines. You have to think more as a team leader. As construction managers, we're really construction leaders."
With the new CISE Concentration, civil engineering students will graduate even more prepared for jobs in the construction field. The CISE Concentration will allow students to clearly communicate to employers their level of construction industry knowledge.
"If they haven't taken a construction scheduling class, or a cost estimation class, we're really starting at ground zero. But if they've had those electives, they come in with an understanding of the industry," Peck said. "They're six months to a year further along than their peers if they come in having taken those electives."
Students will also have more exposure to interdisciplinary coursework that will differentiate them from their peers in more traditional programs—something firms in the construction industry are looking for, Carter said.
Karen and John Huff School Chair Donald Webster says he is pleased that the CISE concentration will formalize the industry-specific training students receive while earning a degree from the No. 2-ranked undergraduate civil engineering program in the nation.
"This is a very exciting opportunity for our students," Webster said. "The CISE Concentration allows students to focus their education in a way that will prepare them to be exceptional engineers and leaders in the construction industry."
Click here to read more details about the new CISE Concentration.
Related Links: